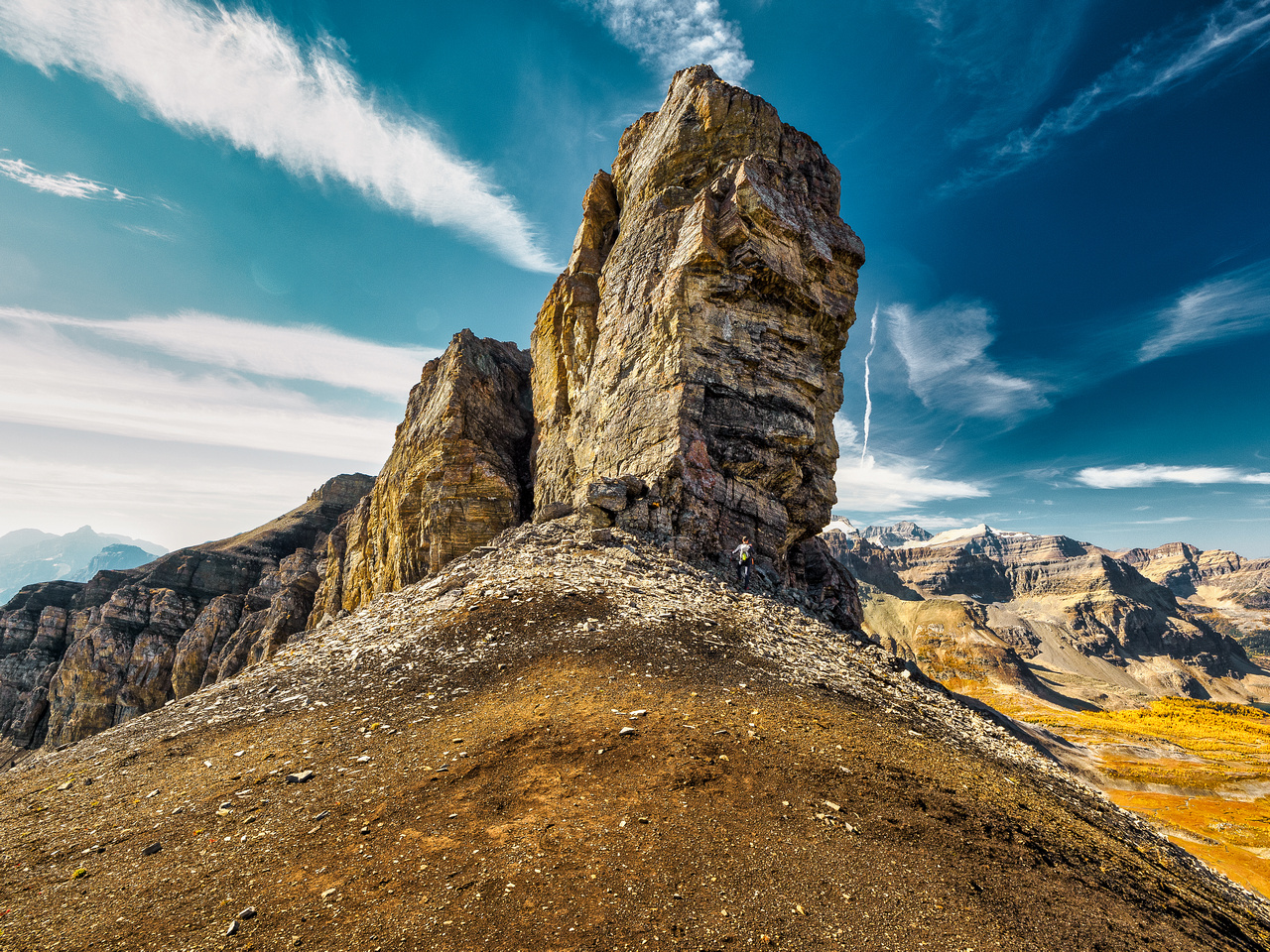 Summit Elevations (m): 2816, 2866, 2871, 2847, 2820, 2834
Trip Date: September 27, 2022
Elevation Gain (m): 1650 (from Og Lake)
Round Trip Time (hr): 12 (from Og Lake)
Total Trip Distance (km): 32 (from Og Lake)
Quick 'n Dirty Rating: Class 3 – you fall, you break a leg
Difficulty Notes: Almost the entire route is F 2nd (easy) but there are some surprisingly steep and exposed short bits along the way.
Technical Rating: SC6; RE3/4
GPS Track: Download
Map: Google Maps
---
A day after finally summiting Nasswald Peak, Wietse and I awoke under the stars at the Og Lake campground, ready to tackle another brilliant fall excursion in beautiful Mount Assiniboine Provincial Park. Back in 2016, almost 6 years previous to the day, I'd come into the area on a solo trip to bag a bunch of the scrambles that had been hanging around my mountain list for quite a while already. The weather forecast was for 3 or 4 days of nothing but sun, but I ended up with clouds on every day but the exit one. Despite managing ascents of several new peaks including Sunburst, Chucks Ridge, Cautley, Ely's Dome and The Towers I came away from that trip both a little disappointed and blown away by the fall scenery. The disappointment was from missing out on some of the lesser known outlier peaks like Cascade Rock and Gibraltar Rock but I was looking forward to experiencing the area in fall colors under a blue sky like the one I'd returned under.
The first order of our day was a 6km hike from the Og Lake campground towards Lake Magog and the Mount Assiniboine Lodge area. The reason Og Lake isn't the most popular campground in the Mount Assiniboine area is simply because it's so far out of the core area. For anyone wanting the classic IG shots of Assiniboine from The Nub, Og Lake is way too far out of the way to stay there. GDT hikers might use this campground on their way through but not at this time of year anymore. We left with our headlamps on and by the time we were approaching the lodge area the sun was rising on Mount Assiniboine over Lake Magog. We snapped some quick shots before moving out of the parks busiest area, heading up the Wonder Pass Trail past the Naiset Huts and cooking shelter.
I remembered the route from 2016, plus Gaia now has a route mapped on its base maps. I also have the entire GDT trail downloaded onto my phone so we had many sources of navigation for this one! We followed the Wonder Pass Trail until slopes to our left opened up towards the west face of Mount Cautley. We hiked through fields of larches before starting an easy ascent up the NW end of the Cautley massif to its NW ridge. Sunrise over the Cautley meadows and the Assiniboine core area behind us was stunning. 

As we neared the top of the NW ridge and north ridge running off towards Mount Cautley, Cascade Rock looked pretty close and easy. I still couldn't believe that I'd missed it in 2016 – literally. I thought Gibraltar was Cascade and that Ely's Dome was Gibraltar! I simply wasn't sure where the peaks were and at that time I certainly didn't have an iPhone with Gaia and a bazillion tracks and named peaks on it… To be honest, I might have turned back at the one moderate step along the way to Cascade with snow and ice on it anyway. Who knows? It was all fairly easy and straightforward to our first summit of the day with great views north over Cave Mountain and south down Bryant Creek.
After enjoying Cascade Rock in the morning sunshine we made short work of the return and continued on towards Mount Cautley via its north ridge. We dropped down above a dying glacier on its north face before trudging easily up to our second summit of the day. As expected, views to the west kept us moving slowly and taking way too many photos. This was a good thing – exactly what we'd hoped for.
Once atop Mount Cautley I found myself a little nervous looking out at Gibraltar Rock. Back in 2016 I'd tried very hard to complete the traverse over there but had turned back due to an exposed slope of snow and ice. Rick Collier certainly doesn't make it sound difficult but that's not what I remembered. Would it be much easier when dry? I suspected it might be. There was nothing to do now but go check it out, so that's what we did! Things started out pretty quick and easy, we started with a highway in the scree guiding us down and around the first few bumps in the ridge towards Gibraltar Rock. The ease didn't last long, unfortunately. Soon I was standing at a familiar looking drop-off only this time I was quite confident I could simply downclimb it. It was loose and semi-exposed but fairly short and simple, hence an SC6 rating. After going over the highpoint there was another outlier slightly further to the NE. I didn't want to miss the real "Gibraltar Rock" so we decided we'd better traverse over to it. Another moderate downclimb brought us to our 3rd summit of the day with more great views down the Bryant Creek valley.

After returning to the high point and taking a short break we headed back along the NE ridge to Mount Cautley. The moderate crux was no problem ascending compared to the descent and soon we were back on Cautley and starting our traverse to Ely's Dome.
The next 45 minutes or so were once again, hiker's paradise. High up on Cautley's south ridge now, we had stunning views over a dying glacier coming off Ely's Dome and more stunning views over the larch forest in Cautley meadows far below to the west. Mount Assiniboine rose like a giant over everything. I still can't believe I free soloed that thing 10 years ago!
It's a bit of a debate exactly what summit at the south end of the Cautley massif is Ely's Dome. I only know of the peak from a rambler's ski report so I always assume it's the easy bump right above the dying glacier. In any case, we decided that we might as well check out a higher east outlier just for fun.
As we progressed east from Ely's Dome we had two choices. Gaia showed a "subpeak" to our left that had a highway leading to it but we choose a slightly higher point straight ahead. I traversed to a slightly lower point from there, one of the only viewpoints above Marvel Lake that I know of that shows the entirety of the long body of water. Some of the best views of the day from this unnamed and unclaimed peak! Typical.
After enjoying the wonderful view of Marvel Lake it was time to hit up Wonder Peak. I knew from my previous experience that there was a route from the NE end but it wasn't obvious from a distance! We returned to Ely's Dome where we took another short break.
From Ely's Dome we descended easily towards the intimidating NE cliffs of Wonder Peak. We had no idea where the route went because neither of us bothered researching it and reading So's report on the matter. I wasn't too concerned because I figured the GDT would have to be fairly obvious. It was.
We traversed right on the north side of the cliffs, following an obvious trail in scree. I think we could have even ascended directly up a steep dirt gully left of the nose, but this other route was no more than easy, loose scrambling to the NE ridge above. I've said it before, but I love sneaky little routes like this! I'm not sure how people descend here in early season while hiking the GDT but they must do it all the time to make a trail this large.
We muddled around a bit under the summit block before finding the "right" way up a short, steep, moderate chimney to the summit. I faintly remembered dragging my brother up this chimney in 2008. There are a lot of trails leading to nowhere on the summit block so care is needed to find the easiest and safest line.
Views from the summit were somewhat familiar by now, but a slightly different angle and different lighting still made it unique. We spent some time taking it all in before starting our descent to Wonder Pass. Wietse wasn't entirely convinced yet at this point, but I knew we were going to tag on The Towers yet.
We met our first people of the day since early morning as we descended to Wonder Pass from Wonder Peak. They were wondering about a view of Marvel Lake and we assured them that there wasn't an easy viewpoint for the whole thing anywhere close to the peak before continuing on down. At the pass we decided that we had time and energy to tag on The Towers – a peak I remembered very fondly from my 2016 adventures.
From just under (south of) Wonder Pass we found a trail rising up east rubble slopes of The Towers that I remembered from 2016. This trail was a godsend, giving us energy we didn't have. It was very nice to not have to think about routefinding as we ascended our 6th summit of the day.
The route went over a shallow SE ridge before rising to a SE rubble bowl and then ascending a south ridge directly under the summit block. I remembered lots of variation on the summit block and unlike 2016 we didn't have fresh boot prints in snow to follow! This time we took a slightly different route with more easy scrambling – following bits of trail and lots of cairns.
The route was as much fun as I remembered and Wietse was pretty glad we'd decided to tag this peak onto our day. On hindsight I likely should have gone for Naiset Point to get another new summit but honestly I'm not too concerned about missing it. I need reasons to go back anyway!
After a few short scrambles to the summit we found ourselves on yet another summit with long shadows and wonderful views in every direction. What a day! What a traverse! Every Rockies scrambler or avid hiker should put this one on their radar. As the shadows were getting long and motivation was lagging we decided against continuing to Naiset Point – one of my only remaining scrambles in the Assiniboine area. I didn't mind simply because this place is never a waste of time to revisit. Descent to Wonder Pass was quick and easy and soon we were hiking back through a larch forest, lit up from the setting sun. 
The hike from Lake Magog to Og Lake felt long. It is only around 6 kilometers but when you do the math that is still 1.5 hours of steady hiking, not nothing after a few lengthy days on the feet. There was only one other tent at the campground and we once again enjoyed solitude and absolute quiet before turning in for the night under a cool, clear sky sparkling with a million stars overhead. The next morning we were up early for our exit day. Originally we were thinking Wietse might tag on a peak around Citadel Pass but we were feeling the past few days and he realized he could come back and tag these as day trips any time. At some point all the peakbagging runs together and after a few days of marvelous hiking and scrambling, why push things? Life is short and we both have other priorities besides peak lists to get to once in a while. After hiking with our headlamps for an hour or so we enjoyed sunrise over Golden Valley before the long ascent to Citadel Pass where we enjoyed another larch forest and yet another perfect morning.
The rest of our hike was reflective, warm and relaxing. It's always bittersweet completing a busy trip like this one with all of the experiences still fresh and knowing that I'm closing many chapters of my Rockies adventures simply because I've done so many peaks and trips in so many areas of the Alberta Rockies at this stage of my life. People are always encouraging me to go to other ranges like the Purcells or the Columbia mountains but I love the local Rockies and I love all my experiences from Waterton to Jasper. I don't need to open another massive range of landscapes to enjoy what I do. I love walking familiar valleys, wading through familiar rivers and streams and revisiting old mountain friends with great memories from almost all of them. As I get older I realize that numbers don't mean anything – nobody cares how many peaks you've climbed or how fast you climbed them or even how much fun you had while you did it. The only thing that really matters IMHO is what kind of person you are and whether doing what you do in life makes you a better or worse human to all the other humans. The peace and beauty of the Canadian Rockies has given me countless hours of meditation and reflective opportunities to become the best version of me and that is something I will always cherish and be thankful for.