Summit Elevation (m): 2940
Trip Date: September 18 2022
Elevation Gain (m): 1700
Round Trip Time (hr): 11.5
Total Trip Distance (km): 20
Quick 'n Dirty Rating: Class 3 – you fall, you break something
Difficulty Notes: A moderate scramble with careful routefinding. Our route avoids much of the convoluted terrain in the upper Batus Creek with a highline traverse.
Technical Rating: SC6; RE3/4
GPS Track: Download
Map: Google Maps
---
Just as with the Ex Coelis group of peaks, Doug Lutz and Eric Coulthard were the first to find and file a scramble route on one of Abraham Lake's highest peaks – Allstones. Due to routefinding and an attempt at Vision Quest as an add-on they had an 18 hour epic day. Similar to Elliott Peak, Allstones is prominent from pretty much any other peak in the Abraham Lake corridor and therefore snuck onto many DTC scrambler's mountain lists. Only 5 days after Doug and Eric's ascent, a large party completed another trip up Allstones with Josee documenting their 17 hour adventure. In 2019 Steven Noel completed a 2-day, complex and difficult traverse from Vision Quest Ridge to Allstones and back out of Batus Creek to the highway. Every year since around 2015 Allstones was on my list of possible peaks and every year it never seemed to get done. In the smoky fall of 2020 I made a number of ascents in DTC and once again reminded myself that Allstones Peak was waiting for me. Finally as September 2022 rolled on with perfect smoke-free conditions Allstones was added to a weekend itinerary that saw me ascend 3 of 5 Ex Coelis peaks on Saturday. Sunday was planned for a ramble up Allstones as a long overdue outing with Mike Mitchell of Giant's Gate fame.
Mike has a very interesting summit list and has documented many obscure and difficult peaks that very few others have done, much less written about. I've done some of my best trips with Mike, the last being an incredible 2019 "Heart of the Park" trip into some of Banff's most remote peaks including Deluc, Dip Slope and Clearwater. I couldn't believe it had already been 3 years since we'd gotten out and was looking forward to it. I spent the night at my favorite gravel pit around a cozy fire before getting up early and bombing down hwy 11 to meet Mike at Batus Creek. Thankfully he was there and soon we were packed up for the day and chatting our way up the creek as dawn broke overhead. There was lots to talk about and time flew by to the first of two chokes in the creek. We followed a faint but obvious trail steeply up and around the choke on climber's right before descending a manky dirt and hardpan gully very steeply back into the creek. I already knew I'd be hating this section on return!
From the first choke travel was slow but steady in the mostly dry creek. Despite the first two recorded ascents being in June, I was always planning a fall ascent to ensure low water in Batus Creek. I have TONS of experience with springtime creeks and they are a bugger to deal with – and very cold. You have to be OK with cold, wet feet all day and I wasn't in the mood. Our feet stayed bone dry all day despite dozens and dozens of creek crossings. We always managed to find easy and quick solutions for crossing when needed. There were a few really neat narrows in the creek where we balanced carefully alongside it on slabs. Debris made some sections slower than others but overall we felt like it took no time to reach the second choke (it actually took 1.5 hours but chatting certainly sped things along). We knew from Steven that the upper creek section was complex and slow travel. We knew from Eric and Josee that traversing high above the creek from the 2nd choke was the way to avoid this, so that's what we did. I'd mapped a route beforehand in Gaia based on Josee's description of a highline traverse their group followed at the 2000m contour. The only trick was getting from the creekbed to the 2000+m contour! We ascended very steep dirt and grass slopes handrailing an overhanging cliff from the creek until the rock ran out and we could start a rising traverse to our left. After ascending light forest and some easy slabs we finally made it just over 2000m and started traversing towards the south bowl under Allstones Peak.
The traverse worked wonderfully! It was one of those bluebird late summer days that you dream about all winter while housebound and suffering the aftereffects of your 8th Covid "immunity" shot… There was a very light breeze carrying the scent of rotting vegetation and letting us know that we weren't going to enjoy very many more of these days in 2022. Eventually we rounded the corner to the north with the creek far below and forest coming up to meet us. We stumbled on a remarkably well positioned camp in the trees (no water sources though) before bushwhacking a short distance and getting our first stunning views of Allstones Peak rising far above the headwaters of Batus Creek ahead. (On exit we took a slightly higher line (~2050m) than on approach which avoided some bush but anything around the 2000m mark should work on this traverse.)
Despite looking close, it took awhile for us to reach the back of the valley south of Allstones Peak. We had to traverse steep gullies consisting of annoying frozen scree and hardpan dirt. Willows and some short stints of tight bush didn't speed things along either but after another 1.5 hours from the 2nd choke we were at the bottom of an obvious ascent rib leading up towards a towering Allstones Peak. We took a short break before heading up the rib, filling our water bottles and energizing for the 1000 meter ascent ahead. I noted that we'd already gained over 700 meters to this point.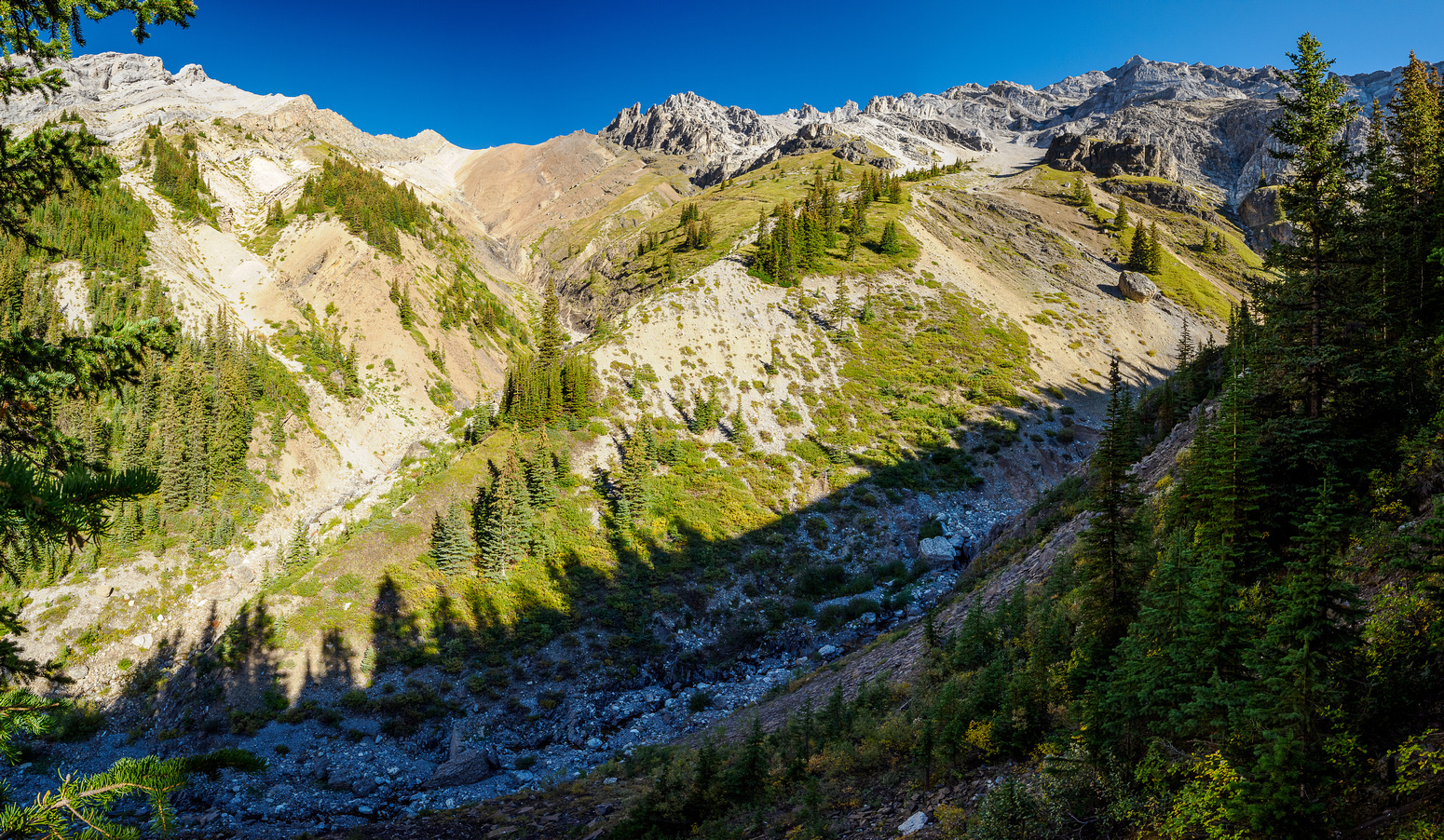 I have to give Josee and Raf's party credit at this point. They not only found and suggested the entire 2000m highline traverse that we used but they also detailed an excellent route from the end of Batus Creek's NE branch to the west ridge of Allstones high above. After quickly gaining height on the grassy rib we slowly ran out of vegetation before groveling up on rubble slopes to a saddle half way up to the west ridge. The route was obvious but we noted pretty quickly that both Steven and Eric went left of this line on slightly more complicated terrain.
We took another short break at the saddle, enjoying the great views to a distant Abraham Lake and taking in the wild landscape around us. This was turning out to be a much more scenic and enjoyable outing than either of us was expecting. Even the rubble and scree slopes hadn't been bad to this point – rocky ribs and slabs made things easier for most of the ascent. From the saddle the route looked like it could get pretty loose so we took the same line as Josee's group to climber's right on slabs and firmer ground where possible, keeping things easy to moderate at most.
Something that wasn't entirely clear to me until afterwards is the fact that there are two sections on the upper mountain, not just one ridge to the top. The first section is what I call the "west ridge" and the final section is the summit block. There was a skiff of snow on the north side of the west ridge as we started up towards the intimidating summit block above. The ridge isn't hard but if you stick to the top there are some exposed spots. Deviations to either side make things easier in 3 or 4 places. There was one overhanging cliff that has to be circumvented. Don't do what I did, descending way too low to the left (north) – go to the south side and save yourself some cash in the swear jar.
Views off the west ridge were already pretty sweet as we started up the summit block on a mix of scree and slab. The terrain was easier than expected and we generally stuck close to the edge of the face with slight deviations left to get around some exposed sections. 
The summit block didn't take long and soon we were higher than most other summits nearby and traversing 3 or 4 summits of similar height to the furthest one for best views over Abraham Lake. The weather was perfect, almost windless and warm with views to distant giants including Mount Alberta and the Columbia Icefields. Hangman Peak featured prominently nearby – yet another local peak that Eric and Doug pioneered a detailed account for and that I followed with Phil Richards as a day trip in 2020.

After 20 to 30 minutes on the summit it was time to turn back. We were determined not to take the 17 or 18 hours that the previous parties had taken! We were surprised to be the first to sign the register in 3 years since Steven Noel last put his signature on the record. Descending the summit block and west ridge was easier than expected. Still moderate but not an issue and no more than that with route finding and basic navigation skills. From the top of the SE rubble slope we descended quickly on loose scree to the saddle below.
From the saddle we had a decision to make regarding our return route. We hummed and hawed and finally decided to try a slightly higher highline traverse at closer to 2050m instead of 2000. We descended quickly down lower scree slopes skier's left of the rib we'd used for ascent and after a water refresh in the first gully we set off on the traverse. It worked just fine, avoiding slightly more bush than our approach track but still requiring attention to the contours and the terrain before finally arriving back at the steep grassy slopes after the 2nd choke to Batus Creek.
Descending Batus Creek was a longer process than either of us were expecting. This makes sense as the terrain is not the quickest to traverse and we were tired and talking much less than 9 or 10 hours earlier in the day! I was dreading the height gain around the first choke but Mike assured me it wasn't a big deal. He was right. We checked out the choke itself to see if we could easily wade it but that wasn't attractive late in the day with dry feet. The graffiti plastered all over the walls was very disappointing. The bypass wasn't a big deal and soon we were hiking the last few kilometers to the highway – the bright blue Abraham Lake beckoning us from afar.
Our round trip time of under 11.5 hours reflects a steady pace with plenty of breaks and casual conversation. Being the first to sign the register in three years, of such a prominent peak with some good trip reports available was surprising. Mike pointed out that it could be the 18 hour trip times previously posted scaring people off and he could be right. I'm sure someone with my GPS track could put in this trip at under 10 hours without trying too hard but I loved our pace and our day overall. The terrain was never more than SC6 at most and the views were stunning for much of it. The highline traverse includes plenty of painful sidehilling but also plenty of sheep trails and easy terrain with views to Abraham Lake and Vision Quest Ridge. This is a very highly recommended trip for late summer when water levels are reasonable and snow shouldn't be an issue.