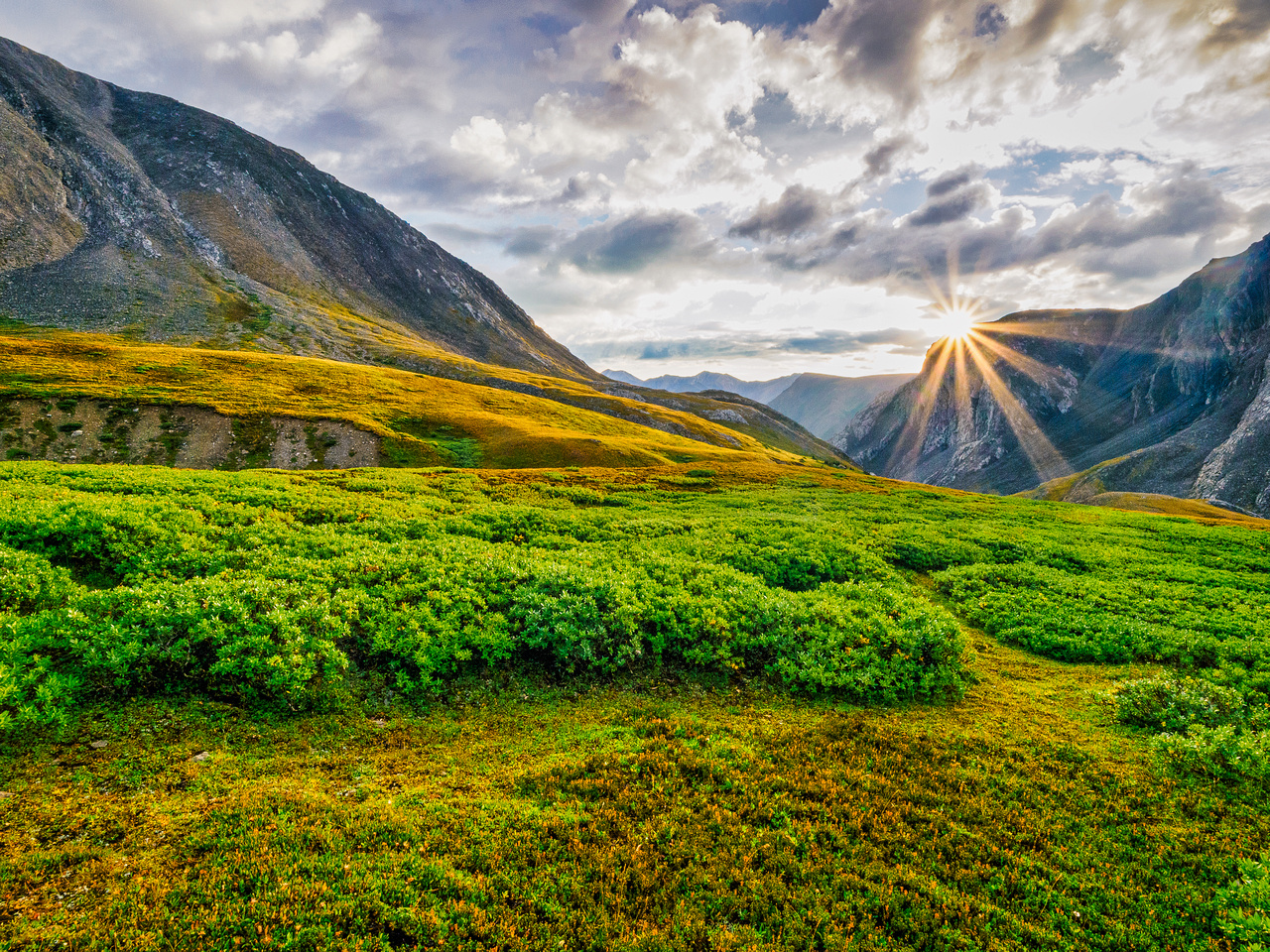 Trip Dates: Thursday, August 25 to Saturday, August 27 2022
Total Elevation Gain (m): 4400
Total Trip Time (days): 3
Total Trip Distance (km): 100
Peaks Ascended: Dodo, Cheshire, Dormouse, Aires
Quick 'n Dirty Rating: Class 2/3 – you fall, you sprain or break something (or worse on Cheshire Peak)
Difficulty Notes: A  long bike, hike and scramble trip up the Ram River past the old Headwaters Patrol Cabin towards the Ram Glacier and Upper Ram Falls.
Technical Rating: TL4, OT4, SC5, SC6, SC7, RE5
GPS Track: Download
Map: Google Maps
---
I can't complain about the weather that I get in my many explor8ions in the Rockies. I have been exceedingly lucky over the past 20 years with a very high hit rate of clear skies and decent weather conditions. There is a reason for that other than blind luck, of course. Like most alpinists my 2nd hobby is the weather and reading and studying weather forecasts. I typically will simply avoid bad weather if I can – I have other interests and loves besides the mountains so I do those things when the peaks are out of shape or buried in clouds and rain. June 2021 was a dry month in the Rockies. Except for the day that Wietse and I started a 2-day excursion into Whelk and Canary peaks of course! I remember being shocked as we drove into the Hummingbird Creek area, how much snow was plastered on the front range peaks, nevermind the ones we were aiming for! Stubbornly we biked and hiked our way up the Ram River anyway, ditching our 2-wheel steeds much earlier than originally planned and therefore walking much further too. The ascents of our peaks were marred a bit by snowy conditions and limited views thanks to unforecast clouds and cool weather. Of course the next 1.5 days cleared out and before long Alberta was under an historic heat dome and everything melted off very quickly. C'est la vie.
Despite our disappointment at the fickle weather gods we knew we wanted to get back into the upper Ram River sooner than later and agreed to make this a priority in 2022. Since then I've completed a number of trips into the area including trips up Finch and Canaria and Sufi Peak already earlier this year. After biking up Canary Creek towards Finch and Canaria I wondered why this approach is not usually mentioned as a viable bike approach to the upper Ram River area. Sure! It was rough and very damaged in places but how was this significantly different than the Ram River Trail that Wietse and I had biked in 2021? That trail was no picnic either – and it's further than the Canary Creek approach by 3.5-4 km in each direction. I don't know of many folks who've biked into this area but Rick Collier suggests that Canary Creek is only a hiker's option. As the weather seemed to be settling into another nice pattern for my last few days off in August 2022, Wietse and I once again made plans to head into the upper Ram River area on our bikes. This time we were determined not only to make it much further than last time but we had grand plans to scramble one of the big prizes on my mountain list – Cheshire Peak. Plans were made, bikes were repaired (my chain was still busted from Battleship Peak) and alarms were set. 
Day 1 – Dodo Peak
After the exceedingly long and familiar 3.5 hour drive to the Canary Creek trailhead, we were very happy to see that all the surrounding peaks looked bone dry. No fresh snow in sight! Phew. First hurdle jumped. The second hurdle was an immediate crossing of Hummingbird Creek followed by a very rough ride up the start of the Canary Creek Trail. Riding with overnight packs is not only a PITA it's also a PITB where "B" stands for "Back". Anyway, it is for mine. It didn't take long for me to start feeling the rough ride but we had hours and kilometers to go so we settled into things and slowly made our way up Canary Creek. To be honest, the riding was much better than we expected based on my experience back in June. To be fair I had early season conditions with snow, mud and wasn't in good biking shape yet either. We quickly reached the point 6 kms from the start where the creek is all messed up from the 2013 floods. There has been some remediation done here but it is limited to a very short section of the trail. At this point the going got characteristically tough for this approach. We rode bits of trail, pushed bits of trail and half rode / half pushed the rest. It took longer than I expected but within 2 hours and 10 kms of the trailhead we were at the "H6" junction to Pleasant Valley.
The weather continued to be perfect as we slowly pushed and biked up Pleasant Valley, under SW slopes of Finch Peak. The valley was pretty cool, especially where rock slides from Finch and an unnamed outlier of Wingnut joined together. There were no trees in the valley thanks to the debris, but we also couldn't ride here for the same reason – it was simply too rough. It was very scenic though. Despite the sign at "H6" telling us that there was no trail past the South Ram River Viewpoint, there obviously was. Most folks who bike this far leave their bikes at the end of Pleasant Valley approximately 11.5 kilometers from the trailhead. Why? Because from here the trail drops rapidly all the way down to the Ram River – losing at least 150 vertical meters which needs to be gained on return. We figured, "why not have fun and descend this hill on approach"?! So we did. It was fun. Near the bottom of the wide ATV trail there was an opportunity to branch onto a much smaller and lesser used trail that on hindsight shortcut to the South Ram River Trail but we barrelled past it. I figured we'd try it on return. At the bottom of the hill we turned back to the west before descending familiar rough trail to the river that we'd hiked in 2021.
The initial flats from the hill to the cutline were OK but also weren't the best for biking. Deep horse ruts in the mud resulted in our pedals slamming into the sides of the trail which sucked. We made it to the cutline section without too much swearing. The cutline was a great ride. The sky was blue, we were now over 16 kms up the trail and it was only around noon. Things were going much smoother than expected – always a nice thing on the first day of a trip. As we approached the NE end of Aires Peak the cutline deteriorated until we were walking our bikes beside standing water on the trail. 19 kilometers in and we likely should have dropped the bikes here but of course we pushed on – literally! That's the thing with biking. You always want to push things a bit so you don't end up walking 3 kms of perfectly bikeable trail after leaving the bikes behind. Finally, 20 kms and 4 hours from the trailhead we left our bikes in a small stand of trees along the Ram River and continued up the river flats on foot.
We'd decided at this point that unless things really slowed down we were going to ascend Dodo Peak on approach. We wanted to camp near the Upper Ram Falls near the valley leading into Cheshire and Dormouse Peak but it was way too early in the day to make that our target already. Aires was also too small and would have us at camp too early. Dodo was pushing things but hey – that's what we like to do sometimes. The only issue now was to ensure we found the most efficient trails up the Ram River – and there's more than one to choose from unfortunately. We didn't know it just yet but thanks to the opening of sheep hunting season there was fresh horse tracks to follow and we used this method to find the most traveled trails up valley. We spent roughly an hour hiking the 4 kms from the bike drop to the old Headwaters Cabin, perched nicely along my planned route towards Dodo Peak. As we trudged uphill to the cabin we noticed a bunch of horses and some hunters standing outside of it. They didn't understand us at all – it was hilarious. When we told them we'd left Calgary that morning and biked 20 kms and walked here they were gobsmacked. When we told them our plans to ascend a peak and then hike even further up valley before camping they literally rolled their eyes and asked if we were feeling ok. They were helpful though, letting us know there were a couple of trails heading up valley and which trail we should use. They also told us most of the camps in the Ram valleys would be occupied as this was sheep hunting season.
After our ascent of Dodo Peak, Wietse and I still had to hike 5 kilometers up the South Ram River Trail towards the Upper Ram Falls near the junction of the Ram Glacier and Cheshire valleys. We didn't love the GPS track that I had from Ephraim Roberts as it seemed to wander around the river more than necessary.
We once again chose to follow the most traveled horse trail past another large camp of sheep hunters. This trail was located well to the west (right) of the river but was a good track and easy to follow in fading light. It was approaching 20:30 as we finally hit the trail leading into the Cheshire valley and started looking around for campsites. We were tired and light was fading fast so we weren't fussy. I found a pretty good site above the stream with nice protection in the forest and we set up camp as darkness settled in over the valley.
We acknowledged that it was about as late as we wanted as we munched supper by headlamp. It was an incredible day, however. I was stoked that my planned route on Dodo Peak worked perfectly and the fact that we had rain on the summit didn't seem so bad now that we were in a warm, cozy camp. We were a little concerned about the weather forecast obviously being a bit off but hoped that we'd wake up to clear skies for a big day tomorrow. In a twist that showed how many hunters use the area, we got a brief visit from four hunters who were camped nearby and wanted to check out what these silly hikers were up to. They were friendly and soon left for their camp which we assumed was very close by.
Day 2 – Cheshire Peak & Dormouse Peak
As I woke up in my tent far up the Ram River at 04:00 on Friday morning, August 26th I was surprised to hear rain tapping on the walls near my head. This was not forecast! This was also not very good! Wietse and I had big plans for today and rain would definitely impact our objectives. I rolled over and hoped for the best in a few more hours. I woke again around 05:30 and was relieved for the silence of no rain on my tent. I poked my head out, hoping to see stars but seeing mostly cloud cover instead. Not great but better than rain! After a quick breakfast we set off for the main objective of our trip – Cheshire Peak.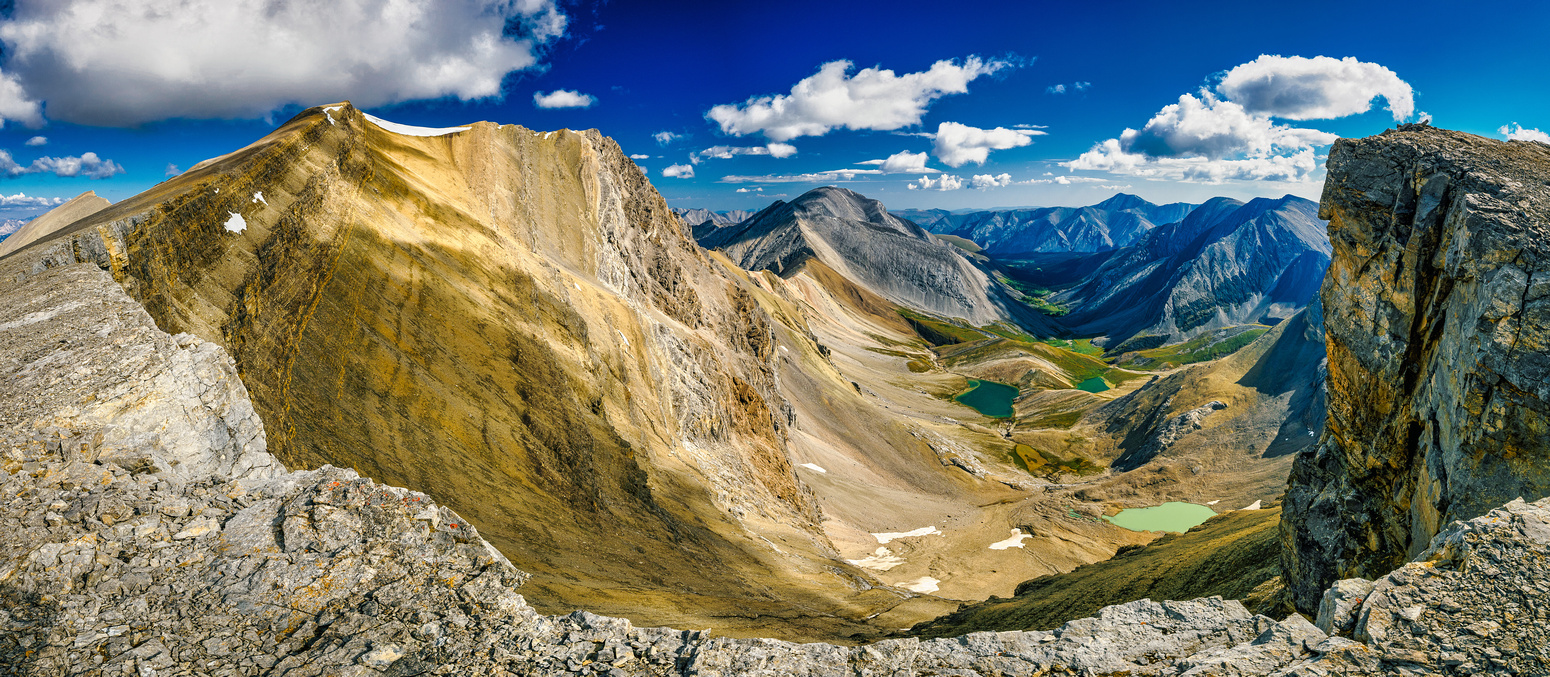 After a successful ascent of both Cheshire and Dormouse peaks Wietse and I returned to our camp near the upper Ram Falls and had a decision to make. It was 17:00 and we could either relax and enjoy our protected little camp or we could put in a couple more hours of hiking and move our camp closer to tomorrow's objective, Aires Peak. Normally this wouldn't even be a discussion for the two of us – we'd definitely be moving camp. But we were tired today and after eating supper and setting up camp too late the evening before we both decided that we'd love a relaxing evening with plenty of time to chill, eat supper and relax. This also meant we could check out the upper Ram Falls which we knew was within a few hundred meters of our camp. We left our little spot and hiked through a large horse camp nearby. The previous night's visitors were now gone. We followed a trail leading through forest to the Ram River flats and were soon hiking towards the incredible headwall at the back of the valley with a lovely falls cascading down to a surprisingly small Ram River.
After taking in the sublime upper Ram Falls we turned back to camp, discovering another horse camp near the falls. The issue with all the horse camps that we came across was they wouldn't work great for tenting. They tended to be very rough and were set up for canvas tents and supposedly cots or other sleeping options. The few spots that would work for tents were at the edges of these camps if there at all. I went to bed early, listening to a podcast until the shadows grew long before settling into another warm night under the stars.
Day 3 – Aires Peak
As I fell asleep on Friday evening I was feeling apprehensive about Wietse and my exit day on Saturday from our camp way up the Ram River. As we hiked back to camp from the upper Ram Falls we could see ominous clouds building out to the NE over our exit line. The weather had worked out miraculously for us so far on the trip but it wasn't quite as solid as promised earlier in the week. We'd already had rain on the summit of Dodo and earlier on Friday morning. I awoke in the dark to the sounds of strong winds and rain on the tent, confirming my worries. There wasn't much to do but let the sound of the rain drops on my tent lull me back to sleep. When planning our exit the day before we'd decided that since we weren't moving camp closer to Aires Peak and were going to bed so early we'd get up at 04:00 and make the approach hike in the dark. No rest for the wicked. Thankfully the rain stopped overnight and by 05:00 we packed up our soggy tents, downed some coffee and started our exit in deep darkness via headlamp. 
The next few hours were actually pretty neat. It was dark and the vegetation was soaking wet but our rain gear held up decently and it wasn't raining. Walking past some grazing horses with their bells jingling in the dark was a pretty neat moment. I have to admit that I was not feeling Aires Peak. In a rare reversal, Wietse seemed much more keen to tag this minor peak than I was. Although it wasn't raining I didn't trust the weather would hold. And I was tired of peakbagging. Weird eh?! That doesn't happen to me very often. But. We were going to hike right past it and it was only the equivalent of a Prairie Mountain so as long as it wasn't raining I committed to giving Aires a shot. By the time we got under the SE ascent slopes it was light out and not raining despite plenty of low clouds. I was all out of excuses so away we went!
After a quick (2 hour) ascent of Aires Peak it was time to hightail it out of the Ram River valley. Being over 2.5 kms from our bikes and nearly 23 kms from the trailhead in a rainstorm wasn't quite conducive to any kind of "quick exit" but we were committed to getting out at this point. A steady drizzle quickly soaked us as we hiked in silence to the bike drop. By the time we finally reached the bikes I was getting worried about my core body temperature. It was around 5 degrees at this point and we'd been wading back and forth along the Ram River for the past few kms which didn't inspire the body to warm up! I struggled into a pair of non-waterproof gloves and we mounted our 2-wheel steeds for a long and arduous exit.
I'm not gonna get too wordy on the next 3.5 hours. It was hellish, that's about all there is to say on it. The trail was obviously soaking wet compared to the approach. Easy sections of riding on approach were now so slick that even normal pedaling resulted in the backends of our bikes sliding out from under us. Horse poo flung into our faces regularly, along with gloppy muck and whatever else was on the trail. Biking from the upper cutline to the river flats we saw someone camping at the same site we'd used in 2021. They looked snug-as-a-bug-in-a-rug with a roaring fire under a tarp. Smart people, those. I died a little inside after biking past them. The only good news about the bloody uphill section to Pleasant Valley was that it warmed me up! We took a shortcut trail lower down which worked but wasn't at all bikeable thanks to being narrow and deep tracked. Biking through Pleasant Valley wasn't very "pleasant" – it was mostly way too rough to actually ride. Passing some very confused ATV riders was hilarious. They were sipping warm coffee in their heated side-by-sides and giving us the "WTF are you idiots DOING" look. We wondered the same thing. 
Canary Creek Trail wasn't actually as bad as I expected. Sure! It was horrible with slick muck and many walking sections (too rough) but we rode 80% of it and it was certainly quicker than walking would have been. I can't describe the feeling when I finally saw my orange Tacoma across Hummingbird Creek and made the last wade towards it. The good feelings quickly faded when my dang truck wouldn't start thanks to cold keys! I've never had it before but thank goodness it did eventually pick up the fob and started. The relief at hearing the engine turn over was palpable from both of us, I assure you.
What can I say about this 3-day trip? I am so lucky to enjoy trips like this in these pristine areas of the Alberta Rockies. Yes, this is an OHV and horse traffic area but once you get off the main drags and into the back valleys this is as pristine a landscape as you're going to find pretty much anywhere on earth. I will not soon forget walking through alpine meadows at sunrise or under soaring rock gates straight out of a LOTR movie. This is the kind of country that sits deep down in your soul and refuses to leave once you've experienced it.