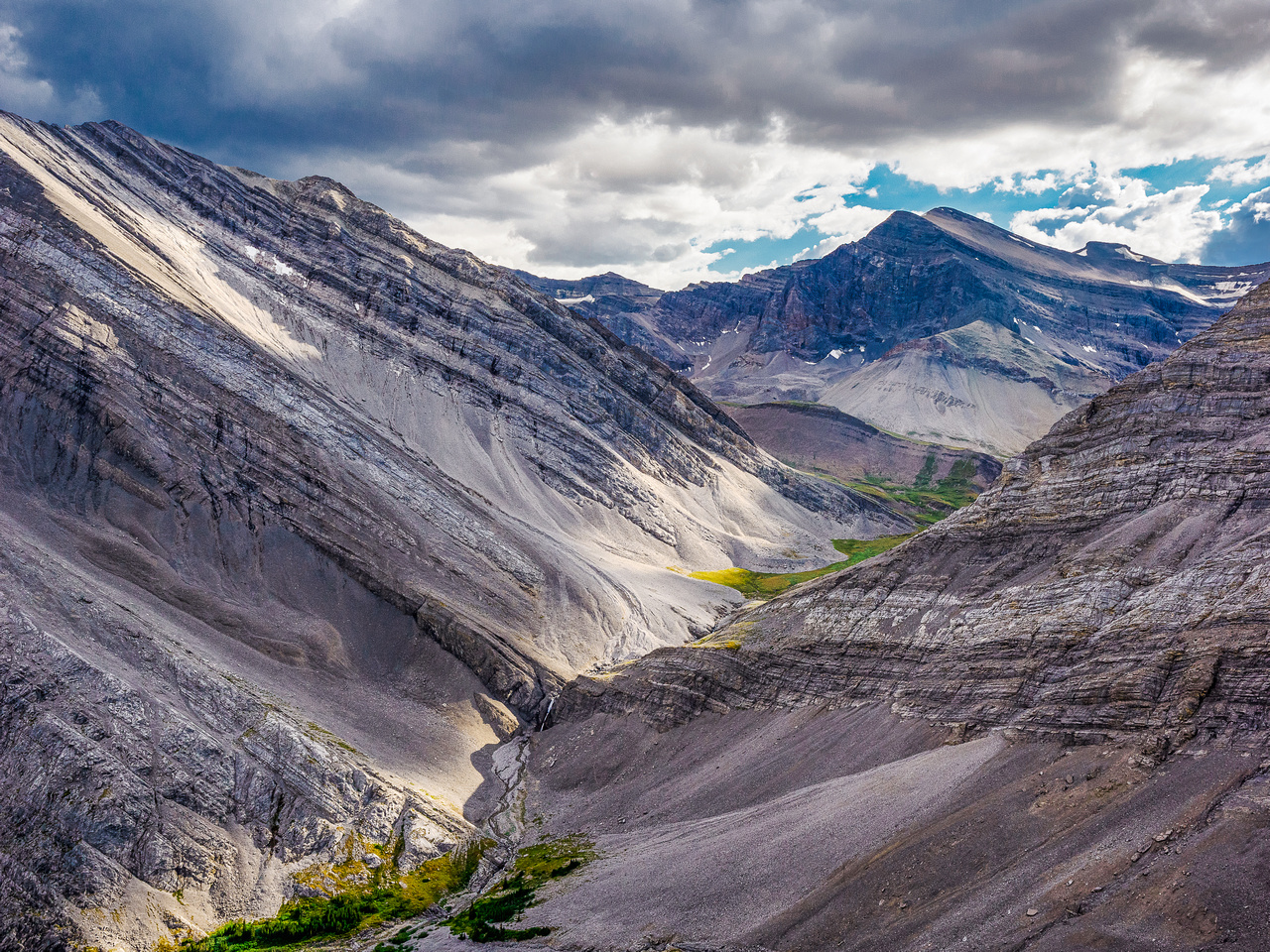 Summit Elevation (m): 3067
Trip Date: Thursday, August 25 2022
Elevation Gain (m): 1100 (from Headwaters Patrol Cabin)
Round Trip Time (hr): 5.5 (from Headwaters Patrol Cabin)
Total Trip Distance (km): 13 (from Headwaters Patrol Cabin)
Reference Trip: Exploring the Upper Ram River
Quick 'n Dirty Rating: Class 2 – you fall, you sprain something
Difficulty Notes: Easy scrambling with some routefinding. 
Technical Rating: SC5, RE5
GPS Track: Download
Map: Google Maps
---
After a long 6 hour, 24 kilometer approach from the Canary Creek trailhead, Wietse and I were finally ready to try the first ascent of our summer 2022 Ram River expedition. Ever since first learning about the Upper Clearwater / Ram PLUZ I've been pretty keen to get as far up the river as possible to try some of the lesser known peaks of the Alberta Rockies front ranges with their Alice in Wonderland themes. Ephraim Roberts was the first friend I had that ascended a few of them back in 2021 including Aires and Dormouse Peak. His photos only inspired me to get there sooner than later. The upper Ram River area is interesting from a hiking and scrambling perspective. It's not at all well known in those circles, but in hunting and horse riding circles everyone seems to know all about it. The reasons are clear – it's not an easy or short access on foot or bike which is how hikers normally approach an area. The good news for me as a scrambler who enjoys obscure summits is that there aren't very many published routes up here. Horse riders don't climb and hunters stick to lower hills and alpine meadows to tag their prey. 
During the long, cold winter of 2021/22 I spent a few dedicated weeks planning out many of my remaining interests in the Alberta Rockies which included many summits in the upper Ram River area. I had Eph's track from Dormouse Peak and planned a reasonable looking line up the south slopes of Dodo Peak based on that. The only question remaining was how we would access these south slopes – would there be a trail up this valley? As Wietse and I approached the old Head Water Patrol Cabin we noticed horses and hunters standing around outside it. We chatted with them briefly – they were totally gobsmacked by our efforts of the day and our upcoming plans. They were friendly however, and told us there were two trails leading into the Dodo valley. We should stick to the left hand one for the best route but it was still "rough". Perfect! We left our overnight packs under a tree just past the cabin and continued up valley with our light day packs. The trail was awesome! This wasn't "rough" compared to many routes and tracks we've followed over the years. Soon we came to a willow meadow leading to a waterfall and headwall. Thankfully the trail continued through here.
As we took in the wonderful views along the headwall we noticed grey clouds building all around. The forecast had called for clear skies so this was a bit concerning but the temperature was nice and to be honest it felt good to have a break from the hot summer sun which as been relentless in August 2022.
We mused how far we'd come for these special views before continuing up steep walls climber's right of the waterfall and finding the main horse track back at the top. (The main track was further climber's right which we found on exit but doesn't get views of the falls.) Dormouse Peak loomed over us as we slowly ascended off the horse track and onto an obvious sheep highway leading towards my planned track on Dodo's lower south slopes. The ungulate's did a fine job getting us into a south scree gully which did a fine job of getting us over tree line towards our peak which was still out of sight at this point.
For some reason, while planning this peak, I didn't realize how bloody high it actually is. At over 3060m, it's only 100m lower than Cheshire Peak and higher than Dormouse and many other mountains nearby. This fact became rather obvious as we grunted our way up slabs and scree on a shallow south ridge far above the valley now. The grey clouds grew darker and by the time we finally saw the summit we were in sleet and light rain. Oh oh. 
The rain and ice pellets smacking us in the face wasn't the most pleasant thing in the world after 8 hours and over 30 kilometers of biking and hiking to the summit of Dodo Peak but what can you do? The weather is what it is at that point! We hoped the rest of the weekend's forecast wouldn't be so far from reality but we were stoked to be on our first summit. The cairn was blasted apart by lightning and despite hunting around furiously we couldn't find a hint of a register. 

Despite the temptation to hang around for clear skies (which were all around us) we were cooling rapidly and had a long way to hike yet to our planned campsite. We turned off the summit and back down our ascent route. The rubble wasn't the best for scree skiing but the descent was easy enough. We took an extra few moments to walk up a tertiary ridge overlooking the beautiful valley below, including great views over Ladder Falls and towards Dormouse and Cheshire Peak.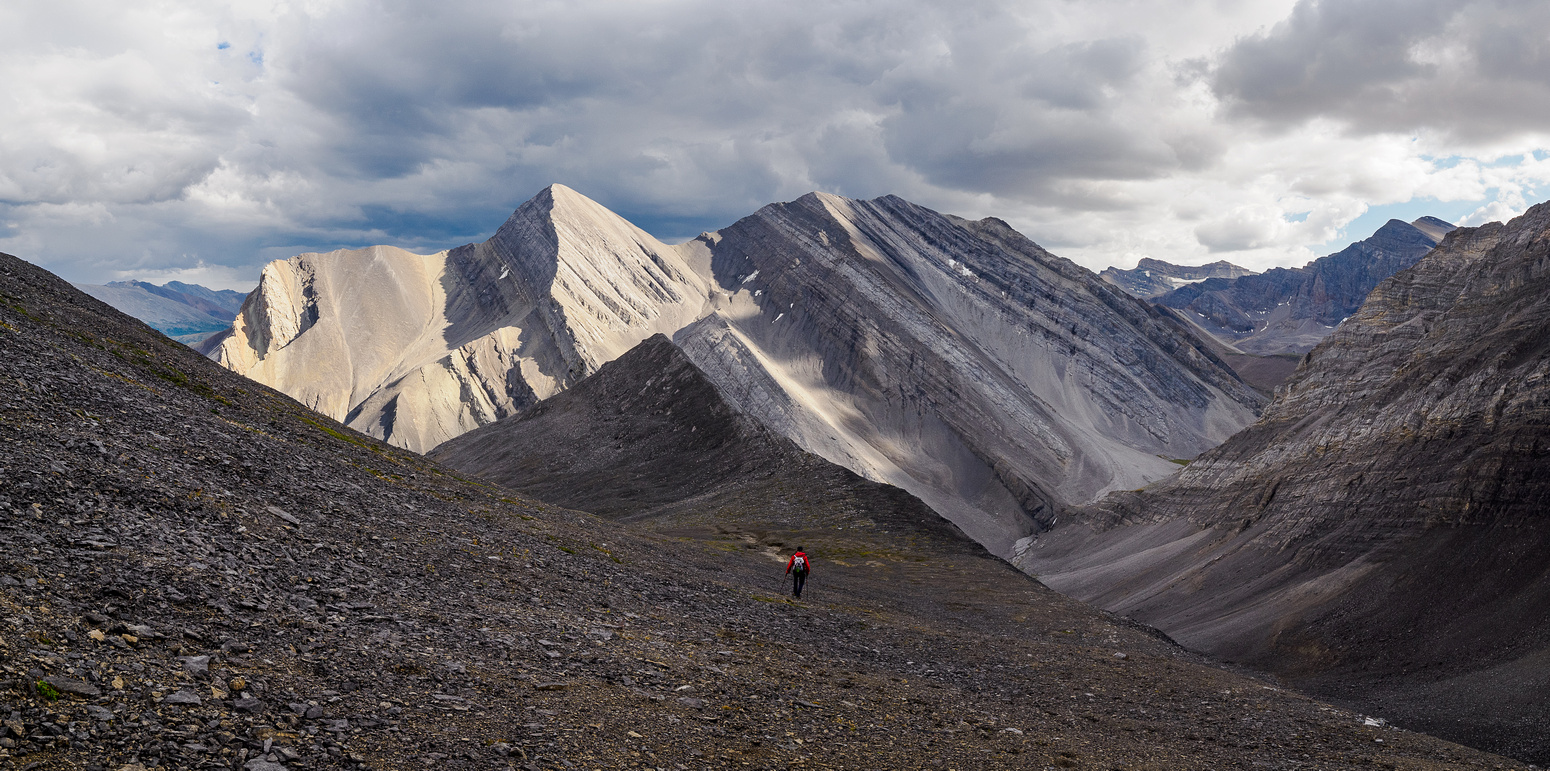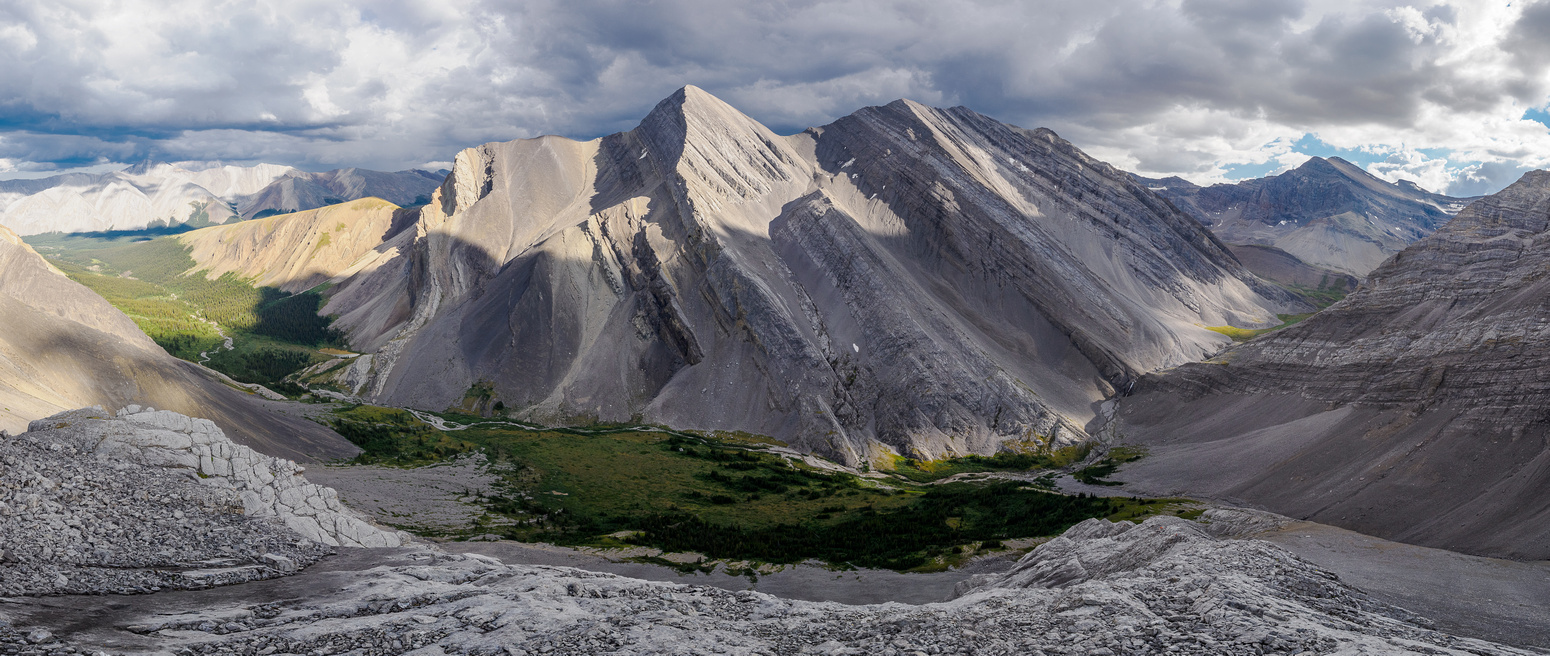 On return the hunting party at the old cabin regaled us with stories about Ladder Falls when we asked if there was a way to circumvent them. We learned the origins of the name, supposedly from a group of firefighters from Edmonton who brought ladders up the Ram River to get over the falls. I have my doubts but it's a good tale! Other hunters had hired mountain guides to get them up and over this frustrating obstacle with ropes and climbing gear. The next day we would see why one would want to get further up the Dodo valley – there are at least 3 beautiful lakes and a lot of stunning terrain hidden back there.
After checking out the views from the outlying ridge we descended back to our ascent line and out of the valley to our overnight packs. Following the horse trail around the lower headwall we realized that there are older trails leading up valley which are much more overgrown than the one we used. These are likely the other options the hunters had told us about. After chatting about Ladder Falls with the hunters we continued our way up the Ram River.