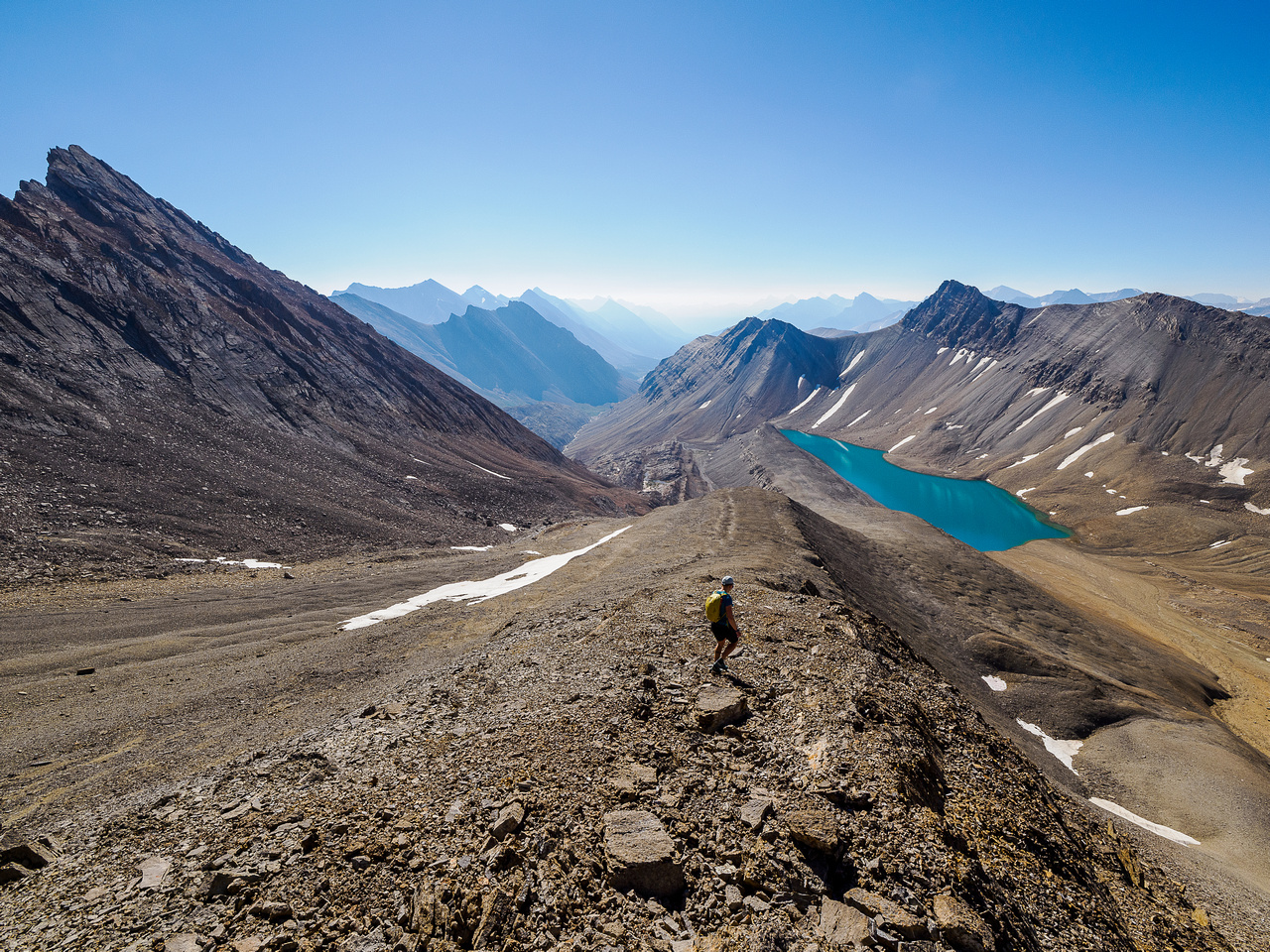 Summit Elevation (m): 3151
Trip Date: August 18 2022
Elevation Gain (m): 1000+ (from McDonald Creek)
Round Trip Time (hr): 5 (from McDonald Creek)
Reference Trip: Wandering the White Goat Wilderness
Quick 'n Dirty Rating: Class 2/3 – you fall, you sprain something.
Difficulty Notes: A very remote peak with a pretty easy ascent line but nary a trail to get you there!
Technical Rating: SC5; RE5
GPS Track: Download
Map: Google Maps
---
Mount McDonald is one of those peaks that once you find out about it, it grabs your attention. Or at least that's what happened to me. I'm not even sure how or why, but I was perusing bivouac.com one day and came across Rick Collier's photo trip report from a 2011 excursion into the area with David P. Jones. Unlike most of Rick's excellent trip reports on bivouac, this one was a little bit haphazard and buried in photo captions instead of written out in essay or story format. Some other peaks that he did in the same trip slipped off my radar (such as Lonely and Frances) until researching more thoroughly in the winter of 2021/22. What caught my attention immediately wasn't even the peak – it looked a little dreary and very easy. It was the large lake located south of the mountain that really got my explor8ion juices flowing and I immediately started dreaming of visiting this obviously special place at the headwaters of a pretty major drainage.
When planning a trip into the White Goat and the Afternoon plateau during the long winter of 2021/22, I got an idea to continue down valley to go for Mount McDonald. At the time I thought I'd have to return all the way back over the SE shoulder of Mount Willis to get back out to Nigel Pass and the trailhead. This was a LONG way from nowhere and would take more than a few days to carry out but I was pretty stoked. I even sent Sara a message after planning the trip, asking if she'd be interested. Of course she was. As August 2022 rolled on and my holidays came up I texted Sara that the trip was going to happen. We aligned some dates that worked for the two of us and set about making it happen. After two big days spent approaching and ascending Afternoon Peak, Mount Frances and Lonely Peak we finally found ourselves ready to give Mount McDonald a serious effort. We left our overnight packs along McDonald Creek and continued up the SE drainage towards the mountain with light day packs. I was super excited!
The SE drainage up McDonald Creek was fantastic scenery yet again. This whole trip we'd been experiencing some of the most scenic and distinct landscapes we'd seen in the Rockies in a while and this was no exception. A huge slab came into the creek from one direction while rubble and stacked boulders formed the other side. The water was clear and cold as we hopped our way over it, choosing whatever side was most efficient. As the sun rose in the east we arrived at an unexpected alpine bowl beneath an outlier of McDonald under a ring of cliffs and a small waterfall. At first glance I was concerned about our route over the cliffs but then I spotted a bypass on climber's left of the waterfall that would entail only easy scrambling on rubble. Phew. You never know on these trips if something around the next corner is going to block all your efforts! Ephraim himself was turned back only weeks earlier on Mount McDonald thanks to unexpected snow on his route. Ya never know. But once again we were going to be lucky on this trip.
After skirting the waterfall cliffs I had a hunch that if we followed ledges and scree slopes directly towards the still distant peak we could shortcut to it directly from the SE rather than going all the way to the lake first. My hunch was bang-on and even followed the route line I'd plotted months earlier. Sometimes things just work out I guess. It took us roughly 45 minutes to do the rising traverse but soon we were looking back over our shoulders at the stunning view of "McDonald Lake" below. What a view! We are so damn lucky to live and play where we do. 
The sun was cooking once again as we ascended the final few hundred vertical meters up easy south scree slopes to the lofty 3151m summit of Mount McDonald. Not surprisingly the morning views were mind blowing in every direction despite some smoke hanging in skies to the south. We spent some time on the windless summit, pointing out many of the Rockies' 11000ers and other obscure giants such as Obstruction Mountain to the east and Poboktan to the north. It was amazing how many peaks on the Columbia Icefields we could identify. This meant, of course, that McDonald is also visible from all those summits – most people have no idea they're looking at it though. I certainly never did.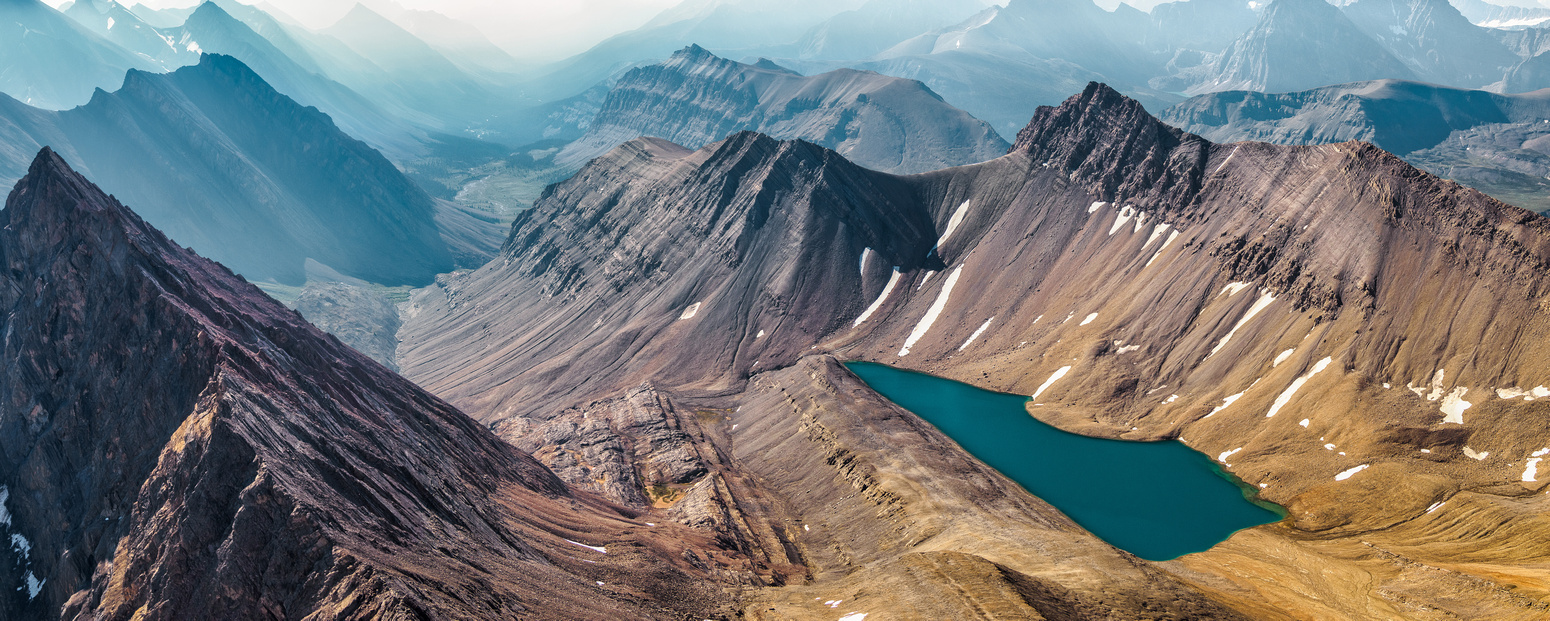 The summit register on McDonald was much busier than the other ones we'd opened. People also wanted to write essays in it for some reason – it must have been the views that inspired that urge. There were around 7 other entries since a Jasper warden placed the register in 1996 so it's not like this is a busy peak by any means. We had a long day ahead of us and we wanted to take a scenic route back over the lake so after 20-30 minutes on the summit we started a slow descent.
The lake stole the show on our descent of McDonald. It was a stunning greenish blue color under a brilliant summer morning sun, perfectly clear blue sky and almost no wind. At around the 2500m contour line this must be one of the larger high alpine lakes in the Rockies and I'm sure it's frozen more than not at that elevation. We hiked along a rib of scree over the east shores of the lake before descending it's outflow and joining back to our ascent line.
Walking out of the creek to our overnight packs I felt 110% satisfied not only with this trip but with the entire hiking and scrambling season for 2022. If I didn't bag another peak or hike another valley this year, I would be totally OK with that after the experience we'd just had. If you know me, you know I don't get this feeling often but this was one of those special mornings that will stick with me for many years to come.