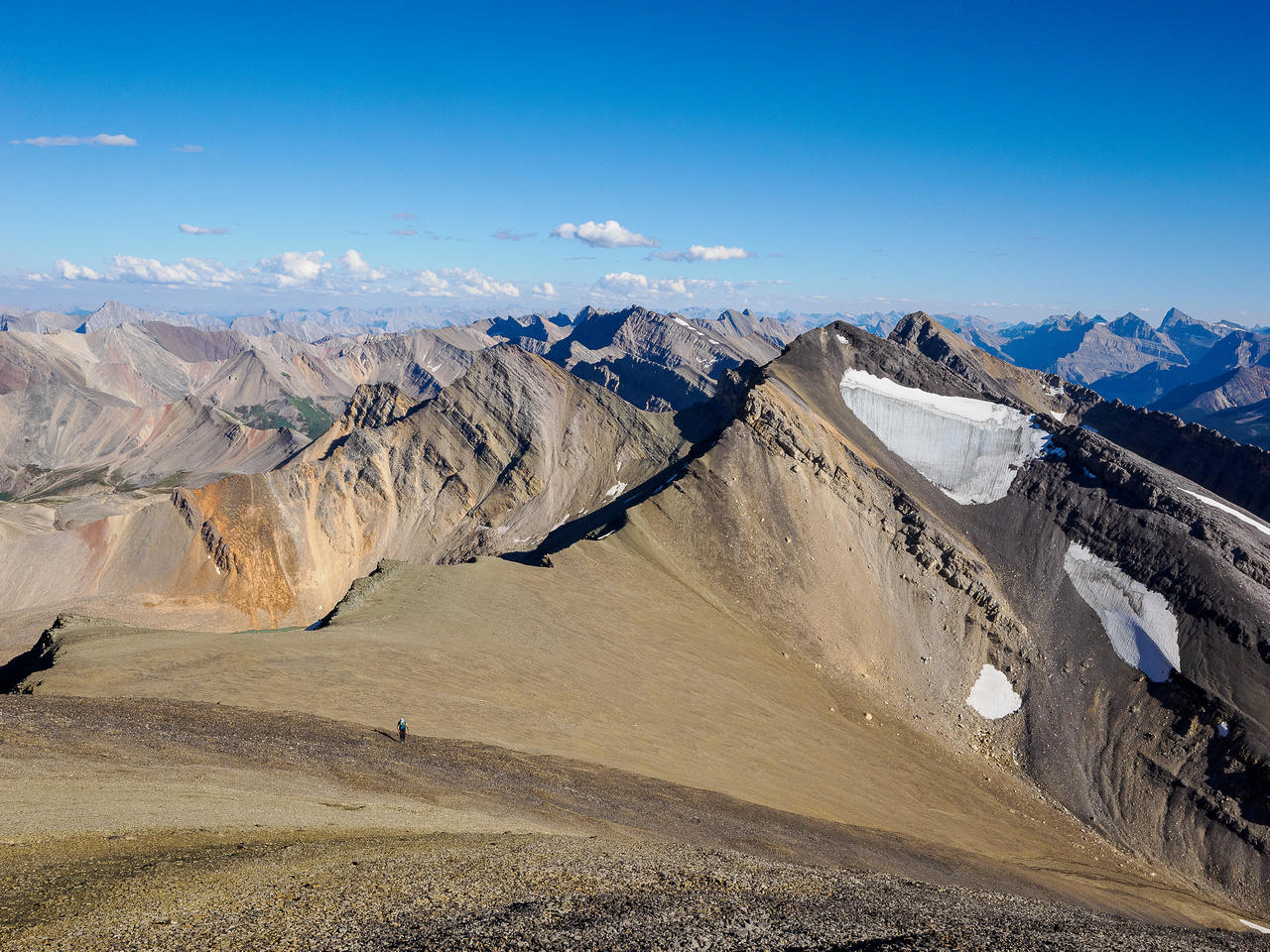 Summit Elevation (m): 3140
Trip Date: August 17 2022
Elevation Gain (m): 1000+ (from McDonald Creek bivy)
Round Trip Time (hr): 4.5 (from McDonald Creek bivy)
Reference Trip: Wandering the White Goat Wilderness
Quick 'n Dirty Rating: Class 2 – you fall, you sprain your ego.
Difficulty Notes: A very remote peak with a very easy ascent line.
Technical Rating: SC5; RE5
GPS Track: Download
Map: Google Maps
---
Many folks would have no idea where Lonely Peak is even if they're familiar with the Alberta Rockies. I certainly didn't until I started researching peaks up the Job, Coral and McDonald Creek valleys. When planning an ascent of Lonely Peak I only had a 2011 trip report from Rick Collier to go on. (And Google satellite maps.) Rick's account from his and David P. Jones' trip is a little confusing because they approached it from the opposite direction that Sara McLean and I would be using. His descent line sounded and looked straightforward on the map so that's where I drew my planned route. Sara and I already had quite the day behind us as we slowly started out from our camp along McDonald Creek. We'd been up and at it for 9 hours already, exiting the Afternoon plateau and valley, ascending Mount Frances and finding our way into the McDonald Creek valley. Despite being pretty keen peakbaggers, I'll admit that I wasn't totally feeling another ascent right away. This changed quickly of course, as it usually does for me!
Once again we had to deal with fierce willows along the valley edge before finally getting onto more open slopes around a SW outlier of Lonely along the creek draining the valley ahead. The creek was a deep drainage at this point, with a scenic series of waterfalls and some interesting terrain to hike through. As we rounded the outlier we could see two potential routes to the lofty summit – my originally drainage route and an exhausting looking scree bash up SW slopes directly to the summit. We chose the drainage, correctly assuming that it would be much more gently angled for our tired bodies. We spotted Rick and Jones' high col that they used to cross over from north of the peak at the head of a pristine alpine valley NW of Lonely Peak. Going over this high col would suck with an overnight pack but would get you to some pretty darn sweet terrain around the Samson Lake and Leah Lake area.
We started the drainage on fun slabs to climber's left before transitioning into the streambed on a mix of rubble, slab and scree. Water was certainly not going to be an issue on this scramble – we were literally walking in a flowing stream for a good part of the ascent! We had lots of daylight left so we took our time up the endless WNW gully but dang it – it really seemed to have no end. As it slowly turned north an endless scree slope loomed ominously over us, reminding us that we were only done the approach at this point. Once again we had to trust that Gaia had the correct highpoint as outliers looming to the south of the peak looked very high. The thought that we had to ascend even higher was a bit too much to think about so I didn't.
The endless south scree slopes were very easy at least. The rock wasn't the worst we'd been on – by far – and the views kept improving in every direction which always helps ease the pain of an ascent. As I finally gained the edge of a shallow ridge under the summit I was blown away by stupendous views east into the headwater areas of Job and Coral Creek. The summit never seemed to arrive on this lofty 3140m peak but of course it finally did. Once again we were a rare ascent of this out of the way peak, only two other entries in the register – one from the Grizzly Group in 2006 and the other from Rick Collier in 2011. 
As we were taking in the amazing evening views from our lofty perch Sara somehow noticed three colorful tents on an alpine plateau NW of Job Lake which was just out of our sight line. I took some pretty neat photographs of their incredible camp location. I also managed to photograph our primary objective for the following day – Mount McDonald and its pristine alpine lake.
Reluctantly we turned to the descent which was a surprising amount of fun compared to the endless ascent. First we scree skied to lower snow slopes which we then boot skied before getting back into the easy ascent gully. As the sun went down over Mount Frances we left the lower slabs and walked back along the creek draining surrounding alpine bowls.
The creek was muddy brown from the warmth of the day and all the snow and ice (glaciers) that were still feeding it in mid-August. The amount of snow and glaciers in this area continued to surprise us the whole trip. Most of the glaciers are small enough that I can't see them lasting much longer – I wonder how small some of the streams will get then? 
We returned to camp tired but extremely pleased with our day's efforts. After initially not thinking we'd get up Lonely Peak we were now owners of fond memories of a late day summer ascent. I was surprised by the incredible views into the headwater valleys and alpine bowls for Coral Creek and Job Creek – that area is definitely worthy of some serious exploring sooner than later.