Summit Elevation (m): 2883
Trip Date: Saturday, June 11 2022
Elevation Gain (m): 1120 from camp at Trident Lake
Round Trip Time (hr): 6.5 from camp at Trident Lake
Total Distance (km): 12.5 from camp at Trident Lake
Reference Trip: Adventures at Trident Lake
Quick 'n Dirty Rating: Class 2/3 – you fall you sprain something.
Difficulty Notes: A remote but fairly straightforward hike and scramble.
Technical Rating: SC5; RE5
GPS Track: Download
Map: Google Maps
---
After waking up in light rain and mist at our remote campsite above Trident Lake, Phil and I made preparations to ascend Whimper and possibly Snarl Peak located to the SE directly across from us. It wasn't ideal to pack up in light rain, but we were expecting morning showers and it was warm which helped mitigate any fears of crazy conditions. Although our summit was in morning clouds, we could see patches of blue overhead as we walked out of camp at around 07:00. As we marched onto the Clearwater Trail leading towards our first river crossing of the day – Martin Creek – Phil came up short and exclaimed, "what the heck is THAT?!". Phil often says stuff like this and mutters to himself all the time about "stuff" so initially I ignored him. When he started down the trail the wrong way I knew something had to be up so I reluctantly tagged along.
That's when I saw the dead rabbit. It wasn't the dead rabbit that was the real puzzle, animals die all the time in the real world. It was the dead mouse laying right in front of the rabbit on the trail that was concerning. Neither animal had signs of trauma but both were laying there as if carefully placed only meters from our tents! Very strange, but we had peaks to bag and things to discover so we turned around and marched back up the trail, pondering aloud what the heck could be going on here. Theories ranged from coyotes to wolves to witches to farts but none really satisfied as we continued to debate the issue along the trail to a lively sounding Martin Creek.
After a short detour to check out the very scenic Martin Creek on its way down to Trident Lake we arrived at our first crossing of the day. We knew we had three main river crossings just to access the NW slopes of Whimper and we had no idea what to expect. Interestingly, all three form the spears of the "trident" that is Trident Lake with the Clearwater River downstream of the lake being the handle. The Clearwater Trail crosses Martin Creek very close to its source – Martin Lake. As we approached the unbridged crossing it looked pretty darn tame and we breathed our first sigh of relief before plunging into the cool, clear water. Remember – Phil and I don't generally carry any form of water crossing gear.
We simply hike across anything we encounter in our approach shoes and hiking clothes and today was no different. We had rain pants over our hiking pants but that obviously didn't help much with waterproofing from below! Soon after the easy crossing we plunged down to our left in light forest, leaving the Clearwater Trail for our 2nd and most concerning river crossing of the day – the Clearwater River. As we approached the inlet of the river to Trident Lake we were encouraged to see it widen and slow down here. Of course it also got deeper! It was kind of neat to find evidence of a very old camp on the shore before scouting our crossing. We decided to simply start wading at the widest point and hope for the best. I've never waded a river up to my butt before, but I guess there's a first for everything… The water was very slow moving or this crossing would have turned us back for sure. As it was, we had to search around a bit in order not to go waist deep but we found a way through.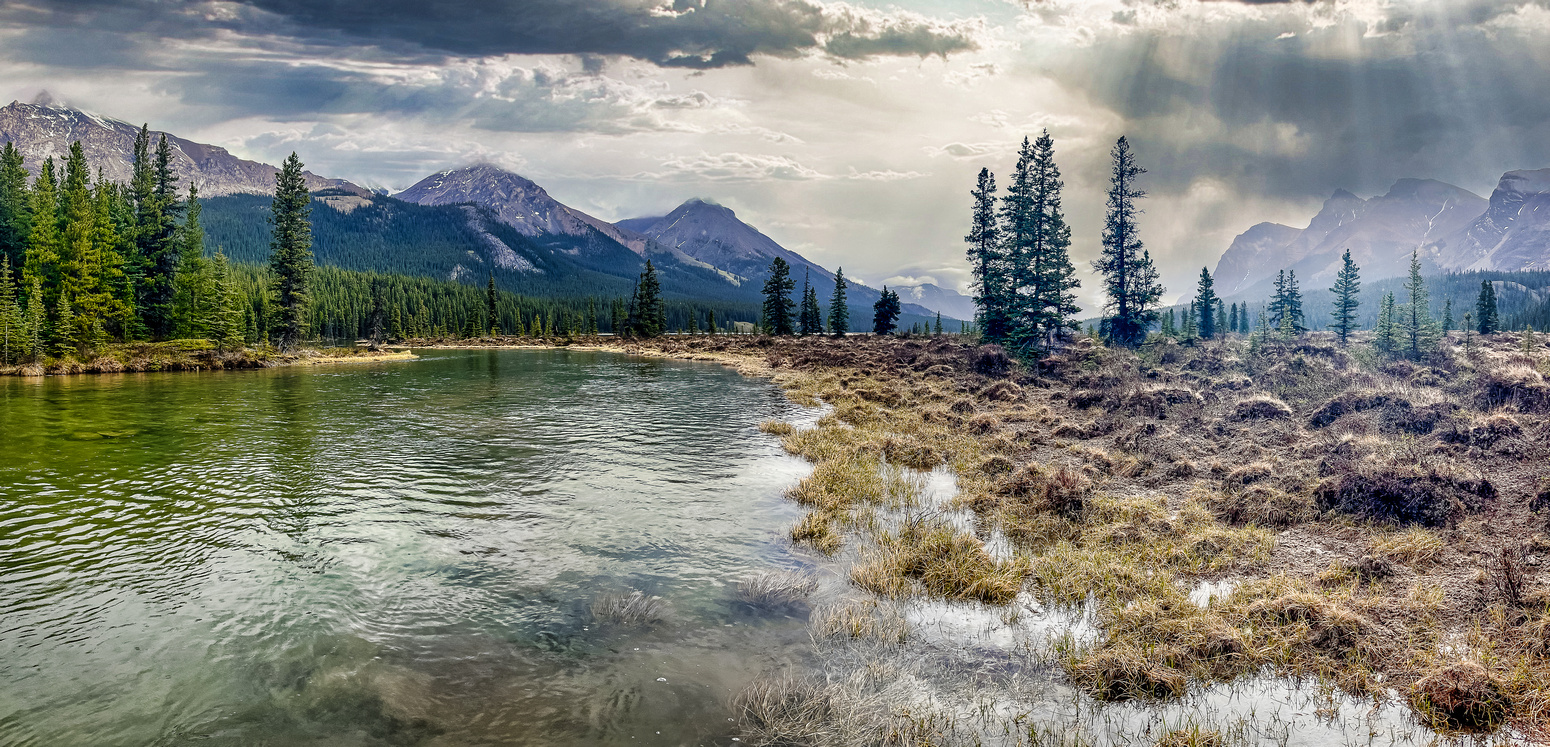 We exited onto scenic marsh flats at the south end of Trident Lake just as the rain let up and the sun started peeking through the clouds. Whimper Peak started showing its summit and all was good in the world as we made our way along the interesting landscape towards our 3rd and final river crossing of the morning – Roaring Creek.
The marsh wasn't nearly as bog-like as we expected and sooner than later we were tramping our way along a very lively Roaring Creek living up to its name. The creek didn't look very difficult to cross and it wasn't. But dang it – it was bloody cold for some reason! Compared to Martin Creek and the Clearwater River our feet felt numb after the short crossing. We were excited to see the falls at the end of the creek and without lingering we started up obvious open slopes just to the north of the creek which promised some nice views of the falls and access to our ascent line.
Sure enough! Just as promised, the shoulder route worked perfectly, granting us great views of the impressive Roaring Creek Falls below and a direct and mostly bushwhack-free access to the NW ascent line I'd spotted from camp the evening before.
The next few hours were very pleasant hiking and easy scrambling with stunning views slowly opening up in every direction as we ascended. The sneaky line through lower cliffs on the NW end of Whimper could not have worked out better. After ascending light forested slopes we found ourselves on very steep dirt and rocks that reminded me of Hawk Mountain in Jasper National Park.
It didn't take long on this direct route and we were at treeline with our first views up the lovely, wild, Roaring Creek valley. I can't think of a more remote valley in Banff National Park than Roaring Creek, unless maybe its neighbor to the NW – Martin Creek. I've travelled some bloody remote terrain in the park before but this is next level stuff. There is no easy access into this area. There are 3 main access routes;
Via the Red Deer River, bushwhacking up McConnell Creek like Phil and I did in 2020 before cutting up a side valley and hiking to the headwaters of Roaring Creek.
Starting from hwy #93 up the Mosquito Creek Trail, you can ascend steeply over Quartzite Col and through the Clearwater Pass before descending downriver to Trident Lake like Sara McLean did on her solo Martin Creek loop in 2020.
Then there is the Cutoff Creek option which will test your biking and endurance in a unique manner on the bike – this is the route we took on this particular trip.
Obviously there are slight variations of these routes that folks have taken, including the option to hike the headwaters of Martin Creek like Phil and I did in 2020. All of these options involve planning, tenacity and a good sense of adventure and explor8ion. Put it this way – they are much wilder and more remote than "popular" remote hikes such as Recondite Peak or even Mount Alberta's access route. Rick Collier took 5 days just to approach and tag Mount Malloch from hwy #93 back in 2000 and he was no rookie when it came to wilderness travel or bagging remote peaks!
The mid to upper west ridge of Whimper Peak was even drier than we'd dared to hope it would be. This was likely due to the fact that I carried crampons. If you bring gear, you won't need it. If you leave the extra gear behind, chances are you'll need it. That's how nature works right? In any case, we enjoyed mostly solid rock and increasingly wild views as we made our way slowly up the mountain.
Finally, around 4 hours from camp we found ourselves with no more elevation gain ahead and no obvious cairn indicating previous ascents either. There were some rocks just under the summit that could have been the remains of a very old cairn so I'm certainly not claiming an FA on this one. There is a good chance that the 1919 geological team ascended here to garner views of surrounding peaks but I can almost guarantee that very few folks have stood on this particular summit over the past few thousand years. Summit views were great to the east and somewhat muted everywhere else thanks to lingering clouds but the scene was wild and I almost prefered a bit of mystery that the clouds provided.

We briefly considered descending the east face of Whimper to gain the Snarl col but chose to be wise and avoid the steep, unprotected snow slope. There was still the matter of not knowing which summit on Snarl was actually the highpoint but it was becoming more and more obvious the longer we looked at it that the highest point was also going to be the hardest and most technical one to attain. As we started down west slopes and took in the amazing views up Roaring and Martin Creek we chatted about the rest of our day. It was becoming obvious that even though the weather was definitely improving, the day was also slipping by quicker than we'd expected. It turns out that travelling in untracked terrain, crossing unbridged rivers and ascending unknown peaks takes a bit longer than tramping up Prairie Mountain for the 60th time in a year. Who knew?!  
After deciding that we would definitely tackle what was increasingly being referred to as the "false summit" of Snarl Peak we looked a rapidly clearing Mount Malloch across the valley and changed our minds yet again. This is what I love about adventures with Phil. He's always willing to change his mind (even multiple times per hour sometimes) if conditions and possibilities justify it. Our main objective of this trip was always Mount Malloch. Despite the remote possibility of ascending it very early on Sunday morning before tackling the long exit, we knew this was a desperate move. The weather forecast called for a major rain / snow event to move in on Sunday afternoon and we knew the horrors of the Clearwater and North Cutoff Creek Trails when soaking wet. Since we likely wouldn't even be tagging the true summit of Snarl Peak and since Mount Malloch was no longer in clouds the decision to abandon the lower peak for the highest one was easy. 

We descended our ascent line from the west face to the lower NW shoulder before hiking out along Roaring Creek with blue skies overhead and tiny purple Primrose wildflowers under foot. I've been dreaming of visiting this area for many years since reading Rick Collier's trip report on the area and it was sublime to finally be putting footprints next to this beautiful stretch of water. We retraced our approach across the ice cold Roaring Creek before wading ass-deep across the Clearwater River and finding the trail back. A brief stop along Martin Lake on the way back provided a few moments of bliss that almost had us taking a long nap in warm sunshine to the sounds of waves gently lapping the shoreline below. What a heavenly spot! There is no doubt that I'll be back here to enjoy this pristine landscape again. It's pull is going to be way too strong to ignore for long.
A short walk back to camp after crossing Martin Creek ensued, with a quick check on the dead animals nearby. The mouse was now gone but the rabbit remained, staring with empty eyes down the trail and giving us the heebie-jeebies when we thought about the poor thing. After a brief, rejuvenating lunch and bevvie we packed up once again and headed off to another adventure on Mount Malloch.