Summit Elevations (m): 3023, 3044, 2475
Trip Date: Saturday, August 28, 2021
Elevation Gain (m): 2150
Round Trip Time (hrs): 12
Total Trip Distance (km): 41
Quick 'n Dirty Rating: Class 3 – you fall, you break something.
Difficulty Notes: A 10km approach on bikes up Baril Creek with ~450m height gain on a mix of good road and rougher track. Aldridge is mostly class 2 with a few steps of class 3, the traverse to Courcelette is class 3. Fording Peak is class 2 depending on route.
Technical Rating: SC6; YDS (3rd), RE4
GPS Track: Download
Map: Google Maps
---
It's crazy how quickly summer flies by up here in the great frozen north! I can't believe that fresh snow is already falling on the larger peaks and how dark it is already by 20:00. Fall is definitely in the air and some foliage is already starting to show some color. Good thing Fall is my favorite season or I'd be getting a wee bit depressed right about now. Lately I've been reading posts on social media about "scree slogs", "endless scree bashes" and "piles of crappy scree" and other thinly veiled insults to my favorite pastime. The best cure for hating on scree bashes is to simply stop doing them. If you end up missing it (like I always do), simply go back. If you don't miss it at all, find yourself another hobby. I found myself missing the heck out of a good scree bash as the last weekend of August fast approached. I had good reasons for missing most of the August peakbagging rush having spent over two weeks on a fantastic canoe trip in northern Saskatchewan with Hann for the first half of the month. The break from mountains was awesome in every way but I was more than ready to get back to them. The weekend before I had plans to go out to the mountains that fell through so I was super determined to go out both Saturday and Sunday  – especially with a perfect smoke-free forecast. 
At first it looked like I'd likely be going solo until Cornelius expressed interest in a Saturday trip along the Great Divide over the Fording River Pass. Phil Richards and I had already done several trips into this area both in 2019 up Mount Armstrong and Bolton and then again in 2020 up Baril Peak. Both of those trips solidified the area as very worthwhile to get back to and thanks to recent beta from Brandon Boulier I had an itch to finally get up Mount Aldridge and Courcelette Peak – two summits that have been on my list ever since reading about Ric Collier's adventures from 1991 where he traversed 7 peaks over 2 days including Scrimger, Etherington, Henretta, Baril, Cornwell, Aldridge and Courcelette! On hindsight I could have saved myself a TON of extra day trips by 'simply' retracing his trip over the weekend… He rates the trip as only "moderate" but a careful reading of the report indicates that it's likely slightly harder than that in places.
We agreed to meet south of Calgary at 07:00 and by around 08:30 we were parked at the trailhead. Cornelius had never been up Baril Creek or to Fording Pass and this would be a great test for his new mountain bike – a nice Rocky Mountain all terrain dual suspension like mine. The trail and vegetation alongside it were soaked thanks to rain the evening before but the sun was already warm as we pedaled up the creek. The biking up Baril Creek is a mix of easy, frustrating and everything in between. There are just enough challenging sections to keep it from being a popular biking destination but I happen to love this kind of bike approach. I think Cornelius was a bit surprised by the amount of energy the biking required but he was loving his new bike. We managed to grunt and wheeze our way just over 10kms up Baril Creek before finally giving up on the 2-wheel steeds. At this point the trail steepens crazily and it's just not worth pushing up it anymore. After locking the bikes together we continued marching up the GDT to the open shoulder south of Mount Armstrong.
From the open scree shoulder the GDT dips to Baril Creek where I finally filled my water bottles for the long day ahead. As we ascended into the open alpine meadows of the Fording River Pass we were delighted with the clear views in every direction and complete lack of wildfire smoke for once this summer. One of the reasons I wasn't too disappointed about missing most of August 2021 as far as peaks was concerned was a thick haze of smoke on most of my friends social media feeds. We continued up the GDT which grew faint in places as we crossed the pass towards the North Peak of Mount Aldridge.
I was surprised to see a beautiful little tarn at the pass with great views of Mount Cornwell and Aldridge to the south and Mount Bolton to the north. Our route into the scree bowl between Cornwell and Aldridge was obvious from this tarn and we headed over to it.
Mount Aldridge
After a quick bite to eat we turned our attention to the first scrambling of the day. Cornelius decided to take a direct route to the Aldridge / North Aldridge col while I decided to follow Brandon's track up to the north summit before traversing south to Aldridge. Both routes were class II scrambling on rubble and scree so it's really a matter of whether or not you care about tagging the north summit of Aldridge. I enjoyed the views over Fording Pass from there.
The east ridge to Aldridge North Peak was, as expected, loose and rubbly but easy scrambling. I was feeling my lack of mountain exercise more than I would have prefered grinding up this slope but the incredible views over Fording Pass and back to Mount Cornwell and Aldridge kept me distracted from feeling too out of shape. I could see Cornelius making short work of his shortcut route as I continued my ascent.
The summit views from the north peak of Aldridge were incredible, especially over Fording Pass towards a group of peaks that I'd done years previous such as Shankland, Bolton, Armstrong, Muir, McPhail, MacLaren and Strachan. Looking over at Mount Cornwell and Baril had me wondering why Phil and I didn't tag them together but I guess now I get to visit this area again in 2022 – not a bad problem to have.
After enjoying the views from the north peak it was time to traverse to the real one. From my vantage the north ridge of Aldridge looked a bit intimidating, especially with snow on it, but I figured it was get easier the closer I got. I could see Cornelius at the col as I made my way towards it so his route was obviously a bit quicker than mine was.
From the col I could see Cornelius' footprints in snow leading up and around the only real obstacle in the form of a cliff band stretch part way across the ridge. This little traverse made things much easier and we even decided to tackle some more of the ridge headon despite having some easier options on either side. 
As I summited Mount Aldridge I managed to get some fantastic photos of Cornelius coming up the north ridge below, highlighting the grandeur of this set of peaks sitting along the Divide. The register was a sort of useless bunch of loose paper but it did indicate a pretty sparse number of scramblers bother coming up these peaks. Considering how easy they are to access and ascend I think more folks will start enjoying them as word gets out.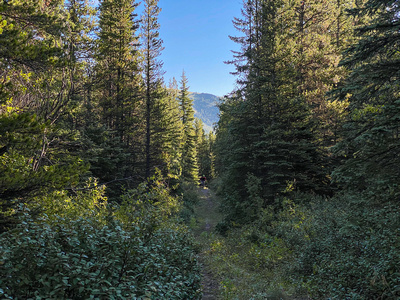 Courcelette Peak
After snapping way too many photos it was time to tackle our next objective – Courcelette Peak. Just as Mount Cornwell should be combined with Baril Peak if you're all the way up there anyway, Corcelette really should be combined with Mount Aldridge if you can handle the class III terrain between the two peaks (moderate scrambling). Otherwise Courcelette could be scrambled easily on its own via the NW ridge from the Fording River valley as long as you stay climber's right of the ridge on the upper NW face to avoid any moderate terrain. Anyway, we descended loose blocks of rock off the summit of Aldridge – reminding me a little of the terrible shifting blocks on Mount Shankland to the north. This wasn't quite as bad as that but bad enough to require some cautious steps on descent.
Near the col the east ridge of Courcelette started to look more and more intimidating. There were obvious cliffs blocking the ridge crest and snow on the north face didn't help make things look easier. I trusted Brandon's rating of "class 3" however, and we knew once we got our noses into it routes would open up.
Despite the tough looking terrain, the east ridge softened a bit once we started ascending. We took some harder lines than were strictly necessary partly just because we wanted to and partly due to snow on the north face which prevented long traverses on climber's right of the ridge. We picked lines either left or right around obvious cliff blockades but always went back to the ridge crest as soon as possible while staying within moderate to upper moderate terrain.
As we ascended the east ridge we both commented more than once how much fun it was to be up here on such a gorgeous day. The scree haters are always gonna hate this type of terrain but this is my bread and butter and often even my desert! Call me dumb but scrambling up loose ridges with nothing but air on either side, clouds racing overhead, birds soaring the currents of wild air, green forests, sparkling tarns, lakes and rivers far below and a good friend knocking the occasional rock past my head is one of the best ways I know to spend a day off.
Near the summit of Courcelette we deviated onto the south side of the ridge (no snow) before once again scrambling steep, loose blocks of rock to the ridge crest. Now it was just a matter of walking to the top of our 2nd summit of the day. The views from the summit of Courcelette were even clearer than the ones from Aldridge and we spent some time taking them all in. Many peaks to the west of the Divide were unfamiliar to us. I especially enjoyed the views of Mount Abruzzi and Mount Joffre.
We spent about 30 minutes at the summit in a cool wind before turning our attention to the NW ridge. Brandon calls this class 2 terrain but this is true only if you stay away from the ridge proper and descend to skier's left more on the NW face than on the ridge. We descended along the ridge and encountered some moderate terrain here but nothing too serious. As on the ascent of the east ridge everything was loose and we had to be very careful which rocks we put our full weight on.
Cornelius had an idea all day to add a small pyramid shaped peak to our itinerary if we had the time and energy to ascend it at the end of our day. From the summit of Courcelette this tiny peak, dubbed "Courcelette NW3" on Gaia almost didn't look worth it and we decided not to bother. As we descended the NW ridge the tiny peak got larger and we decided that not only should we ascend it but we should name it after the nearby river and pass – "Fording Peak".
We continued to follow the NW ridge until treeline where we shortcut off it towards a small tarn tucked against the lower ridge. We expected to run into the GDT before the tarn but we didn't. This lake would make a great camping spot but we didn't linger as the shadows were growing long already and we had a few hundred meters to the last summit still to go.
Fording Peak (Courcelette NW3)
We headed left from the tarn and after stumbling across a number of game trails we finally found the cutline / GDT trail. The only issue? It kept going down! And remember – we were on the west side of the pass at this point and needed to go UP just to get home, nevermind bagging Fording Peak. We descended towards another cutline before taking it for about 10 steps and then cutting back off trail towards Fording Peak's lower slopes. From there it was an easy scramble up the SE ridge to the spacious summit with surprising views back to Aldridge and Courcelette.
As Cornelius approached the summit cairn he let out a loud, "Of COURSE" before hoisting a pink ammo register into the air – yet another Ephraim Roberts gem. Sure enough! He'd been here in mid July 2020 and left one of his signature summit registers behind. 
From the summit of Fording Peak we descended easy slopes to the NE before hiking back up to the pass on the GDT. Late day views over the pass were stunning and we enjoyed a nice stroll back to the bikes.
The bike ride back down Baril Creek was a mix of grinding back uphill and then a nice long speedy descent on a dried out trail. We arrived back at the van just as darkness settled in, taking about 12 hours to complete the trip. What a great day! I highly recommend this trip for anyone with strong biking stillz and a desire to suffer a bit. You have the option of adding even more peaks to the day such as Bolton or Armstrong. If you are currently hating on loose rock or scree I would set up camp at one of the gorgeous tarns along this route and take out a good book or a glass of wine and call it a day.