Summit Elevation (m): 3005
Trip Date: Friday, July 20, 2018
Elevation Gain (m): 2000
Round Trip Time (hr): 15
Total Trip Distance (km): 15
Quick 'n Dirty Rating: Class 3/4 – you fall, you are seriously hurt or dead
Difficulty Notes: A difficult approach through medium BC bush followed by snow climbing, loose rock and routefinding up ledges and cliffs to the summit.
Technical Rating: SC7; RE5
GPS Track: Download
Map: what3words
---
Somehow, despite planning a trip into the Lyell Icefield to climb the last of the Lyells (IV) that I have left, I ended up in the Mount Assiniboine area yet again this year, with Phil Richards of course! It's a long, convoluted story so I'll cut it short. It goes something like;
Plan Lyell trip
Check weather
Keep planning Lyell trip
Check weather
Start wavering on Lyell trip
Check weather
Bail on Lyell trip
Plan another trip
Isn't that typical for Rockies trip planning? The good thing is that it works remarkably well, provided you're very amenable to last minute changes. Even when Phil and I narrowed it down to the two of us going somewhere further south than hwy 1 to avoid the worst of the two weak cold fronts that would be moving through, we still ended up changing our final objective pretty much at the last minute and yet again once we were in the mountains. I think the key to enjoying long, difficult days in the hills is to keep an open mind and not to be too strict on your destinations. If you're willing to change your mind even part way through a trip, you can keep things fun and safe much easier than if you're bull headed about planning something and sticking to it at all costs.
I've had Mount Alcantara and Brussilof on my explor8ion list ever since reading about them in Rick Collier's trip report on Bivouac. They sounded huge, remote and challenging – especially Brussilof. Now that I've done them, I think Rick's categorization of Brussilof as a "moderate scramble" is a bit misleading. I've done many, many moderate scrambles and this was certainly not one of them! Also some of his details are confusing, i.e. he mentions a "broad scree back" and "mostly walking", I have no idea which section of mountain this could be referencing. To his credit, Rick did climb it in bad weather and didn't return the way he ascended so there is a chance things got "simplified" a bit in his memory. Alcantara had seen a few more ascents since it came on my radar (Andrew, Raf, Matt and Matt) but it clearly hadn't become a popular peak either. I was very excited to finally tackle these two mountains and it made sense to plan a bivy to give us two full days to tackle them both if necessary.
This trip started out more dubiously than most when I got a brutal migraine just as Phil drove out of Canmore towards the Banff-Windermere highway which would take us to Settler's Road. I've had migraines my whole life, but thankfully they're more about vision impairment (i.e. "auras") than the stabbing headaches that most people associate with migraines. Of course I say "thankfully", but when you're about to scramble some pretty big, remote mountains, losing a good chunk of your vision isn't ideal! To be honest, it really, really sucked. I wasn't too happy about it, but decided that it wasn't going to stop me this time – I was going to push things a bit and see what happened. Thankfully it was Phil's turn to drive so the vision loss didn't matter too much – I knew it would start coming back sooner or later. The only issue remaining was that usually I lie down and take it easy when a migraine sets in and this time I was going to do pretty much the exact opposite of that. I wasn't sure how my body would respond. As it turns out – it wasn't too happy about the new direction I was introducing. 
After the dusty, but easy and straightforward drive down Setter's Road, we turned off onto the much smaller Aurora Creek FSR. A few kilometers of easy driving on this much smaller road brought us to the parking area and drainage leading up between Mount Alcantara and Brussilof, just before the first bridge on the Aurora Creek road. My vision was still quite wonky as we prepped our packs for a one night bivy and the dull headache and nausea that accompanies my migraines were fully settled in. We were surprised to see a truck drive up to the bridge right by our parking spot. Two guys got out and approached us, thanks to my loss of vision I couldn't really see their faces clearly (it's weird, but when I get migraines only spots of vision disappear, not the whole thing – but always people's faces). One of them said, "hey Vern, we met on the Columbia Icefields when I was with Fabrice and Josee". "I'm Jay", he continued. Ah yes! I remembered Jay now! Jay Lund has done many cool trips and I was wondering what he was up to. It turned out that him and his friend Glen were going in to scramble a few of the less popular peaks around Marvel Pass. They were very interested in our objectives too. After chatting a few minutes, they continued up the road and we continued wrapping Phil's SUV with chicken wire to prevent critters from destroying his brakes. Finally, we shrugged into our packs and set off across the bridge, aiming for an ascent line up climber's left of the outflow creek.
We knew from Matt's trip report from Alcantara in 2016 that we were in for a bit of a thrash in good ol' BC bush. I wasn't feeling so positive about the day as we started up an overgrown approach path leading up towards the old clear cut before start of the real bushwhack. My vision was still spotty and the familiar dull headache and nausea were slowly setting in. I made sure that Phil was fully aware that I was considering a successful approach to the bivy as a huge bonus for this day. He assured me that this wasn't an issue, "we have time for these peaks, we're in no huge rush to get them done today". Once we ascended the relatively easy bushwhack on the clear cut things got interesting. The bushwhacking never did reach epic proportions (i.e. Nestor Peak or Alexandra) but some sections were grueling, slow and a bit frustrating. Thank goodness we have light overnight packs or this really could have sucked badly. As it was, after about an hour the bush started to calm down with more open avy slopes and even a stream bed to assist us above the first lake.
As our views slowly opened up, so did our moods. A waterfall in one of the upper valleys was particularly beautiful. I'm sure only a handful of people have walked past this spot and we felt privileged to be there. The outlier of Brussilof towered over this spot – making us feel pretty small as we gazed over the wilderness around us.
As we approached the headwall that produces the waterfall, we stuck to climber's left and found the exact spot where Matt and Matt had broken through on a much smaller waterfall and series of wet ledges. After this we traversed some more forest before entering the suck officially, on an avalanche slope beneath the huge SW slopes of Alcantara. We avoided this area on our way back out of the valley!
As we kept going and going, I was getting tired. My headache was a constant throb, I couldn't even yell "yo bear" without feeling a stab of pain run through my head and down my neck. We had ascended hundreds of vertical meters by this time, all in the bush and all off trail with overnight packs. As we finally broke into the alpine meadows between Alcantara and the towering NW cliffs of Brussilof, we started searching for a nice bivy spot. Alas, the small lake we were planning to camp by was more of a muddy pond than a premier destination alpine lake, and despite there being some suitable terrain for the mid, we didn't love what we were seeing. So we kept going. Thankfully after ascending an easy headwall above the small lake, we found a patch of level snow near some running water that worked perfectly. We stopped to set up camp, hydrate and eat. We were blown away when we realized we'd ascended over 900 vertical meters to this spot! That certainly explained the slight stiffness in my knees! I popped some Tylenol Cold to help with the headache and hoped for the best. My vision was mostly back to normal at this point – thank goodness.
After setting up camp there was way too much daylight remaining to not at least try for a peak or two. I mean, we couldn't just sit around camp and enjoy a lovely afternoon of peaceful meditation right?! Originally we were thinking we'd ascend Alcantara first and save Brussilof for Saturday morning, before exiting to our next objective, but I suggested that maybe we should do the more complicated and lesser known ascent first. Phil agreed, so we packed our bags and headed up yet another headwall behind our camp, aiming for some very ominous cliffs guarding the col between Alcantara and Brussilof to the east.
At first we were thinking that we could break through the rock wall on far climber's right before traversing a ledge system back left to an obvious break in the upper cliffs to the col. As we approached it however, the climber's left walls started looking more and more broken and doable. We changed our minds and headed there instead. Sure enough! As we worked our way up the cliff, it kept getting easier and easier. No more than moderate scrambling on fun, blocky terrain to the obvious break. From there it was a steep moderate scramble and we were on a gorgeous ridge traverse leading towards a very intimidating north ridge of Brussilof. So far, so good. This was becoming a very enjoyable scramble already. My headache started to fade into the background a bit more.
In his report, Rick mentions "steep snow and scree with the odd scrambly bit" on the north ridge. While technically this is 100% correct, it's a bit of an understatement. From a mountaineering or alpine climber's point of view it's sufficient, but from a scrambler's point of view there's a bit more to it than that. As we approached the north ridge, we could clearly see the line of snow up a north gully on the west face that we needed to ascend. This already puts the mountain at more than "just a scramble", as many scramblers wouldn't be prepared for it or have the skills necessary to ascend snow like this. Phil told me later that normally he'd have turned back already at this point – he's simply not comfortable yet on steep, exposed snow / ice. I love snow and knew that this slope wasn't quite as bad as it looked from a distance, so I persuaded Phil to get our noses into it and see where things went from there. As usual, once we got under the slope I could see that we could work our way between the rocky cliffs and snow and would feel pretty protected in the shallow moat. I led up steep snow to the rock / snow line and from there it was a mix of steep, loose rock and snow until the gully got a bit icy for my taste and my light, aluminum crampons. We transitioned to some really steep and manky dirt / rock (kept my crampons on for this) before topping out on the gully. My headache was slowly fading at this point – likely because I was really enjoying the challenging terrain. I kept telling Phil how fun this was! My day was rapidly improving on Brussilof. Phil somewhat reluctantly agreed that this was, indeed, a lot of fun.
From the top of the snow gully to the crux is impossible to describe in any detail which is maybe why Rick's report is so scarce of details. It certainly isn't "mostly walking" or a "broad back" though – that I can tell you! There's a lot of routefinding on loose, blocky terrain while traversing very steep ledges and wondering the whole time if the next section is going to be a dead end or not. We didn't build enough cairns on ascent and despite thinking we knew exactly where we went, the terrain tripped us up several times on return. As I gained a crest on the ridge and looked towards Rick's "moderate chimney" I figured our attempt might just be ending early after all. The crux crack is only "moderate" for a climber – it's certainly more than that for most scramblers, including myself. Again, I knew that we had to get our noses into it and so we did just that. There was no other option on the blank face of the wall blocking the ridge – steep walls fell off hundreds of meters on either side of the ridge. This makes the crack easy to find – it's literally your only option! Once I looked closer, I again figured we'd be able to make it up the first 10 feet or so. After that there was a slightly overhanging crux before the terrain got blocky and laid back a bit more.
Phil went up the first section, a bit awkward but no biggie. I followed him up, as usual it was slightly harder than it looked from below but soon we were both sizing up the crux. Phil thought it looked pretty stiff, but I was feeling pretty great about it – it was my favorite "difficult" terrain, a chimney. I love chimneys, as they generally allow you to stem your way up or down while feeling pretty secure. In this case, it was a matter of using hands and feet to counterbalance my way over the lip and onto the less exposed face above the crack / chimney. Phil followed and admitted that it wasn't quite as bad as it looked – although obviously we both agreed it was still much more "difficult" than just "moderate" scrambling. I found myself really enjoying the more complicated terrain. Just as on Assiniboine, the steepest terrain is more solid with tons of huge holds and the ledges are a bit of a nightmare, liable to collapse under you or on top of you at any moment.
The terrain above the crux wasn't trivial either. Very loose rock was a common theme, as were exposed ledge traverses, small cliff bands to circumvent and views that knocked our socks off as we got higher and higher. Generally the ledges were on climber's left (SE) and firmer terrain was on the ridge crest. Everything we touched was suspect and no hold could be completely trusted, slowing us down and making us feel a bit frazzled at times. Finally we found ourselves blocked by one more steep snow arete that was bypassed on yet another ledge traverse below the summit block on the SE face before contouring back up and towards the summit which was conveniently located right on the middle of the ridge. I was super excited to see a register and opened it to see we were only the 5th recorded ascent since 1929 and first in almost a decade since Colin Jones ascended it in 1999.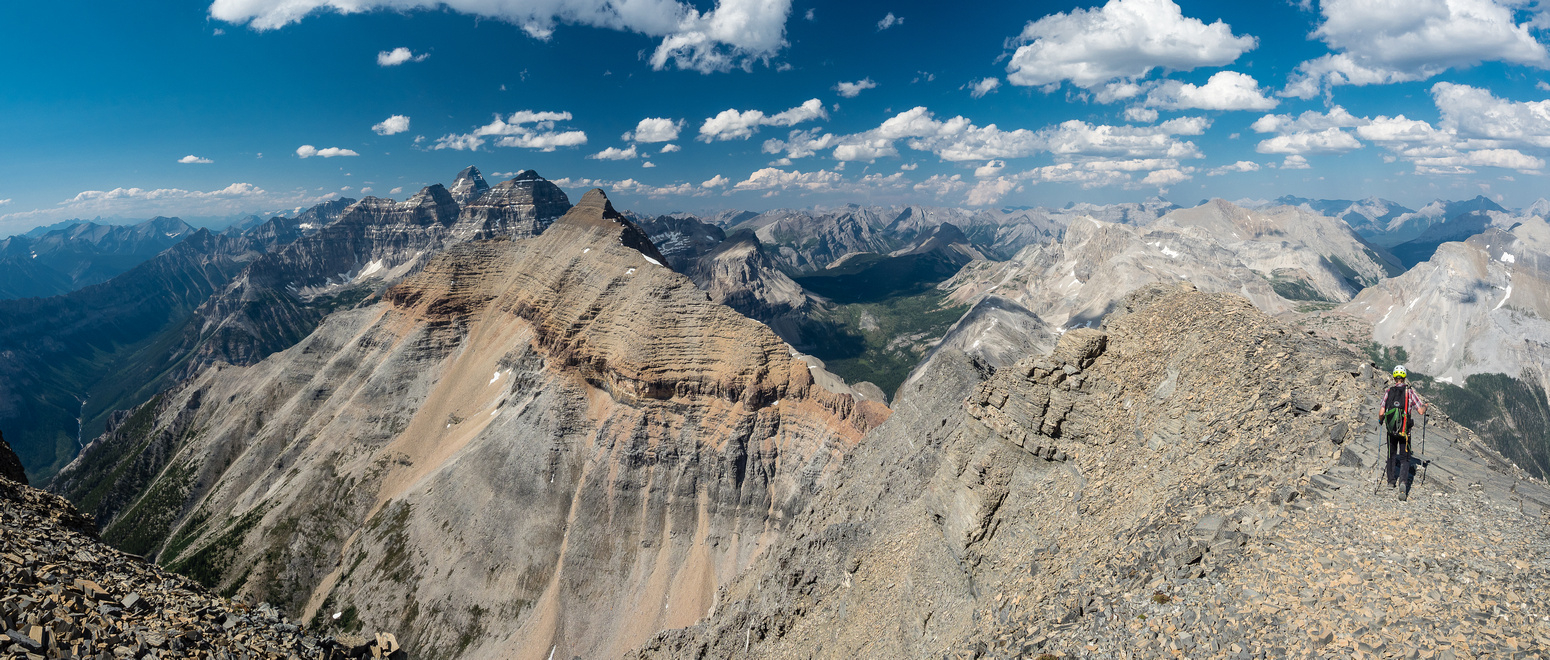 After enjoying  a break on the summit and taking our usual plethora of summit photos, Phil and I turned our attention to the complicated descent towards Alcantara. My throbbing headache was under control at this point, and we were talking about heading up the south ridge of Alcantara from the col with Brussilof. The descent to the col was, as expected, slow and a bit involved. Most of the technical bits weren't too hard to reverse – especially the chimneys weren't horrible to downclimb. The snow gully was slow, but fairly easy as well – it certainly helped to have kicked steps and the confidence that it already worked fine on ascent. As the afternoon shadows lengthened and the day shifted into evening we set our sights on the magnificent looking south ridge of Alcantara, rising impressively to its lofty summit hundreds of meters above us.
I have to say that Brussilof might sneak onto one of my "favorites" lists. It ticked a lot of boxes for me. First I ignored and overcame a brutal migraine. Then we had the fun snow climb followed by intricate routefinding and steep, blocky climbing including a neat chimney / crack feature. Then there's the summit itself, which has only been visited a handful of times over the past 100 years. That's a lot of positives for any mountain!