Summit Elevation (m): 3453
Trip Date: Sunday, August 27, 2017
Elevation Gain (m): 2500
Round Trip Time (hr): 21
Total Trip Distance (km): 30
Quick 'n Dirty Rating: Class 5 – you fall, you are dead
Difficulty Notes: Not particularly difficult climbing but a mix of everything alpine. Wild stream crossings, routefinding, glacier travel, snow / ice gullies and 4th and 5th class climbing on extremely loose, exposed and friable terrain.
Technical Rating: MN9; YDS (5.3); RE5
GPS Track: Download
Map: Google Maps
---
Quick 'n Dirty Beta
This is a long trip report that you should only read if you're very, very bored. Here's the quick 'n dirty for those looking for beta without the novella.  
Drive the Bush River FSR from Donald (just past Golden), past the base for Chatter Creek and all the way down the Bush Arm of Kinbasket Lake and almost 100km to the unnamed creek. This road deteriorates for the last few kms but is very drivable right to the end by almost any vehicle with some clearance.
Cross the creek. Remember that it tends to rise dramatically even in summer and fall due to daily glacier melt. 10 or 11 in the morning are the best times to cross. If you can't see at least 5 or 6 rocks on the surface, or just below it at the crossing site, be prepared for a dicey experience or better yet, don't bother crossing at all.
Follow the route outlined in my detailed trip reports and GPS track to your desired bivy location. I'd recommend GR660745 if it's calm and clear. This puts you right on the glacier. The glacier takes much longer to cross than you'd expect thanks to many deep and hidden crevasses. Following our GPS track will take advantage of some nice benches and good terrain unless it's 20 years later. Than you're on your own. 
Near the bottom of the south face, you can either go climber's right up wet, slick and steep ledges and cliffs or left, up lower angled slab. We went up left (unroped) and down right (rappel).
The south face is straightforward. Up, through the middle cliff band (low 5th) and to the summit block on scree.
You have choices on the summit block too. As you traverse on the east side along an obvious scree bench you'll hit a steep gully. This is the rappel gully we used and is mid-5th class climbing. There's another gully after this one that usually has a stubborn snow / ice patch blocking your progress along the scree bench. You can ascend this gully (likely mid-5th) or keep going past it on the scree bench. You'll need a few screws to protect this short but exposed traverse. Two axes is nice here too, and obviously crampons.
Now you can go up reasonable terrain on your left or continue for even easier angles. We continued across a second snow / ice couloir. This one was much narrower and we soloed across before ascending steep, crumbly rock immediately on climber's right of the couloir.
We followed another scree bench along the east face for a few hundred meters before the terrain mellowed out a bit and I could see a line trending up and left to the summit ridge. This was exposed 4th class climbing and took us right to the easy summit ridge.
For descent, we rapped the first gully which has two stations. If you look for the lower one, your 60m or 70m rope might just reach the bottom. It's a stretch. We built another station half way down since we used the higher rap station, not realizing there's a lower one and being around 10m short with a 60m rope. This is likely around a 40-45m rap.
We rapped the middle cliff band too – it was safer than downclimbing it. We also rapped the lower cliffs off an interesting anchor built from several small boulders balanced on the edge of the cliff with a backup piton. Your call if it's safer to rap or downclimb the easier slab that we ascended.
Call of a Mountain
Despite the odds that seemed to be stacked against us, and lingering doubts, Ben Nearingburg and I finally completed our Sisyphean Odyssey to the summit of Mount King Edward on a beautifully clear and pleasant summer day on August 28, 2017. After three attempts, driving a total of approximately 36 hours, hiking 105 kilometers and climbing over 6,500 meters of elevation in pursuit of this peak, it was supremely rewarding to finally stand on the top. Ferenc Jasco joined us in our quest and was a valuable contributor to our eventual success. As any follower of this blog will know by now, Mount King Edward has been a thorn in my side for a few years now.
There aren't many trip reports available, but Raf Kazmierczak's September 2007 and  Eric Coulthard's September 2011 reports both stoked my desire to stand on King Eddy's summit. After first glimpsing it myself from peaks on the main Columbia Icefield such as North Twin Peak in May of 2012, I've been even further intrigued and called by this gorgeous mountain, rising as a pyramid of black rock, from the shining white glacier below. 
---
Interesting Facts on Mount King Edward
Named by Mary Schaffer in 1906. King Edward (King Edward became the King of England in 1901.) Official name. Other names Manitoba. First ascended in 1924 by J.W.A. Hickson, Howard Palmer, guided by Conrad Kain. Journal reference AJ 37-306.
---
Mount King Edward is described by Bill Corbett as, "the forgotten 11,000er of the Columbia Icefield area". It is indeed a remote and lonely giant, sitting isolated on the extreme western edge of the massive sheet of snow and ice which contains some of the highest peaks in the Canadian Rockies. Ben and I aren't the first ones to be both enchanted and thwarted by the formerly named "Mount Manitoba". The first serious attempt in 1920 was made by Howard Palmer and Allan Carpe from the Athabasca River Valley and Ontario Glacier up the west face to a few hundred feet of the summit. Palmer was back with copious numbers of horses and gear in 1924 for another attempt. This time he and Conrad Kain were successful via the now-standard south face route. Words that were used to describe these first ascents include niceties such as, laborious, disagreeable, loose, rotten, slippery, unstable, snow, and ice. Sounds fun doesn't it? For some reason we thought so, and I can tell you for a fact that all these words (and a few others I won't mention) still apply. Alan Kane also took three attempts to finally bag this obtuse mountain!
Consider the following trip report from the 1976 American Alpine Journal;
A Sisyphean Odyssey
In early June, 2016, Ben and I made our first serious attempt on King Edward. On hindsight I think we underestimated how difficult it is to climb this mountain as a snow ascent. Sure – Trevor Sexsmith and Ian Button had not only climbed King Edward's east face on snow, they had also skied back down it – but one has to realize that this is next level stuff, not for weekend warrior mountaineering hacks such as myself!  Due to a lack of overnight freeze, we had to abandon this first attempt without even setting foot on the glacier, never mind the south face. Of course, Ben and I are both not used to being turned back on serious mountain attempts, having been pretty spoiled over the years with successful first attempts on most of our objectives. Our first trip gave us some valuable beta and gave us even more reason to go back sooner than later – the photos of Mount King Edward taken from atop GR660745 were a siren song to our mountaineering hearts.
We were back early in 2017, again in May and again, attempting a snow ascent. This time we were planning on ascending the regular route up the south slopes and upper east face instead of trying the east face direct from the glacier, like Trevor and Ian had done. Ben had dreams of skiing the south face. Steven Song joined us this time, and once again Ben and I were forced to walk away from the mountain without standing on its summit. Despite learning some valuable life lessons, it was a very tough experience, especially considering that Steven tagged the summit. Even worse, Ben and I were left with a gnarly bushwhack down the Bush River at the end of it all thanks to a raging creek that Steven barely made it across.
This attempt got us much closer to the summit than our first one as we not only crossed the glacier but even started up the face. Once again I got some great photos of King Edward and surrounding peaks, but they were bittersweet to look at after pouring so much time and effort into two unsuccessful attempts. We tell ourselves we don't care, but of course we all do. If we truly didn't care we wouldn't go back for more, would we?
Ben and I both knew that after failing to summit earlier this year, we'd be making another very serious fall attempt. In early August the emails started flying around and when the electronic ink had dried, it was going to be a 2 day attempt by Ferenc, Ben and myself on August 27th and 28th. The wx jumped around a bit but settled on a fantastic forecast that got us pretty stoked for the climb. One fly in the ointment was the extremely warm temperatures and the possibility of no summit views thanks to many out-of-control wildfires that had been ruining summit views for many climbers and scramblers all summer.
A Summer Approach
We knew from our two previous approaches exactly where to go and how long it would take us to approach the bivy, so we didn't leave too early on Sunday morning, August 27th. We wanted to camp as close as possible to the glacier, as we knew already from our 2nd attempt and other trip reports that it was very fractured and takes much longer to cross the ~2km than most folks expect. I proposed that we set up camp right on top of the flat scree summit of GR660745 and Ben agreed. Ferenc and I left YYC at 05:00 to meet Ben around 07:00 in the Lake O'Hara parking lot. We timed it perfectly and soon we were bombing down the TCH towards Golden in Ben's SUV. After a quick stop for breakfast in Golden, we continued to the now very familiar Donald turnoff and gravel road towards Kinbasket Lake and the Bush River FSR – obstacle #1 to any climbs in this remote area of the Rockies. It was with a curious mixture of excitement and dread as we pointed out familiar landmarks to Ferenc, who had never been down these roads before.
I was feeling apprehensive as we drove deeper and deeper into the wilderness along the Bush River. It wasn't the mountain that worried me, it was the dang creek crossing right at the start of the approach. I'd just read of another party being turned back from their objective the day before due to "river crossing issues". With hot weather back in the forecast, I was very nervous to tackle a wild, unpredictable glacier-fed stream that had already resulted in a serious near-dunking and subsequent bushwhacking adventure along the Bush River, only a few months previous. I sent Hanneke a quick text, letting her know that I could be a day late due to possible high water on our return the 2nd evening. The road was in great shape, but still lengthy enough to necessitate a pee break before reaching its end. As he walked back to his vehicle, Ben noticed that air was escaping the rear driver's side tire! Apparently even our third attempt was going to be a bloody adventure… Naturally this was just the start of things to come. One should never underestimate the more remote 11,000ers for generating obstacles and tons of type II fun. This is the exact reason we do these peaks, but it can be frustrating as heck while it's all happening! We managed to change the tire – thank goodness for full-sized spares – and continued a bit more cautiously towards the end of the road as we couldn't afford a second flat on this remote road. As usual, Bryce looked huge and intimidating as we crossed the large bridge over the Bush River. The water looked clear and blue instead of the murky grey runoff color we'd seen in May. I allowed myself to get a bit more hopeful for our upcoming stream crossing.
The road from the Rice Brook junction slowly deteriorated until Ben's SUV was scraping against thick bush on either side. There was much more growth along the final few kilometers than we had seen before, on our spring attempts. Thankfully the road base was in great shape and before long we were parking a very familiar spot. Without even talking, both Ben and I open our doors and walked towards the unnamed creek (Note: some sources label this stream as "Bryce Creek" – it's not). I immediately noticed the color. Blue – not grey or even greyish. Excellent. Even better – we could see rocks and boulders all the way across to the far side – the water level was very reasonable. Obstacle #2 was looking pretty tame and our excitement levels notched up a few spots. Looking back at my previous crossings of this creek, I now realize that if you can see at least 5 or 6 boulders on or near the surface, the crossing will be easy. If not? Good luck.
After finalizing our packing and wrapping the truck in chicken wire to stave off the huge local porcupines (seriously they're the size of a baby grizzly back there – I've seem them), we turned our attention towards the creek. My pack felt pretty heavy with the rope and other climbing gear that I haven't been carrying very much this summer. We marched straight through the creek with no issues – the current was strong as usual but it felt pretty easy compared to the other 3 times I'd crossed it. After changing out of our wet crossing gear we shrugged back into our packs and set off on another 11,000er pursuit. It was hot as we started the long grind up the old decommissioned logging road. It is approximately 15km from the parking spot to the summit of King Edward. Seems pretty reasonable right? It is – but it's also 2500m of height gain! That's 500m more gain than its huge neighbor, Mount Columbia – which is also hundreds of meters higher.
This was my first time doing the King Eddy approach in summer conditions and it was much different than in the spring. The obvious difference was the amount of growth both on and along the road. Ferenc was quickly distracted by bushes of huge, ripe raspberries and we had to wait for him to finish stuffing his face more than once. Ben and I were mentally prepared for the on-road bushwhack but Ferenc was pretty surprised by the lack of a clear path for the two choked up sections along it. It was even worse with the summer growth – thank goodness Ben didn't bother with freaking skis this time around. I'm sure he thought of bringing them as he likes to flirt with the edges of type III fun every once in a while. 
As we grunted up through the deeply shaded forest, I was growing increasingly concerned about my knees. I'd put a lot of big days in the mountains on them over the past few months and usually while carrying minimal gear and wearing my light approach shoes. Now that I was wearing full shank mountaineering boots and carrying a proper alpine pack with climbing and glacier gear, rope, steel crampons and ice ax, not to mention camping gear, my knees were not happy with me. Every 2nd or 3rd step was painful in my left knee and this was going to be an issue if it continued. I knew it was around 1500 vertical meters to our bivy and we had a long way to go from there yet.  I decided to suck it up and keep going. On Alexandra I had a similar issue just before doing the high-line traverse back out of our bivy, and eventually it seemed to loosen up a bit and stop hurting. Sometimes you have to tell your body to HTFU. Sometimes that works, sometimes it doesn't but I didn't have much choice at this point. Vitamin "I" is pretty handy for this type of pain too, but I don't like using it unless I'm really desperate. We were looking forward to the rumored beauty of the alpine meadows between the forest and the glacier and as we finally exited from the cool, green canopy of trees, we were not disappointed.
The high meadows were absolutely stunning. Of course Mount Columbia's impressive west face and summit was right in our faces, but the real captivating scenery was the flora and rock patterns at our feet. We had to frequently pick our jaws up off the thick, soft carpet of heather and moss as we hiked higher and further towards Mount King Edward, which was now looming somewhat ominously on the horizon. I found myself curiously avoiding eye contact as we walked towards it. One area of the meadow in particular, stood out. It had a very planar surface with a distinctive square pattern like an angled checkerboard. None of us had ever seen anything like it before in our many mountain wanderings. Ben and I were delighted to see all the textures, tarns and landscapes that were buried under many feet of snow during our past visits to the area. Seracs thundering off of the Columbia Icefield next to Mount Columbia kept us glancing over to our right as we entered the boulder field and rock shelves before the glacier leading up towards our bivy site.
Initially I thought the rock shelves and boulder fields would slow our progress significantly, but this wasn't the case. The boulders were fairly stable and the rock shelves were fun and interesting terrain to traverse. There weren't many impassible spots despite appearances and soon we were standing at the edge of a water-shedding glacier, just below and southeast of our bivy destination on top of GR660745.
As with everything along the Columbia Icefield, destinations are always bigger and further than they may appear. After donning crampons and taking a short breather at the bottom edge of the glacier, it was still a few hundred vertical meters to the top of the GR. Thanks to the hot weather, the glacier was weeping furiously as we ascended it.
At the Bivy (GR660745)
Thankfully we managed to find perfect bivy spots on the relatively flat summit of GR660745, with easy access to nearby pools of melting snow. Also thankfully, there wasn't a breath of wind beneath the huge high pressure system we were in. I'm sure this would be a terrible bivy location either in windy or inclement weather conditions, as it's very exposed. With the conditions we had, I'd have to say this was a top 10 bivy spot for me. I wish we had an extra night here. The views were stunning, as usual for this area. Ferenc wanted to know all the names of the Chess Group and lesser known local peaks. More familiar mountains in the area such as Cockscomb, Bryce, Columbia and of course, King Edward, all beckoned with their alpine siren songs which any mountaineer will recognize upon seeing these beautiful, crumbling giants of snow, ice and rock.
We had three hours to setup our bivy camp and chillax in preparation of a big day. I was nervous as I looked across the glacier, 2km towards our dark objective rising impassively from the snow and ice skirting its lower rock cliffs. It looked deceptively close and deceivingly straightforward from our little perch. I noted a patch of snow and ice slicing through the infamous scree ledge around the summit block that looked to be problematic. I also noted that the glacier abutted the south face very nicely, thanks to the copious amount of snow it got over the past winter. I knew from my research on the mountain that routefinding and conditions were absolutely key to keeping it low 5th class and reasonable for a hack climber such as myself. Much more talented alpinists than I have reported back that they experienced more difficult climbing than they expected. Rick Collier had a cautious tone in his trip report – and he didn't have to wade the unnamed stream (to be fair, he didn't have the ATV track);
As well, "once on the rock, the climbing was demanding – the slabs were crazily cantilevered, soaked with running water, and frequently greasy with moss." It was not the kind of climbing either of us enjoyed.

Rick Collier
There are three cruxes on King Edward, and depending on conditions and route choice they can be trivial or they can seriously suck. The first crux is the glacier and the exit to the south face, including a lower set of cliffs and ugly, wet slabs covered with moss and debris. The trick to keeping things reasonable, is to traverse further west than you initially want to. You have to get lucky with the exit from the glacier, if it's melted back from the rock you might have moat or schrund issues. The second crux is the middle cliff band. This can be ascended either directly up a steep 4th class gully or possibly scrambled around on the west end as per Rick. The third crux is the  main one that everyone worries about – the summit block. Here's where there are wildly different reports. Some say it's relatively easy 5.0-5.2 terrain, while others swear it's 5.6 and mixed climbing on snow, ice and choss! In my research I decided that many people don't traverse far enough east around the summit block, instead climbing up gullies on climber's left too early, encountering harder grades. Armed with this beta, I felt like we had a good chance of success, but I also knew full well that with alpine climbing on big, remote peaks, nothing is ever guaranteed. Another thing not guaranteed and weighing on my mind was the smoky conditions that were slowly building to the south of our bivy. We could easily smell the smoke from wildfires as we turned in for the night. It would be a shame to finally stand on top of King Eddy, only to have zero visibility. We were here now and nothing was stopping our third attempt at this point.
Our alarms were set for 05:00 as we needed daylight to travel the broken glacier. Although the shorter daylight hours of late summer were a bit of a pain, it was nice to go to bed at 21:00 and have darkness settling in already. On our previous trips to the area, it was still light at 23:00 and even later, making good sleep very difficult. 
The Mountain
Despite the darkness and total calm, I had a restless sleep. I was both nervous and excited. I was tired of waiting to finally climb the mountain – I wanted to be on it already! Just as I was drifting off again, two sets of alarms went off and sleepy voices announced that the day of reckoning was nigh. A curious mixture of dread and anticipation forced me out of my warm sleeping bag and into the cool morning air. We set about making some coffee and eating breakfast as daylight tried to break around us revealing a surprising lack of smoke. Our day was certainly starting on the right note. After breakfast we slowly prepared the rope for glacier travel, triple checked our gear and packs and donned crampons before starting off for the glacier just below our bivy.
It was light enough to see the two snow benches on the glacier that we wanted to initially follow, starting on the same route we used earlier in May. We were expecting a pretty horrendous crevasse maze closer to the peak and were delighted to see a reasonably clear route through the worst section as we got closer and closer to the south face. Ben did start finding a few more crevasses as we traversed a gentle rise along the face. These holes were parallel with our travel direction which complicated avoiding them but Ben wisely did some zigzagging to avoid a situation where the whole team would fall in the same slot.
As we worked our way west along the bottom of the face, I asked several times if we should try the rocky ledges on the southeast end of the face instead of the angled slab we were aiming for. Ben and Ferenc both answered that this terrain was sloped and nasty – and they were correct. On hindsight the SE corner of the face proved to be an excellent spot to rappel, but would have been very tough to ascend thanks to wet, sloping slabs and steep little cliff bands.
We'd spotted an inviting slab west of the south ridge, about half way along the south face that looked promising from camp, and we aimed directly for this spot. It was the lowest angled slab intersecting the glacier and there was a nice snow slope angling up and abutting it – no moat or schrund issues. After taking off our crampons we started up mixed slab and loose debris. There were a few routes up this section, we all tried slightly different lines to avoid each other's rockfall. Yes – it was very loose in sections. This wasn't exactly easy scrambling, but mostly third with some short fourth class moves to wake us up. This terrain was almost impossible to protect but we soloed quickly up this section and soon exited onto the loose scree slope that sits between the lower and middle cliff bands. We traversed right (east) towards the south ridge and the best line up to the middle cliff band, avoiding as much manky slab as possible ("manky" being defined as "not fun"). This was the sloggiest terrain of the day. I could tell that I've been scrambling way too much shitty scree this year, as I separated a bit from Ferenc and Ben on the treadmill slope. To be fair, they were also carrying more weight than me as Ben had the rock gear and it was Ferenc's turn to carry the rope – something my knees were very grateful for.
By the time I started up a steep weakness punching through the middle cliff band, Ben and Ferenc had pretty much caught up to me and we decided to take a break shortly after getting through the band. I was hungry by this point and forgot to take photos of the steep, but short, scramble. We spotted a good rap station just off the entry to the gully which I was sure we'd use on descent. After a quick break, we turned our attention upwards, still many hundreds of vertical meters to go. We noted that we were making excellent time – it was only just after 09:00 or three hours into our day at this point. I think we all thought that we were in for a much shorter day than the 10 hour round trip time that we'd estimated from camp. But of course this was foolish thinking – nothing is ever that easy out here.
Two things escalated my mood a few notches as we kept climbing, now up the eastern edge of the south face. The first was the nature of the scree above the middle cliff band. It changed from very loose treadmill scree to a flatter, firmer type of broken scree that is good on both ascent and descent – my favorite scree type. The second was that against all odds, we noted that not only was there very little smoke interrupting our views, but it seemed to be getting slightly clearer and even less smoky as we climbed! The idea that we might get good views from the summit was a real motivator for me, as I was initially expecting to be shrouded in a grey veil of smoke. Like all 11,000ers, King Eddy's upper mountain looks a lot smaller and simpler from below (1km away) than it is up close. As we approached the summit block I was marveling at how quickly Steven had moved up the south face back in May, while kicking steps in snow the whole way up! Truly an amazing feat, even if it was hard to watch at the time.
The summit block was where I knew things would prove interesting. I'd read as much beta as I could find, indicating everything from easy low 5th class to mid 5th class, or even a bit higher. Collier mentioned a snow / ice gully that didn't sound too easy. Eric seemed to have no troubles and mentions going "around to the east face" several times – but his photos indicate lots of snow, ice axes and roped terrain. Raf cautioned me to make sure we "traversed the whole way" before going up. He also used two axes, ice screws and more gear than "easy" alpine climbs usually require. I had a feeling from looking at Corbett's route photo that the gully that Steven had ascended in May (on snow) was likely the same gully that Collier and others have found significantly harder than 5.0-5.2. Collier mentions only traversing 100m on the scree ledge before ascending a gully on climber's left, and this correlates perfectly with the gully that Steven ascended with snow. From camp we could clearly see that there was still a fairly large patch of snow / ice at the base of this gully that I knew we'd have to cross in order to find the easier terrain further along the scree bench.
We started out along an obvious scree bench running up and across the SE side of the summit block. As we traversed beneath the first gully I noted that it looked pretty tough. Ben and Ferenc are much better rock climbers than myself, so naturally I wanted to find the easier terrain – figuring it would also be quicker than belayed climbing with 3 people and one rope. As we arrived at the snow patch and second gully along the SE face, we noted that the terrain above the second gully looked slightly easier than the first, but still didn't seem to be low-5th class. Ferenc tried to ascend the terrain near this gully but decided that we could probably find easier stuff a bit further along. We thought about ascending this gully but with snow / ice at the bottom it wasn't that attractive – and we knew the easier terrain was likely a bit further along the scree bench. Ben started soloing across the exposed snow and ice patch but quickly backed off due to the exposure and very soft snow conditions. After thinking on it a bit, I suggested we belay off a couple of ice screws. This worked great but obviously took some time to set up and execute. I belayed Ben across the slope and he even managed to put in another screw half way across this gully before exiting back to the scree bench on the far side and building another anchor there. Ben belayed Ferenc and I across the gully and I started looking for the route up from there.
I noted another much narrower snow / ice coulior just ahead, splitting the scree bench again. On the far side of this coulior was some very loose, steep terrain that went up the summit block about 25 meters to what looked like broken cliffs that could be our ticket to the summit. I yelled back to Ferenc and Ben and they told me to "check it out". Ferenc had a lot of faith in my scrambling route finding skills and insisted I find us the easiest route up to the summit. No pressure!  I crossed the narrow gully quite easily and proceeded up alongside it's right edge, still wearing my crampons because there wasn't anywhere stable to take them off. The terrain was a bit harder, looser and more exposed than I was expecting but once I was committed there was no easy way to turn back, so up I went!  I really hoped we'd find a way up at this point, because descending here would have sucked.
Ben and Ferenc were looking pretty skeptical of my route choice, as they followed me up the manky, exposed rock. I was very happy to find a much narrower, but well defined scree bench running along the east face of the summit block at the top of the coulior. In typical scrambler fashion, I kept going – my routefinding senses have been pretty honed this year, and I could see a possible route up ahead, cutting up to climber's left from further along the east face. I had to cross another few snow patches (kept the crampons on) before finally getting to the bottom of the line I'd spotted. Ben and Ferenc hung back a bit, asking themselves (and occasionally yelling over at me) where the hell I was going?! I encouraged them that I had the route spotted and was heading up. They followed along the narrow ledge – clearly skeptical but willing to find out for themselves. At this point we all thought that we were likely too far along the summit block for the standard route and quite honestly I was getting very worried that we'd just wasted another hour – and the hours were ticking by annoyingly quick since the first icy gully. After all the monkeying around with belays over icy gullies and tricky scrambling, it was now looking like we'd be over 6 hours camp-to-summit and were in for a very long day. Originally we were hoping to drive back home that evening as I had to work the next day! (After coming home and doing some thinking and research on our route, I believe this is the low 5th route up to the summit and we were 100% on the easiest route.)
Despite the lingering doubts on our team, I was weirdly confident in my route choice, and yelled over at the others to come join me. To their credit, Ben and Ferenc decided to trust my instincts and ambled over with concerned looks. As they approached, they agreed that there did seem to be a line up the east face and started up behind me. We climbed the face very close to each other as it was horribly loose. There were multiple lines up, and all were not much more than difficult, exposed scrambling. No mistake about it though – it was horribly loose and pretty exposed. We knew we didn't want to rappel this crap. As we ascended past the steepest section, I got pretty excited. As we approached what was now clearly easy terrain to the summit, I was filled with elation and positive energy. I realize that King Eddy isn't Mount Robson or Alberta, but remember the blood, sweat and tears I'd put into this freaking mountain?! I don't remember a sweeter feeling in the mountains as the one I got when I swung over the east face and planted my feet on a simple scree slope leading to the easy summit ridge above. Damn that felt good. The best part? The smoke had cleared significantly from a few hours earlier and we had billion dollar views as we ambled slowly up to the highest point.
I was whooping aloud with elation and relief as I approached the cairn. The relief was my realization that the north summit was clearly lower than the much easier south one – despite what the maps might show. It's impossible to convey the feeling that I had standing on the summit of King Eddy, remembering all the suffering and commitment Ben and I had poured into this small patch of broken rock sitting among so many other giants and above nearby oceans of snow and ice at 11,329 feet.
We didn't have a ton of time to enjoy the stunning summit views as it had taken us 6.5 hours from camp to summit – much longer than we were hoping for. But those views!! I would have to elevate the views from King Edward to top 5 or even top 3 of all time for me. I'm sure my struggles with attaining the summit have something to do with this rating – and I don't care.  I am thankful to the weather gods that I don't believe in, that the smoke stayed away for the one extra day that we needed it to. From the always impressive Mount Alberta (albeit it's more rarely seen west face) to a stunning angle on Mount Woolley to the Twins, Columbia Lake and Mount Columbia's west face to the Chess Group and so many other giants like Clemenceau, Tsar, Tusk and many others, we couldn't tear our eyes away from the endless views. Thank goodness for digital cameras as I left nothing to chance and figured I could enjoy every aspect of the summit on my monitor at home afterwards. I searched pretty hard for a summit register and was disappointed not to find anything until I spotted a tiny film canister laying on the rocks near the summit. When I opened it, there was two entries. One was quite faded and either from 1971 or 1991 and the other was from Raf's group a decade previous in 2007. I added our names and stored the canister back in the cairn where it belonged. Way too soon Ben was giving us the 5 minute warning and we reluctantly started packing up for a long descent.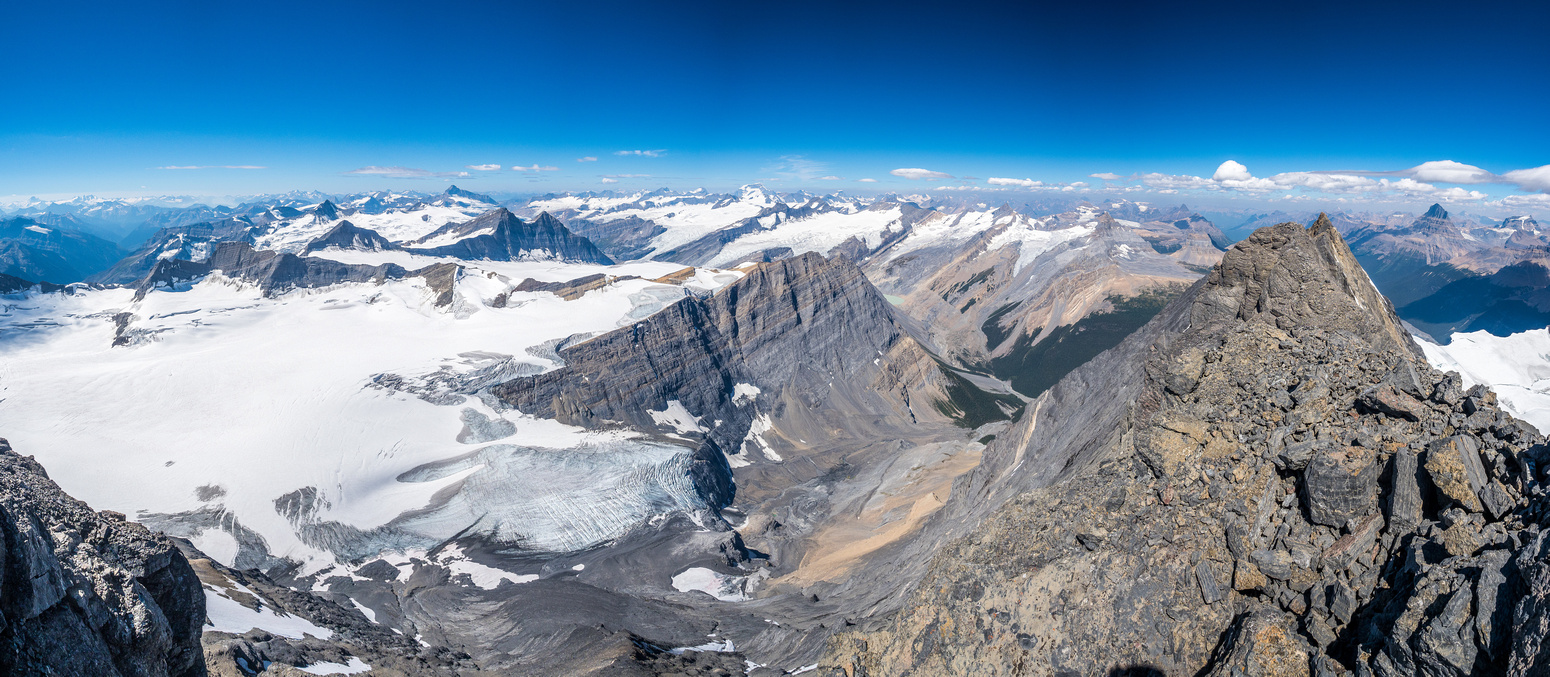 We all agreed that descending our ascent line was not a great idea if we could avoid it. Rapping the gullies on the SE face of the summit block would be steeper and safer with less rockfall, and it would also be more direct and faster. We scouted out the SE end of the block before Ferenc found a rap station with a couple of fairly fresh looking cords wrapped around a big boulder. At this point we should have kept looking a bit further down the end of the ridge, but hindsight is 20/20. We added a cord of our own and Ben rapped down first. We couldn't see the bottom of the rap and  I thought it looked very far for 30m. I was proven correct when Ben yelled up that we were at least 10m short to the bottom! (This is why you knot the end of the rope and use a backup prussik folks.) There was another issue too. As Ben climbed back up the rope, he realized that the knotted end of one strand was now stuck below. Jeez. King Eddy was quickly proving to be the mountain that just likes to keep giving. I had a difficult time hearing what Ben was trying to yell up, so I descended a bit further down the ridge past our rap station to hear him better. That's when I noticed another, larger rap station, about 10m lower than the one we were using. Crap!! That one would likely have worked with our 60m rope, but on hindsight it still would have been a rope-stretcher. A 70m would likely work better here.
Ben yelled up that he could build another station below ours, but obviously Ferenc and I would have to rap to it before we could use it. I also had to bring down the cord we'd used to back up the other two so that Ben could use it to build the new station. It took a while to get everything sorted out, but Ben did a great job setting up another station part way down while Ferenc and I rapped down to join him, balancing carefully on pretty steep and loose terrain. We very carefully tied the stuck strand of the rope to the new station before pulling it through the upper station and reorganizing it through the middle one. Dropping the rope would have been a really bad idea at this point. I was a bit dubious about the single cord half-wrapped around a sharp-edged boulder that was set up for our second half of the rap. Ferenc was much more confident than I and quickly rapped down it, freeing the stuck bottom of the rope and getting to the scree bench we'd traversed hours earlier. As he weighted the cord, it had slid part way along the boulder, not cutting it, but definitely wearing the sheath a bit. Rappelling kills more climbers than anything else, so I'm personally very anal about trusting my life to my rap stations if at all possible. The way I look at it, my life literally depends on it, so why take chances? This is also the reason I use a backup prusik under my rap device no matter how uncool that might be to hardcore climbers. It literally takes me less than 10 seconds to do a quick Klemheist and can save my life. I told Ben that I wasn't loving the look of the now slightly worn cord. He agreed to try backing it up with a shorter piece of 6mm cord that I still had left – always bring more cord than you think you'll need in the Rockies.
After re-rigging the two cords and piling some rocks behind the boulder in hopes of preventing a slip (the cord couldn't go around the boulder completely), I delicately weighted the rope before committing to it and descending to the scree bench below. Ferenc was waiting there, having retrieved our ice screws from the gully that we'd crossed earlier. Ben descended quickly behind me and we quickly packed up the rope and continued down as the hours were ticking by quickly now. We would have saved at least another hour on the upper rap if we'd noted the slightly lower station or had more rope. Ferenc commented that Corbett's "45m rap" is likely correct for the line we descended. Oh well. Adventure is a learning experience and nothing is ever as easy as you expect on big mountains.
The descent to the middle cliff band was quick and easy on loose scree. I was feeling tired and voted to use the good rap station down this obstacle. Ferenc was concerned about time and said he'd downclimb it while Ben and I rapped. We made very short work of this rappel, and both Ben and I were off the rope just as Ferenc stepped out of the steep gully beside us. Once again we quickly packed the rope and kept going down the south face towards the glacier, still far below. As we descended, I mentioned that I'd rather rappel the lower cliffs directly off the south face than traverse all the way back to our ascent line and spend another hour or so downclimbing tricky 3rd and 4th class slabs and debris. We knew people rapped these lower cliffs so were 90% confident we'd find a station there. Worst case scenario we still had some pins and webbing to build our own, or we could traverse to our ascent line if things got truly desperate. Ben and Ferenc agreed with this plan, so we all descended straight down to the SE corner of the south face, avoiding the wet, slick cliffs in between the corner and our ascent slabs.
I was in front of the others and yelled back with relief as I spotted a station below. This was great news! As I approached the station I noticed it was very creatively built. The main anchor was a piton fairly solidly embedded in a crack, while the backup anchor was creatively piled, smallish boulders that were loaded and wrapped with cord so that they acted as one bigger boulder. It was certainly an interesting concoction! Once again I had to ask myself if I trusted my life with this oddly built station. The one thing I didn't love was that if the boulders shifted or moved, they'd come right down on the rope and the climber. Even with a pin to back it all up, this would only mean you'd be dangling there with severe injuries from the boulders that came off on top of you – assuming they didn't cut the rope on the way down! Hmmm. Ferenc once again was willing to test the system and thankfully it held up fine – weighting the boulders more than the pin but still sharing the load. I swung over the edge and committed myself to it. The ledged terrain below the station was much more vertical than it appeared from either above or from the glacier below. Climbing up this terrain would be difficult, downclimbing would be impossible. On hindsight, our ascent line further along the face was definitely the driest and most reasonably angled. If you're not up to the rappel or climbing slick 5th class rock, this is your safest line both on and off the south face.
From the bottom of the final rap we easily exited back onto the glacier and slowly started back to camp. Ben had the hard job of probing for crevasses – and there were quite a few of them! Our morning tracks were pretty much melted out and even when we found traces of them, the snow was soft enough that we couldn't just blindly follow them without some careful probing. At one point Ben fell in a hole up to his waist, but thankfully it was narrow enough that he easily rolled out of it. Even a small crevasse could be a huge issue if your crampons catch awkwardly on the ice while plunging a leg into it. It took us several hours to re-cross the 2+ km of glacier but finally we were ascending snow towards our bivy. PHEW! That was a much longer and more involved day than any of us were expecting! It was already after 18:00 as we quickly made a cup of coffee and started packing up camp for our egress. It was obvious that we would be exiting in the dark and we were already getting a bit nervous about the river crossing at the end of it all.
Egress and High Water
At 18:45 we finally started out of camp. We had two hours before sunset and at least 1.5 hours of hiking in the dark afterwards. I was glad we'd exit the sublime alpine meadows while there was still enough light to enjoy and photograph them. We easily descended the glacier beneath GR660745 and exiting onto the rock ledges leading towards the meadows. We quickly followed our ascent line through the interesting mixture of moraines, tarns and boulders and were soon tramping happily over the heather and copious flora of the alpine meadow. I took way too many photos through this section – but I knew I'd likely never be back and was enjoying the summit glow and the scenery too much to ignore it. As I gazed back at the last full view of King Edward from the meadows, I remembered the bitter disappointment of the past two attempts when I looked back those times. It was a very bittersweet moment for me when I finally turned around and whispered a farewell to my brooding, silent friend.
Ben led us towards the forest and soon we were hiking along the ATV track as darkness wrapped us in its relentless embrace. I was the first to give up and switch on my headlamp while Ben lasted all the way until the very last bit of forest to the cut-block. I guess his younger eyes are better then mine and Ferenc's! We knew the cut-block would be challenging in the dark, but it wasn't actually that terrible. Ben and I have been through it enough that we knew the general direction and Ben even found the old ATV track buried in the undergrowth for the last half of the descent. We hit the road right after the cut-block and proceeded down it trying to ignore our hurting bodies which had now been going hard for well over 15 hours. The bushwhacking down the road was an interesting experience. Moths were attracted to my headlamp and buzzed my face relentlessly for a long section through the thickest bush, which was not a joyful experience. Finally we exited the bushiest section of road and started the final 2km clear stretch towards the unnamed stream.
Our final obstacle sounded fierce to me, even from a long ways off and I was very reluctant to approach the stream as we exited the final curve in the road and started walking towards it.  As soon as I laid eyes on the swirling, angry, murky waters I knew we were screwed. There was simply no way to cross that raging beast in pitch darkness. It was much higher than even earlier this year when Steven barely made it across and Ben and I bushwhacked along the Bush River after trying unsuccessfully to cross. Ben and Ferenc took one look and agreed with me. We dejectedly turned back and walked the short distance back to the road where we started setting up camp. It was now 23:00 and we were tired after a full 17 hour day. We talked anxiously about the likelihood of the river dropping enough overnight to cross. It was quite shocking how much higher and faster the water was only 36 hours after crossing it on approach. I mentioned that with our very low food supplies and my work schedule, I couldn't afford to wait much longer than noon the following day before initiating a rescue. Bushwhacking was absolutely out of the question with barely any food and summer growth now blocking any realistic chance of getting out that way.
It was difficult to fall asleep as I lay there nervously listening to the angry water raging just past our improvised camp site at the end of the road. Ben's vehicle was literally within eyesight – he could have unlocked it from where we were now stranded! One darn bridge, only about 10m long makes such a huge difference on this mountain. The unnamed stream had shown itself to be very unpredictable once again. On our first trip it was also much higher on return after a few warm days. On our second trip the exact same thing happened, and now it was happening yet again. I guess the lesson here is to expect the stream to rise rapidly and predictably with warm weather – whether from snow or glacier melt it really doesn't seem to make much difference. I was surprised at this, considering we were now there at the end of August when I thought alpine rivers were normally at their lowest flows. I was initially feeling so happy to have summitted, and now here we were – stuck at this damn stream again. I hoped Hanneke got my SPOT message and thanked myself for being proactive and sending her a warning text on the ride out, that I could be delayed due to high water. 
I had a restless night and woke up at around 07:00 to a reluctant dawn. I thought the river sounded lower and couldn't wait any longer to check it out. Ferenc joined me as we walked to the crossing and gazed across at the far side – so close and yet so very far away. It was certainly much lower and slower than 8 hours earlier but I wasn't convinced it was low and slow enough. It was still much higher and faster than on our approach. We spent some time scouting around and fretting about the situation we were in, before walking back to camp and getting back in our sleeping bags for another hour. We hoped the extra time would give the water some more time to drop a bit and calm down before we attempted a crossing. Ferenc must have had a productive sleep because he was full of interesting ideas for the river crossing including ropes, wrapping himself with a sleeping pad (as a floating device) and other creative ideas. My canoe trips have taught me a thing or two about fast water and I know that most of the more common ideas people have – such as tying into a rope or trying to swim across – can be extremely dangerous. As I dozed back off I was 80% certain we'd be calling in a rescue.
At 08:00 we were back at the river. It wasn't any lower or slower. There wasn't much to do but pack up camp and decide whether or not to attempt a crossing in the conditions we had. After camp was packed we unofficially decided that we'd be trying to cross – nobody really decided this out loud. Off we went, slowly walking to the crossing and hoping for the best while trying to stay calm and focused. Thanks to a lack of food and the previous days immense calorie burn, I was feeling pretty weak which didn't help my confidence any. I was fortunate enough to have my fishing waders along, which allowed me to do some scouting of potential routes while Ben and Ferenc waited on shore. I looked at where Steven had crossed but other than a few easier channels there was one raging torrent that looked bad on the far shore. Ben and I even waded towards it but turned back when our poles started vibrating violently in the strong current! We went back to the normal crossing point, not sure what to do. I waded in part way and hesitated at a strong seam of water about 1/3 of the way across. Ferenc was behind me and decided to go for it. I let him pass me and then followed him into the strong current, Ben following behind me. It was do or die time, I supposed.
It only took a few moments, but the current was desperately strong and we had to lean into it without letting our feet lift off the bottom – harder than it sounds! With the noise of whitewater all around and the hungry river trying to suck us in, it was quite an intense few moments before I noticed that the water was getting slowly shallower and easier to navigate. Ferenc picked a great line that angled very slightly upriver from the standard launch point, which happened to be shallower than it first appeared. As Ben took the last few steps to shore behind me I was overcome once again with elation – similar to how I felt at the summit but even better. We were FREE at last! We half expected a flat tire as we approached the SUV, but thankfully King Eddy was officially done trying to thwart us. The rest of the day went smoothly and roughly 7 hours later I was finally pulling into my driveway in YYC, hardly believing it was finally over.
King Edward is forever going to be a very special mountain for me. It threw everything it had at both Ben and I – it was nice to share the suffering with someone else. We didn't give up though. Going back three times within 14 months for the same middle-of-nowhere peak takes some silly level of commitment. Whether or not it's a healthy commitment is up for debate. I learned some very valuable life and climbing lessons in pursuit of this 11,000er, and I walk away from it with a plethora of great photos and great stories. If that's not what our obsession with getting up loose piles of rock, snow and ice is all about, then I truly don't know why I bother with it.
__PRESENT__PRESENT
__PRESENT
__PRESENT
__PRESENT
__PRESENT
__PRESENT
__PRESENT
__PRESENT