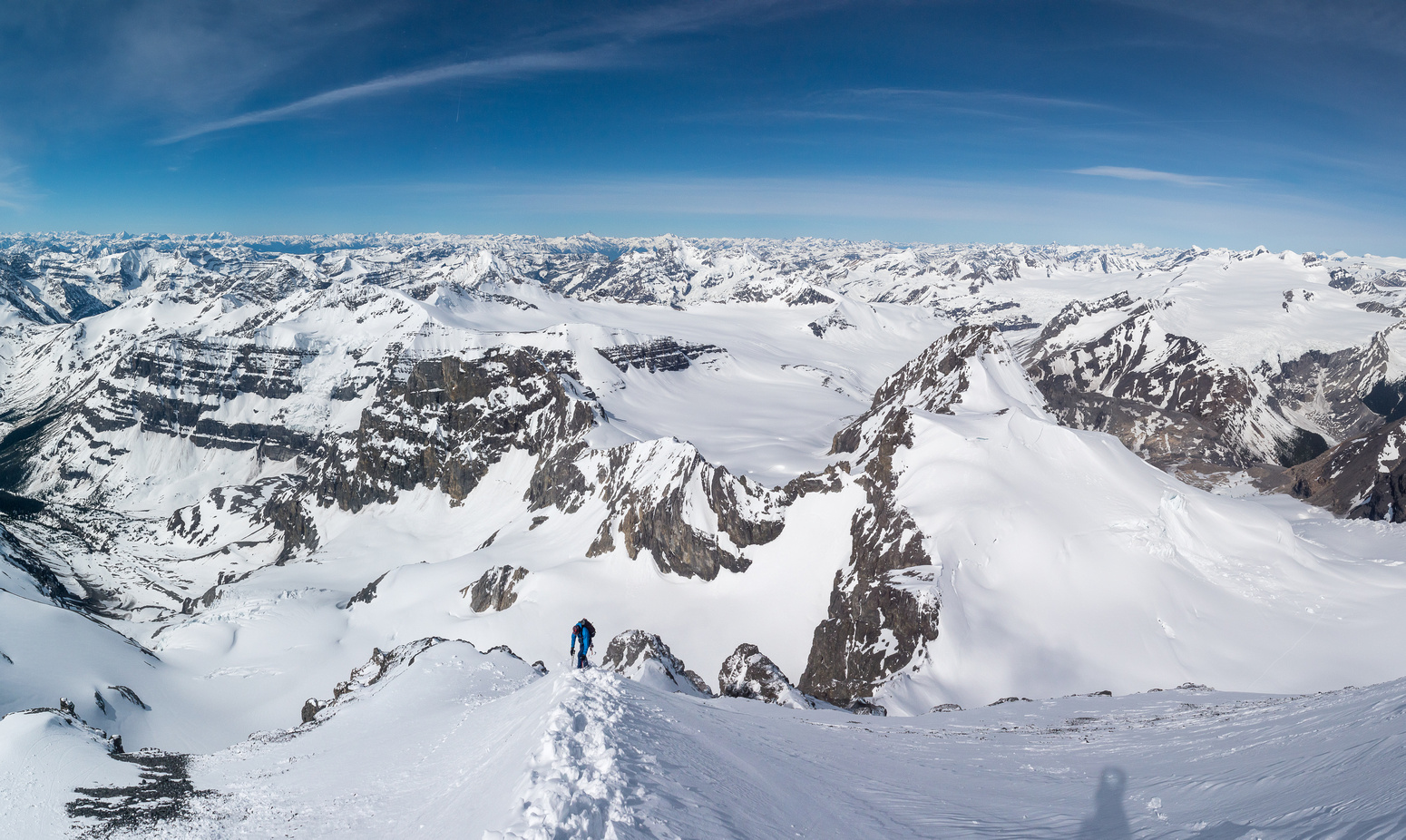 Summit Elevation (m): 3612
Trip Date: May 01 2016
Elevation Gain (m): 3000
Round Trip Time (hr): 27
Total Trip Distance (km): 58
Difficulty Notes: The approach is long and arduous with a backpack involving moderate scrambling to 5th class depending on route. The main climb (northwest face route) involves a heavily crevassed glacier, steep snow and / or ice to the summit.
Technical Rating: MN8; YDS (Alpine II)
GPS Track: Download
Map: Google Maps
---
I've been dreaming of climbing the highest peak in Banff National Park and 8th highest in the Canadian Rockies for many years. I'm not 100 percent sure when I first laid eyes on the hauntingly beautiful northwest face and dramatic summit pyramid of Mount Forbes but I do know that it probably terrified me the first few times I looked at it. That giant triangular face of snow, rock and ice stretching upward into the clouds continued to draw me in as I gazed at it from many surrounding summits, year after year. In 2015 I was sure I was going to climb Forbes with Ben and Steven, but alas they chose a weekend that didn't work and I was once again left to wonder at a missed opportunity.
Preamble and Planning
There are two main approaches to Forbes. The original choice for me was from British Columbia via the Valenciennes Forestry Service Road (FSR) and Icefall Brook approach that I first completed while doing 4 of the 5 Lyells in 2015. The second approach via Glacier Lake from the Alberta side of the Rockies is much less direct and has a nasty reputation. Alas, as of September 2015, a major rain storm resulted in the complete washout of the Valenciennes at km 6, leaving around 16km of biking / hiking along the partially destroyed / flooded road just to reach the start of the Icefall Brook approach. Considering that the Glacier Lake approach to the Forbes bivy is 'only' around 22km and the drive is much shorter for us, it didn't make sense to bother with the BC side anymore. Here are some quotes from folks who have done the Glacier Lake approach to Forbes over the years;
One passes through so many ripe berry bushes in August that you no doubt smell like one large berry at the end of the day. Once you wade through mosquito infested swamps, cross the icy cold glacier river, bushwhack up through the grizzly prone slopes, advance past the headwall, route find your way through a myriad of snow bridged crevasses on Forbes' north glacier, the north face will seem quite the pleasure to climb.

Dow Williams
Forbes is an awesome mountain with an equally brutal approach up a long valley with a steep and painful ascent to base camp. 

Eric Coulthard
Knowing roughly where to go this time there's little to describe other than some extreme patience. Oh by the way, the mosquitoes were out on full force. It was brutal but thankfully I didn't forget to bring my bug spray. We made all the way back to the west end of Glacier Lake before calling a quit. Had my feet doing OK we could have finish off the death march… 

Steven Song
I could quote more climbers, but they all center around a very common theme of a long, hard, often obscure approach with mosquitoes, dangerous river crossings, thick bush, impassable deadfall, bears, wolves and loose rock, i.e. a "death march". To put it mildly, I think Anton, Mike and I were all more apprehensive about the approach than the climb itself! A week before the trip Anton was emailing a group of us with an eye to a possible HP system building the following weekend. If you know anything about mountain weather, you know that predicting good weather a week ahead of time is like setting up a telephoto lens in a random spot and planning to photograph a Canadian Lynx walking through your shot. Ain't gonna happen. Somehow the weather gods weren't their usual fickle selves and a large Omega block started showing in the forecasts. Of course there was some uncertainty, especially around a possible dump of snow that was forecast to fall just before our trip. Originally the snowfall amounts were as high as 30 cm but by Thursday afternoon the numbers had dropped to around 8 cm at 3000 meters and we decided the trip was on. 
---
Interesting Facts on Mount Forbes
Mount Forbes is one of the most outstanding in the Rockies and is, in some ways, quite similar to Mount Assiniboine. At 3612 meters Mount Forbes is only six meters lower in elevation and, like Assiniboine, it towers some 350 meters higher than the neighboring peaks, its pyramidal summit often hidden in the clouds while lesser, but still very respectable, nearby mountains are visible. Mount Forbes is the highest mountain entirely within Banff National Park.
James Outram and Norman Collie's parties combined forces in 1902 to attempt Mount Forbes. Collie greatly admired the peak referring to, "awesome precipices soaring to a ramp of stainless snow whose knife-edged ridges culminate in a sharp pyramid that pierces the blue heavens like a javelin."
---
Our plan was to sleep at the Rampart Creek hostel Friday night, get up early on Saturday and hike to the bivy in rain / snow / clouds, climb Forbes in perfect weather and descend back to the Glacier River valley on Sunday and finish whatever egress was left on Monday. On the drive to the hostel Friday evening, we were surprised by the lack of snow and rain along hwy 93. Given the forecast, Anton and I were both expecting snow flurries and possibly even snow on the ground. Other than some clouds, everything was looking pretty dry and bare. When we arrived at the hostel around 21:00, Mike told us we had lucked out big time. This was the hostel's first night open after a month long closure during the off season! Our planning was paying off already. We chatted with a group from Edmonton who were going after Andromeda before turning in for the night.
The Approach
Saturday morning we were up at 04:50 and scarfing down breakfast and by 05:30 we were driving the short distance to the Glacier Lake parking lot. There were a few other vehicles in the lot when we arrived – maybe they were breaking trail for us? (They were not, as it turned out.) We had some estimates on approach times from other groups that varied between 7.5 hours and 14 hours – a dramatic difference! The first 9 km to Glacier Lake wasn't that bad. We had to lose height from the parking lot to a bridge over the North Saskatchewan River before gaining height over the southeast shoulder of Survey Peak and then lose it all AGAIN down to Glacier Lake but the weather was perfect for hiking with a heavy pack (cool and cloudy) and we were in good spirits. No matter how many trips I do, I always start out so positive, innocent and naive. The trail was very dry with a few blow-down sections requiring detours or interesting yoga moves to circumvent. Anton set a brisk, no-nonsense pace and within 2 hours we were taking a break at a very calm and peaceful Glacier Lake. We were expecting a pretty rough trail around the lake, but again, other than a few blow-down sections the trail to the end of the lake was pretty decent – much better and faster than we expected.
The section of trail from the west end of Glacier Lake was much more rustic than the first few sections, but even then, it was much better than I was expecting it to be. I think it's all about expectations and the season we were in. We were expecting really bad, so somewhat bad seemed great to us. We had no bugs, very little mud, a very low Glacier River and cool weather. We expected much more blow-down and bushwhacking than we ended up with – not a bad thing.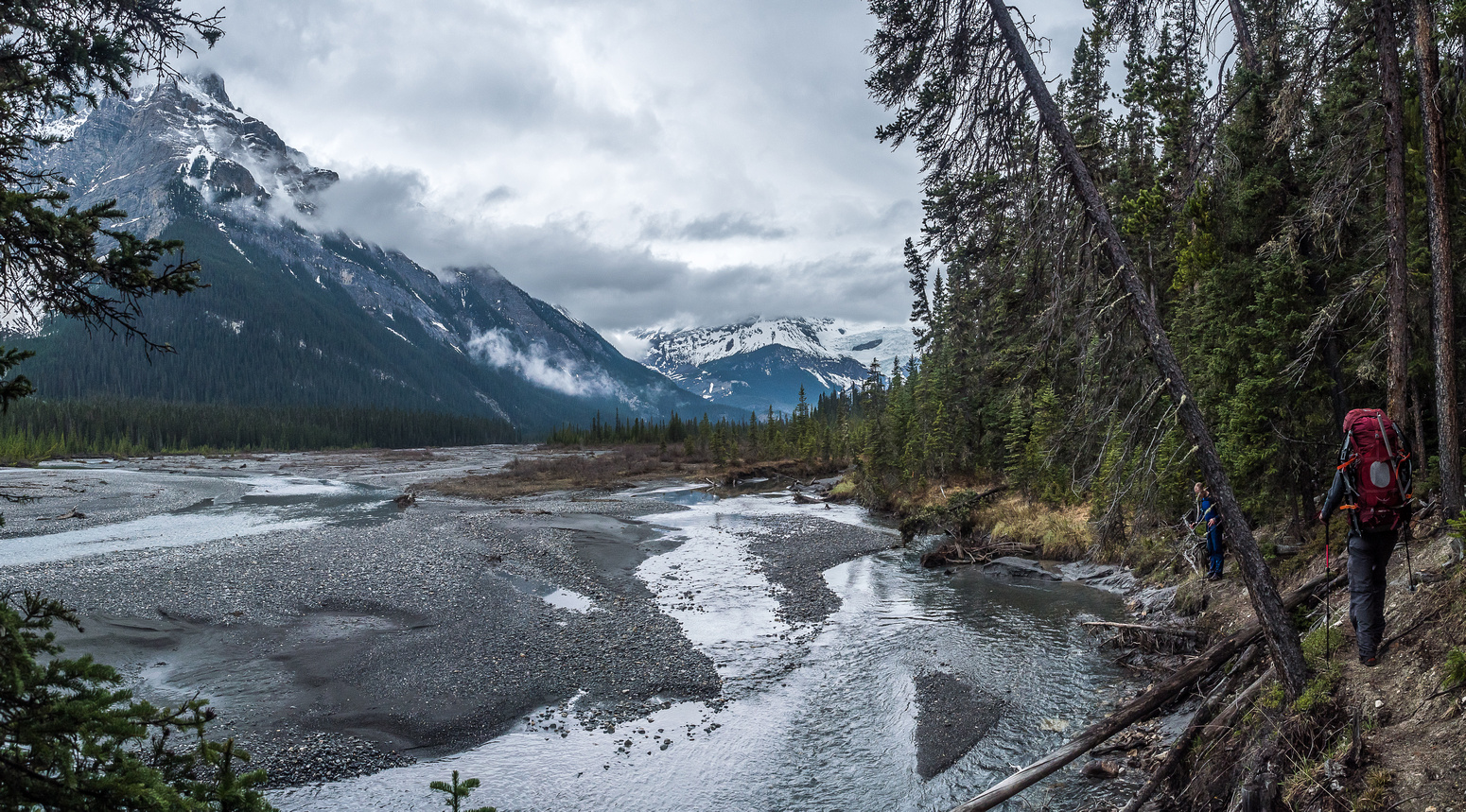 The trick to the entire approach for Forbes via Glacier Lake is that if you're not on a trail or track of some kind, you are probably spending more energy than you should be. There is a continuous trail / track the entire way if you spend the effort to stick to it. We did several detours on purpose, choosing to walk along the dry river flats wherever we had a clear choice between thick bush or none. On approach we were too aggressive on hitting the river flats and ended up doing some bog ballet before finding the trail again (blue ribbons). By the time we found ourselves near the start of the moraine leading to the headwall we were all very surprised by the ease of the approach. We did a quick detour to check out Lyell Lake under the extremely active Lyell Icefall which was calving huge chunks of snow and ice every 20 minutes or so, before proceeding to cross the Glacier River.
As we prepared to cross the Glacier River, we thought that there must be more to it than what we were looking at – which was a thin, shallow braid of water with barely any current! When I started crossing, I realized pretty quickly that my knees were barely going to get wet. So why did I lug my fishing waders all the way in here?! Good damn question. We quickly proceeded across the flats to find more river to cross, but alas – there wasn't any. We were done. Literally 1 minute of cold water that didn't reach our knees was all the Glacier River threw at us. I'm not complaining but that wasn't what we were expecting at all. So after a very trivial river crossing, what would the headwall access be like? As we changed back into our boots we noticed that the clouds were thinning and there was even a patch of blue sky starting to show over the Lyell Icefall. This was good news and bad news. The good news was that the weather was clearing, just as predicted. The bad news was that after around 18 km of hiking we were finally going to be starting our elevation gain from the Glacier River valley to our bivy beneath Forbes and a strong afternoon sun was going to make that bit of exercise extremely hot! Oh well. Beggars can't be choosers and it's hard to complain about blue sky and sun.
We struggled into our heavy packs and started up towards the moraine on climber's right of the Mons drainage. I've read more than one report of folks bushwhacking and only finding bits of trail from the river flats to the upper moraine beneath the headwall. There is no need to bushwhack on this section. There are two flags and rock cairns at the edge of the river flats indicating where the route starts, and from there you can be on a trail the entire way up to the moraine crest and the headwall.
Don't misunderstand me – this is a rudimentary trail at best! It's more of a goat track in places and you will be bushwhacking, but there is a trail under the bush! Every time we lost the track, we managed to find it again by simply scouting around a bit. This part of the 'trail' reminded me a bit of the Geraldine Lakes approach to Mount Fryatt. There's a trail, but it's so overgrown in places that you can't actually see it – you have to feel it with your feet.
The grunt up to the headwall was a grunt. After already hiking many kilometers with a heavier pack than I'm used to carrying (snowshoes and a 60m rope was enough to put me way over my normal pack weight), the steep, unrelenting grind required some HTFU attitude. We were rewarded for all our efforts with a stunning view of the Glacier River valley behind us and the Mons drainage beneath us to our left. The clearing sky helped with the views. We encountered a few snow patches on the trail which required some delicate step-kicking but nothing too extreme. Eventually we found ourselves scrambling up a steep, shale / mud slope and finally onto the moraine that leads directly to the headwall. The views from the moraine were sublime – I really enjoyed this part of the approach. After many hours of hiking and sweating we finally found ourselves looking at the infamous headwall that grants access to the Forbes and Mons Icefield. (Note: if you're doing the canyon / 5th class route you should not continue more than a few hundred meters on the moraine crest, but rather navigate down to the alpine meadows on climber's left of the moraine and proceed from there to the obvious break in the headwall.)
There are two routes through the headwall. The route that seems to be more popular is the lower, canyon route. This route is often underestimated for it's 5th class sections and is not recommended when full of snow and ice. Looking at it from the moraine, I can see why most folks take the lower route. It looks dead-easy from the moraine. There's a natural ramp leading into the canyon from right to left and the terrain looks quite mellow. In our case, I didn't like the steep avy slopes above the canyon and I knew from Steven and Ben that this route could be very tough if not completely dry. (Note: some folks seem to find the lower route pretty easy and straightforward while others struggle a bit with it. I suspect when dry it's not too hard if you're on route.)
Thanks to Eric, I had a rough idea where the second, upper bypass route could be found. From the moraine, this route looks much harder than the lower one. This is simply a perspective trick. The bypass route starts right at the end of the moraine and in our case we just bashed our way straight up steep slopes covered in isothermal snow and Christmas trees (that was as much fun as it sounds) until we hit a low cliff band above. We then found a trail and followed it back to climber's left towards the Mons drainage, before scrambling up through an obvious break in the cliff band to be greeted by a very prominent cairn marking the route from above. Apparently there's a rough trail going all the way up the bypass route, first going climber's right (west) and then up and left (southeast) to join our track but with the snow we only found bits of this trail.
Other than the obvious difficulties in swimming uphill through shitty snow and dense shrubbery, I found the bypass route to be very easy compared to what I've heard about the lower route. Nothing is free however, and the bypass route has a sting in the tail. After gaining the hanging valley under the North Forbes and Mons Glaciers, we found ourselves quite a bit higher than our eventual bivy location.
We had to ascend even higher on a second moraine before losing at least 150 vertical meters to our camp. We decided to camp near a perfect little tarn that was melting at its edges and located between the Forbes and Mons Icefields, just west of the Mons drainage. Most people ascend higher towards the North Glacier of Mount Forbes before setting up camp, but we didn't see the point in lugging heavy loads another hour or more if we could simply scramble up the same terrain in 30 minutes the next day with much lighter packs. We were also concerned that going any higher would require melting snow and would be less sheltered.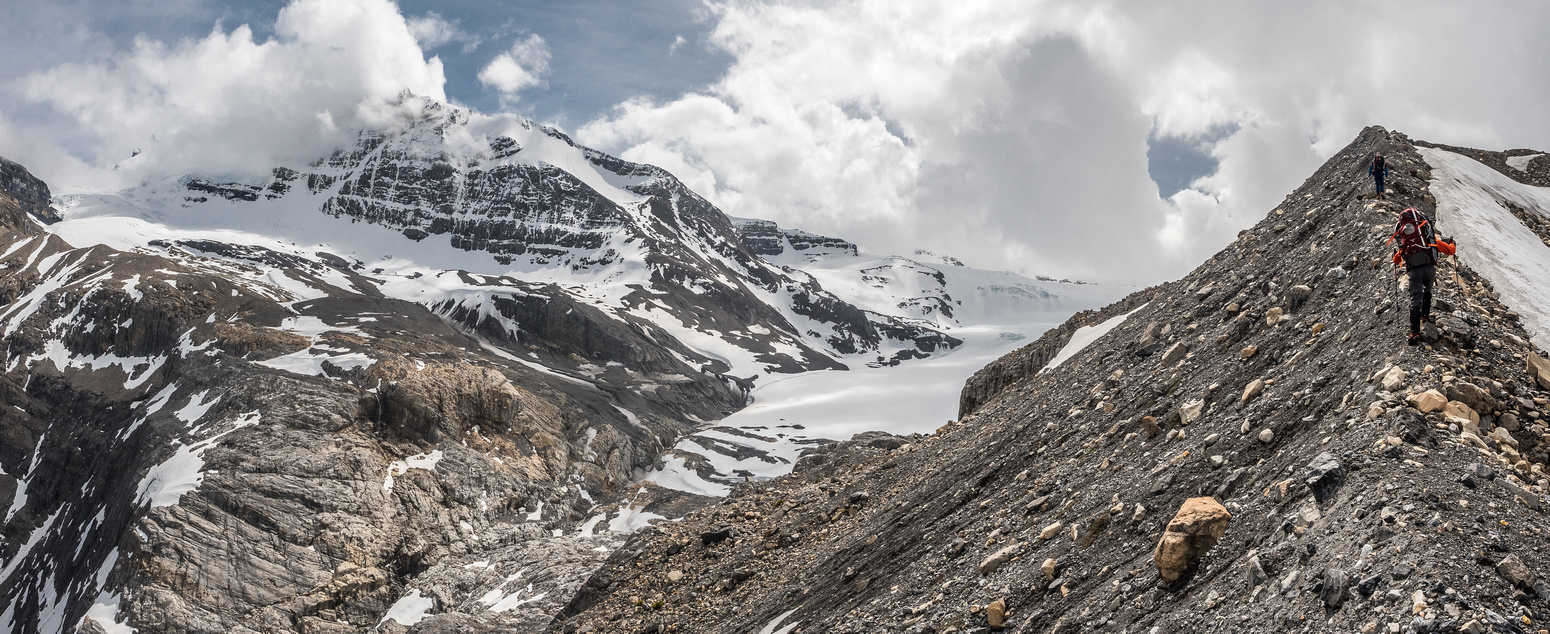 It took us 9 hours to reach our bivy from the parking lot. I've read of others taking anywhere from 7.5 (they must have been running!) to 14 hours to do this approach, so we obviously had great conditions compared to some. My back was acting up on me, which had me concerned for the next day, but with plenty of daylight left and a nice warm sun now shining down on us, we were feeling very good about our climb the next day. We puttered around camp, smoothed some nice sleeping pads on the warm, dry scree and set up the tents before eating early supper and chatting about the next day.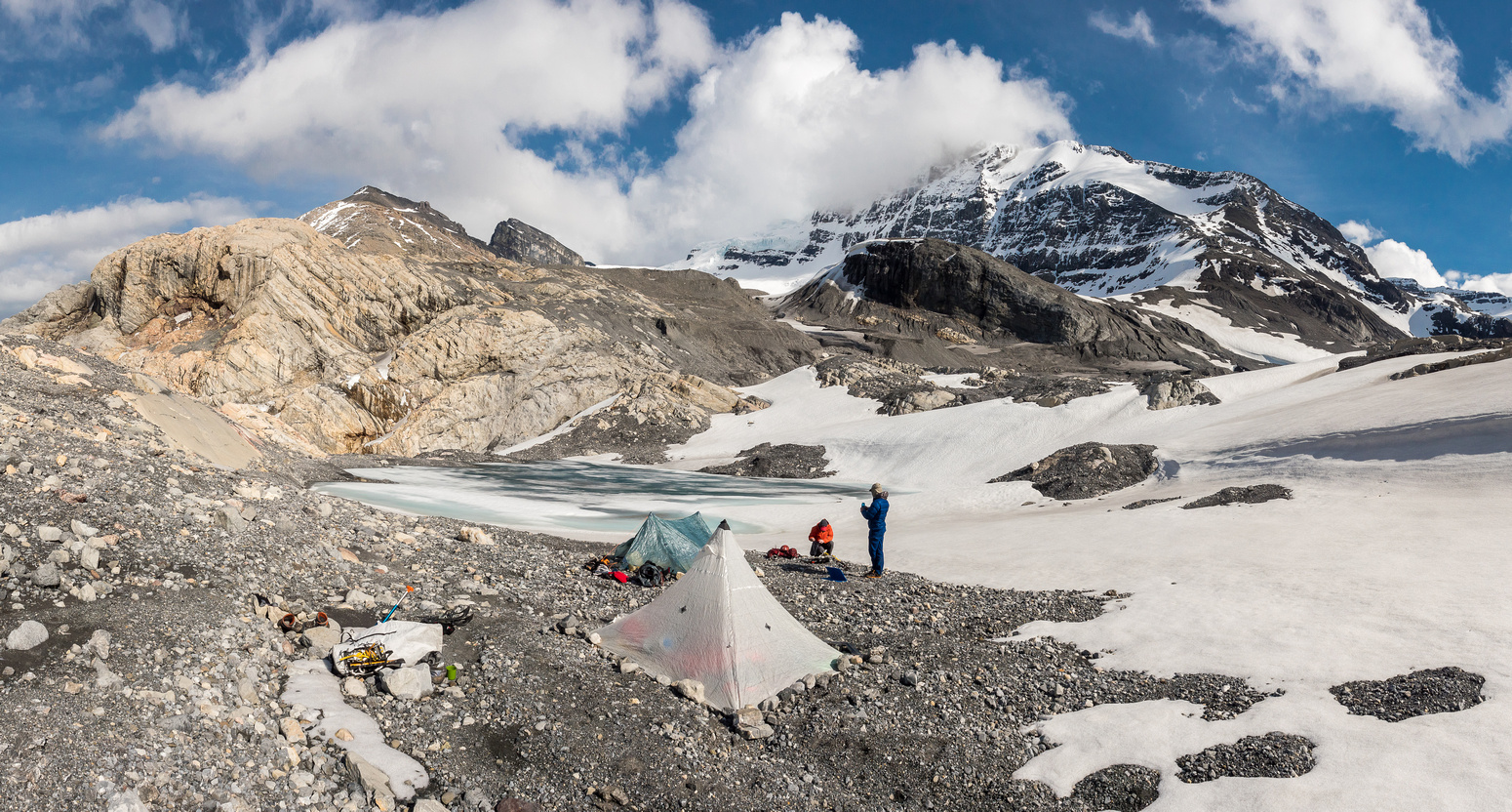 Rather than mess around in the dark trying to find a route across Mons Creek towards the North Glacier, Mike and I scouted a route from camp and were delighted to find a route nearby that completely avoided the Mons Glacier by sneaking past it's eastern edge and using a snow bridge to cross its muddy outflow. Our tracks would be very welcome the next morning at 04:00 in pitch dark conditions. We turned in early and set our alarms for 03:30. We were concerned about warm temperatures and a strong sun the following day and wanted to be off Forbes by noon at the latest. Looking at the surrounding peaks we couldn't tell exactly how much fresh snow had fallen but it didn't seem like a huge amount, which was also a relief.
The Climb
Too soon the alarms were going off and we were struggling into cold, wet mountaineering boots while scarfing breakfast and coffee beneath a brilliantly lit, star-filled sky. The temperature was warm overnight, I didn't even need gloves while sleeping which is very rare for me as I don't like to keep my arms in the bag. I left camp a bit early to capture some photos of the stunning display in the heavens above us. Before long Mike and Anton joined me and we followed our tracks from the previous evening across the already swiftly flowing Mons Glacier outflow stream. From there we grunted up extremely loose, rubble slopes under the North Glacier. As dawn slowly broke around us we approached the glacier near the center of its toe where it was a reasonable angle and less crevassed than further to the north (climber's left).
Compared to some other groups, we had great coverage on the North Glacier. We wove our way carefully through a few tight crevasse fields and crossed a few slightly hollow-sounding bridges but overall we had perfect conditions up the several benches and rolls leading around Rosita Peak and towards the northwest face of Forbes.
We certainly didn't need our snowshoes, instead donning crampons and walking on well-frozen snow. Bringing 'shoes was starting to look like overkill and a waste of bulk and weight, but we decided to keep lugging them all the way to the face in case the snow softened on return.
As we approached the huge northwest face we noticed more fresh snow on the glacier under our feet and could see small plumes of snow blowing off the summit over half a kilometer above us at this point. There wasn't enough fresh snow to cause huge concerns so we kept tramping onward and upward. Near the bottom of the face, we stopped and lightened our packs before tackling the hardest part of the climb. We dropped any unnecessary gear and Anton led the way up the Northwest Face, kicking good steps into a few cm of fresh snow layered on a bomber base. We crossed the schrund quite easily, although I did notice a slight settlement when I stepped onto the snow bridge which was a bit disconcerting! From the schrund Anton continued kicking steps methodically up towards the west ridge, looming high above us and never seeming to get closer.
There is a disadvantage to climbing the highest peak in an area – you know that no matter how far you've come, you're not done until every single peak around you is lower than you! While ascending the NW face of Forbes, there are a lot of big mountains around you and almost all of them are lower than Forbes! The Lyells were looking pretty fantastic as we ascended, and eventually even the nearby Rosita Peak was lower than we were. As we topped out on the west ridge, Mike kicked steps up the snow covered scree past a rock band that can be problematic later in the season. After around 4 or 5 hours of steady climbing from our bivy, we finally found ourselves on a small shoulder looking up at the summit about 200 vertical meters above. And this is where Forbes decided we'd had it a bit too easy so far…
The wind was blowing directly into our faces as we started working our way up the end of a snow ridge that led to the summit above. It wasn't a strong wind, but it was strong enough to blow small plumes of freshly fallen snow off the top of the arete we were climbing, loading the small slope we were ascending with a pocket of fine powder snow.
I was busy taking a panorama from the shoulder when I heard a sudden exclamation from above me where Anton and Mike were kicking steps up the arete. I turned towards them and was shocked to see the slope on the nose of the arete breaking up around them, followed quickly by both of them sliding down towards me! I didn't have time to gauge the size of the slide and simply fell onto my ice ax and hunkered down as close to the snow and scree slope as I could, digging in every sharp point I had available to me! With my head down, I could feel chunks of soft snow hitting my head and shoulders and then, suddenly, it was over almost as soon as it started. I got up and quickly looked for Anton and Mike to make sure they were OK. They were understandably a bit shaken by the incident but were otherwise fine. Anton had a ripped jacket where the slough had carried him over some sharp scree and Mike had a sore digit from his self arrest.
I'm not gonna lie – we were shaken up by this sudden turn of events. Before the incident we were enjoying some of the best conditions a person could ask for on Forbes. A decent approach trail, low water levels, a gorgeous bivy site, clear weather and good coverage on the North Glacier. Not to mention stable snow up the steep NW face – an assessment we were now seriously questioning! Was the snow really as stable as we thought or did we just get lucky until now?! When you're standing at over 11,000 feet with hundreds of meters of exposed snow slopes to descend this is *not* a good time for second guessing your line! We spent the next few minutes lost in our own thoughts – trying to decide between turning back or continuing upward to a summit that now seemed a lot further away than a few hundred meters. There was now a huge gulf of uncertainty between the highest point of Mount Forbes and the three tiny, colorful dots standing high on it's west shoulder. Why didn't we turn back immediately when we received such clear evidence that some slopes around us were dangerously wind loaded and ready to slide? Trust me – we did come within a very thin hair of turning around high up on that lonely windswept shoulder of rock and snow. But in the end, we obviously didn't. Why? That's a great question!
I'm not sure I'm going to come across the way I want to, but let me start by saying that something the average armchair critic doesn't understand is just how much time, and energy goes into an alpine climb such as Mount Forbes. Now, I realize an easy alpine climb like Forbes is not a Himalayan expedition, but it's still a lot of work! First there's the dreaming-and-scheming. For me that was easily 5-8 years. I have many other life commitments besides mountains and I can't simply go climbing any time I feel like it. Therefore I spend many hours dreaming of adventures I can go on. Then there's the planning. Anton and I both have families and all three of us have full time jobs. Finding a weekend with good weather, good stable conditions and 2 other partners with an open schedule is like spotting a pink unicorn. Finally there's the effort. The sheer physical effort involved in spending many hours approaching the bivy with heavy mountaineering packs, sweating and balancing up ridge lines, thrashing through bush and over fallen trees and alders, crossing rivers, swimming uphill through isothermal snow and Christmas trees that bash and scratch any exposed skin, takes a mental and physical toll that begs to be rewarded.
A lot of alpinists may not like saying it out loud, but there's a reason why so many of us seem to push against some sort of sanity line when it comes to taking risks – and that is precisely why most of us love what we do! Balancing our physical and mental abilities with the conditions and challenges of the mountains we are ascending is essential to our enjoyment of the whole enterprise! If we turned around at the first sign of risk or danger, we wouldn't leave the parking lot, much less attain any incredible lofty and remote summits. Rather than reacting emotionally to the event that just happened, it was time for our group to carefully think about what happened and assess if we could mitigate further risks sitting between us and the summit.
Because I wasn't directly caught in the snow slough, I was less shaken up than the other two guys and more keen to push on at first. A huge problem for us, was the lack of a good belay anchor anywhere on the shoulder. This meant we couldn't protect the lead climber with the 60m rope that was still in my pack. I cautiously worked my way up the slope that had just slid – it wasn't going to go off again for a while and the wind was dying down so less snow was blowing over the arete than earlier in the day. The slope felt extremely stable to me – I had to kick hard to stick my crampons and my ax was plunging firmly through a consistent snow pack. The cause of the slough was obvious – blowing snow had built up a soft wind slab on the SW (lee) aspect of the upper mountain (lower down there wasn't enough fresh snow to blow around). Since we were mainly climbing the NW face and west ridge, this was the first time we'd encountered a SW aspect. I quickly surmised that as long as we could get up on top of the arete and knock down the loose slabs / cornice that had built up on top of it and along its south side, all the loose snow would go down either side of the arete and we'd be safely perched on top of a wind hammered snow ridge. It sounds a bit nuts, but it worked beautifully. To their credit, Anton and Mike agreed to the scheme even though they were still shaken up a bit. I started the process but quickly ran out of energy – carrying the rope up 2500 vertical meters and 28 km from the parking lot to this point, and kicking steps up the headwall the day before had worn my knees out. Anton took the lead and I assisted him in shoving heavy slabs of soft snow off the top of the arete – triggering small slides on the SW aspect just as we predicted would happen. We were hoping to kick off slides on the NW aspect too, but that side wasn't nearly as interested in sliding as it wasn't exposed to sun or wind loaded. Mike later admitted that he was freaking out watching us from the ridge top behind, fully expecting either one or both of us to slide off with the snow! It felt less risky than it looked I guess.
Finally we were off the snow arete and back on a north aspect, working our way up the final 100 vertical meters to the summit. We were half expecting to encounter more wind slabs which would have certainly turned us around this time as there was no safe way to get rid of them on a continuous slope (we'd be caught in the slides ourselves). Thankfully the north aspect was wind hammered, rather than wind loaded and before long we were on the highest point of solid ground in Banff National Park. Wow. That was a bit more adventure than we were expecting a few hours earlier. Even now, as I write this trip report a few days later, I'm having a hard time deciphering my feelings on reaching the summit of Mount Forbes. Part of me knows that this isn't a particularly technical or extreme climb but another part of me recognizes that for me it is a very special achievement and one that I will cherish for the rest of my life. I guess some peaks are just more special than others, for whatever reason – and the reason is usually very personal for every climber. The nearest comparison I have to Forbes is my ascent of Mount Assiniboine – which ironically is very similar in height to Forbes – another peak I dreamed about climbing for years before finally ascending the NE ridge in perfect conditions in the fall of 2012 with Kev Barton.
After taking a zillion photos from the summit, it was time to get off the mountain before daytime heating could destabilize the solid snow pack on the north and west descent slopes. We wasted no time going down and managed to plunge-step the entire route facing outwards – again something that most parties do not have the luxury of doing on this peak!
On the way down we noticed many snow sloughs and small slides had already come down over our ascent tracks while we were on the summit, most of them initiating high on rocky features with a thin snowpack where the fresh snow had blown / fallen over the past 12 hours and then propagating down slope. We quickly, if somewhat nervously, plunge-stepped the entire NW face to the gear we'd left behind before quickly packing up and heading down the North Glacier and away from any steep snow.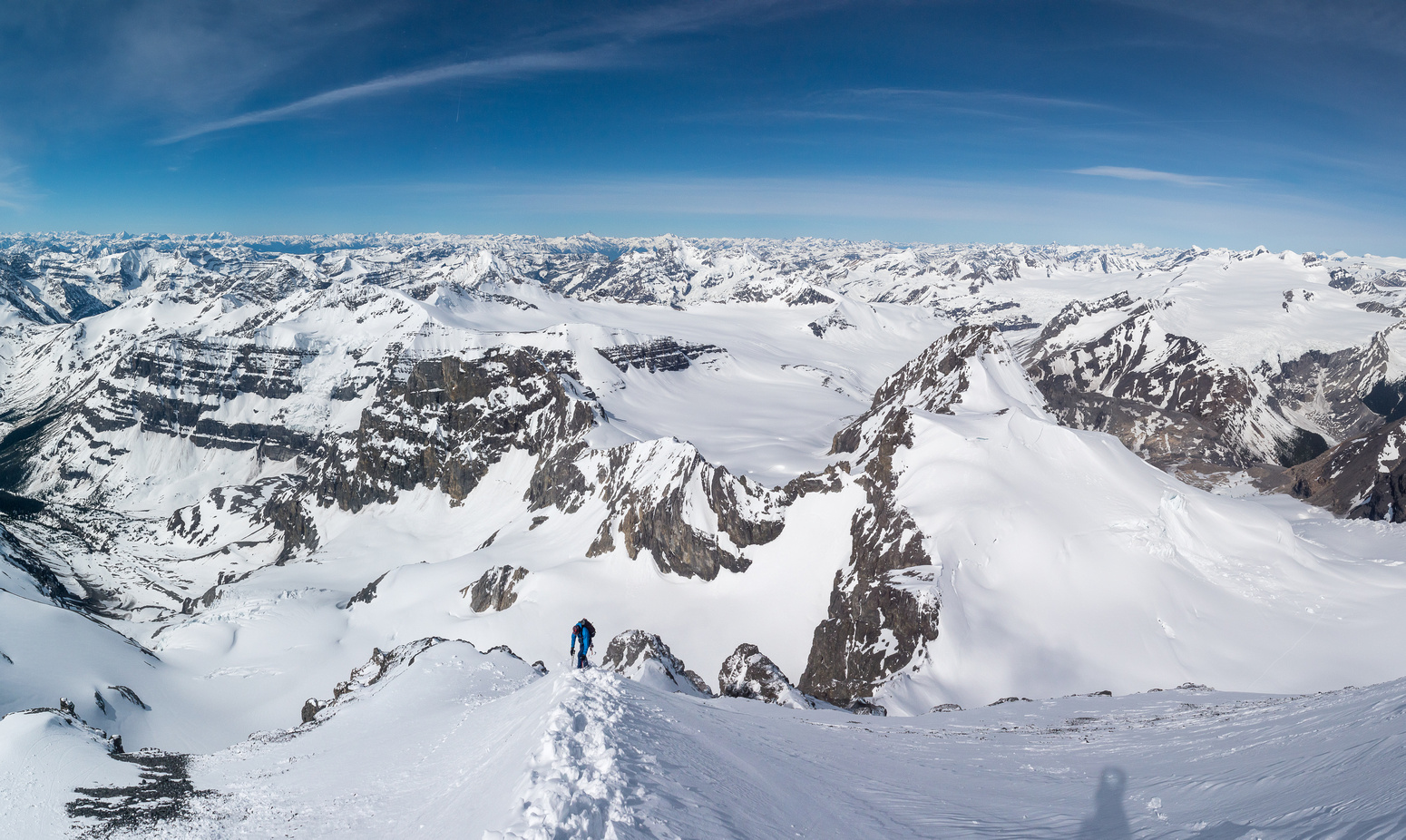 After clearing any steep snow slopes we visibly started relaxing again. The pressure was off and now we could savor our successful summit bid and enjoy a relatively easy descent down the North Glacier. We ended up using our snowshoes, more because we'd lugged them so far than because we really needed them, but they did come in handy on the rapidly softening snow. 
Rather than follow our route through the middle of the North Glacier valley, we deviated more towards the skier's left (south) side of the loose rubble moraines once we dropped off the glacier, taking advantage of our snowshoes and as much continuous snow as we could possibly find. It was here that we found our first sign of human travel, a few large cairns near an upper tarn where folks likely bivy. The rapidly warming early afternoon sun had already dramatically increased the Mons Glacier outflow stream, but we managed to sneak back over it on a slushy snow / ice bridge. I'm sure this route is no longer viable and for the rest of the year climbers will have to use the Mons Glacier to get over this section.
The Egress
Back at camp we took an hour or two to relax, eat, hydrate and very slowly pack up. We were pretty quiet – each of us contemplating our morning climb. I was absolutely ecstatic to finally have experienced Forbes in perfect conditions with views for hundreds of kilometers in every direction. I couldn't quite believe that I'd finally stood on the summit only a few hours earlier. I felt like I never needed to stand on another summit to feel fulfilled. That was a good (and temporary?!) feeling and I remember feeling the same way after climbing Assiniboine.
The sun was warm and the silence was soothing, making it extremely tempting to stay another night at our bivy rather than start the long and arduous 1000m descent to Glacier River. We knew we'd regret any long delays on Monday, so eventually we struggled back into our heavy packs and slowly started picking our way up to the moraine that leads to the headwall bypass.
Descending the headwall was interesting. Anton and I didn't love the look of the avy slopes to our left (north) so we plunge-stepped through the thick Christmas tree / slushy face directly down to the lower moraine. Mike was smarter and went a bit further left before going down more open avy slopes and the traversing on old avy debris climber's right to regain the moraine. In the summer there is a trail that deviates around the patch of trees and uses scree to bypass them – more in line with Mike's descent route. We managed to stick on the trail / track for our descent and roughly 2.5 hours after leaving our bivy we finally found ourselves back at the Glacier River crossing.
We were getting pretty tired by the time we dried our feet and donned the heavy packs after crossing the Glacier River. We decided to hike for a few kilometers before setting up camp at the first nice spot. Thankfully we managed to stay on trail the whole way to a delightful camping area near an old fire pit along the river. We set up camp and enjoyed a beautiful evening there, hydrating and relaxing after a very long day. Mosquitoes started to come out in the early evening, but thank goodness they weren't in the mood to suck blood yet. I'm sure this attitude has changed by now already! We set our alarms for 05:30 and turned in around 21:00.
Monday was another gorgeous, bluebird day. We started our egress at around 07:00 but by the time we were finally around Glacier Lake the sun was already scorching hot – it felt like July rather than the first few days of May! We took our last long break near the campground on Glacier Lake, listening to the local ducks, geese and birds and enjoying the absolute stillness and peacefulness of a windless, warm morning. It felt really good to chill there for a bit. Too soon it was time to get moving again. The grunt up and down the 200+ meters of elevation gain / loss over the shoulder of Survey was a giant PITA but soon we were sweating our way to the parking lot from the North Saskatchewan crossing.
As you could probably tell from the length of this trip report (!!), I really enjoyed my climb of Mount Forbes. I enjoyed all of it, from the approach to the bivy site, to the steep snow climb up the NW face, to the challenge of wind slabs on the upper summit ridge. I loved the spring-like conditions we had including the low river, the chirping birds and the blooming flowers along the trail. We had a good team. There really isn't anything left for me to say, other than I'm glad I've done this mountain and I'm sad that it will be hard for me to match the experience any time soon.
__PRESENT
__PRESENT__PRESENT