Summit Elevation (m): 3375
Trip Date: September 06 2014
Total Elevation Gain – from bivy (m): 2000
Round Trip Time – from bivy (hrs): 14
Total Distance – from bivy (km): 12.5
Related Trips: Little Alberta, Woolley, Mushroom
Quick 'n Dirty Rating: Class 3/4 – you fall, you break something or die
Difficulty Notes: Crossing the Sunwapta River is your biggest challenge to the bivy. Don't underestimate it during spring or summer months! Steep snow or ice couloirs to 40 degrees to access the col between Woolley and Diadem. Glacier travel and steep, wet, scree covered rock in between the couloirs.
Technical Rating: MN8
GPS Track: Download
Mount Woolley Map: Google Maps
---
Once we descended the North Ridge of Mount Woolley to the col, we found ourselves staring up at the easy, snow and scree covered South Ridge of Diadem Peak. There wasn't much in the way of difficulties or route finding to the summit of Diadem. It was one tired foot in front of the other. As I crested the snowy summit bump, I immediately noticed what looked to be a slightly higher, rocky summit tower to the Northeast of us. I remembered a discussion on the old RMBooks forum about this summit and wondered if we should wander over to it, to give it a look.
Steven was way ahead of me, already tramping his way towards it! Ben and I somewhat reluctantly, followed. Why were Ben and I dragging our feet? The rock didn't look easy. Covered in snow and ice and surrounded by steep walls, we were hoping to avoid having to ascend it. When we got a bit closer we knew we were out of luck on that one.
---
Interesting Facts on Diadem Peak 
Named by J. Norman Collie in 1898. When Collie, Stutfield, and Woolley reached this summit they found that, a "'diadem (crown)' of snow proved to be about a hundred feet high, set on the nearly flat top of the rocks." Official name. First ascended in 1898 by J. Norman Collie, H.E.M. Stutfield, H. Woolley Journal reference AJ 19-461.
---
Steven was gung ho to ascend the scary looking crux to the summit cairn first, so I handed him my GPS and asked him to take a few measurements at the top. If the measurements were higher than what I'd measured on the snow bump that most people call the "summit", I'd have no choice but to follow Steven's footprints up. I had measured two readings of 3370 and 3372 on the snowy bump. Mr. Song made the scramble look fairly easy, but very exposed and when he took a few readings and shouted down the number "3375", Ben and I realized we were going up too.
I gingerly traversed the first part of the climb to the summit on a snowy ledge before coming to a short knife-edge arete. This arete looks extremely exposed from the east side (and it is), but when I got right up to it I was relieved to note that I probably wouldn't die if I fell off the west side. A few short, exposed moves on snowy rock and I joined Steven on the rocky summit of Diadem. I traversed to the summit cairn and started rooting around for a register. Eventually I realized that there was too much snow and ice to find the register and gave up.
When I stood up and looked over at the snow bump on Diadem I could tell right away that this rocky summit was higher. I could clearly see over the snowy summit, something you can't do with a higher or equally high apex. I also measured the altitude with my watch and a few more readings with the barometric altimeter on the GPS and every single reading was over 3374m. On my way back over the snow summit, multiple readings never went over 3373m.
The views from the summit did not disappoint and were much the same as Woolley's views. We could see slightly more of Mount Alberta's North Face and obviously of the mountains directly north of the area. Mushroom Peak looked quite high to me, I wondered how the heck I was going to have the energy to even attempt it, but it looked fairly easy from Diadem. The toughest part would be traversing it's lower glacier on our way to the south scree slopes and East Ridge.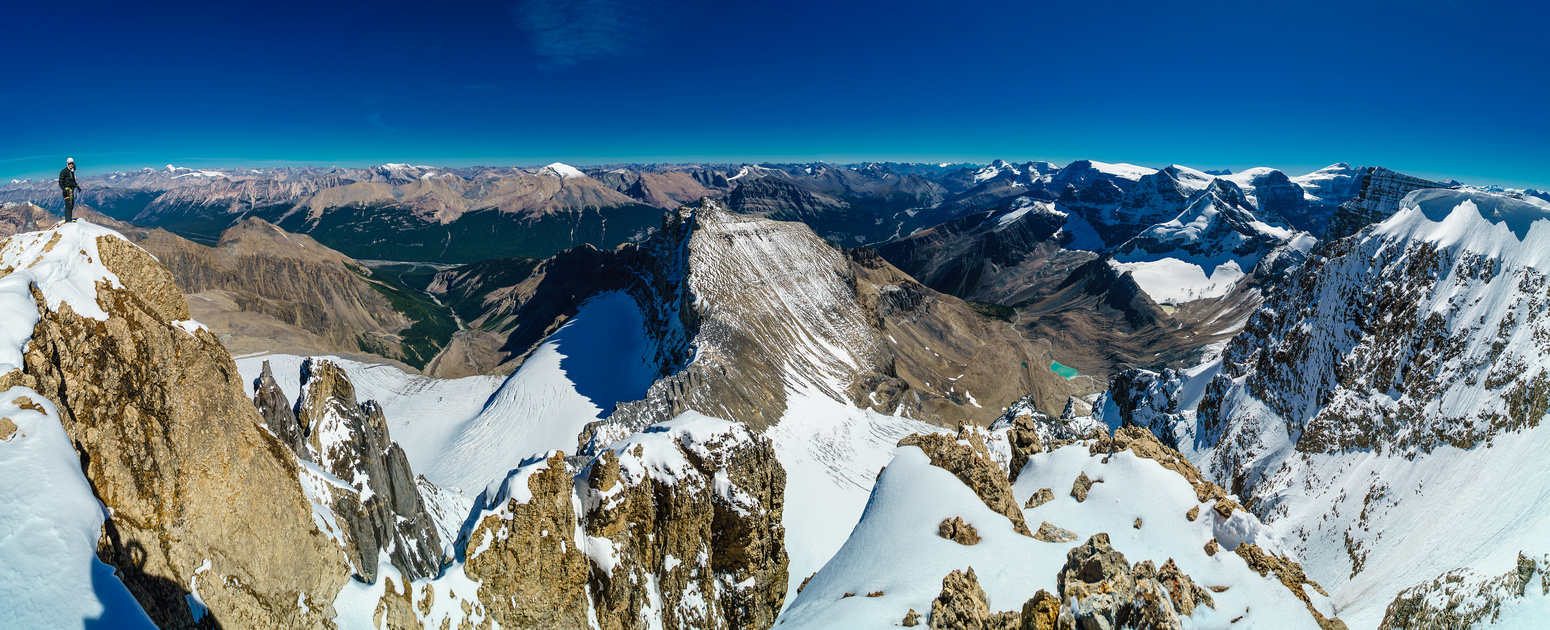 After enjoying the amazing summit views on Diadem it was time to descend the long and potentially hazardous terrain through the two couloirs to the lower glacier. The first part of the descent, after the crux summit rock, was easy and fast.
Soon we were back at the second (steeper) couloir. It had certainly melted out during this long, sunny, warm day and we were a bit apprehensive about the descent. There was no guarantee it would even have snow to our traverse point, or if it was now bare ice. Oh well. No time like the present. As the occasional rock zipped past us, we quickly started down the couloir on stable but slushy snow. Our crampons bit into the ice beneath the snow fairly well and we made good time to the rock traverse point. 
It was steeper than I remembered from that morning, but with two axes and firm steps we just managed to avoid any ice in the gully and transitioned to the rock, happy to be away from the rock / ice that was occasionally plummeting down on top of us. The rock traverse went much better than I was expecting.
We managed to swing far to skier's left before going back right to avoid most of the down sloping, crumbly slabs. Soon we found ourselves approaching the lower angled first couloir – which we assumed would be fairly easy. We even kept one hiking pole and used it with our alpine axes. This was a mistake. The gully had been a breeze in the morning, but the snow was pretty much completely melted out on this lower section. Rocks were zinging past much more regularly than the upper couloir – and there was evidence of a LOT of rock fall coming down over the day. Our plan was to traverse this couloir towards the glacier between Diadem and Mushroom Peak and follow this glacier to the south face and west ridge of Mushroom. As Ben traversed the couloir he started looking really awkward almost right away.
Pure, hard ICE. No snow. Crap!! We very gingerly made our way down the gully – way too slowly for my liking – remember the rock fall issues? We eventually managed to get our second ice ax out and this made things much safer and faster. Steven led the way out of the gully and we breathed a huge sigh of relief. There's nothing like random rock fall to keep you on your toes! I don't really enjoy the randomness of these kinds of objective hazards. I don't mind exposure or things that I can control but hearing the sounds of rocks coming down a steep mountain slope above you and cringing as they careen either past you or over you is NOT my idea of a good time.
With daylight already starting to fade, we had to somehow cross the lower Diadem / Mushroom glacier and then slog up at least 500 vertical meters to the summit of 10,500 high Mushroom Peak.
__PRESENT