Summit Elevation (m): 2880
Elevation Gain (m): 1500
Round Trip Time (hr): 24
Total Trip Distance (km): 25
Related Trips: Mount King George, Mount Princess Mary
Quick 'n Dirty Rating: Class 2 – you fall, you sprain something
Difficulty Notes: Glacier travel required to reach lower slopes, hiking on rubble or steep snow to the summit.
Technical Rating: SC5; YDS (Hiking)
GPS Track: Download
Map: Google Maps
---
Saturday afternoon, once we moved bivy sites from the South Glacier to the east one, Steven came over and expressed some concern at the obvious giant, open 'schrund splitting the whole south face of the upper glacier on Prince Albert. Initially I dismissed his concerns thinking of how easily we avoided similar issues on King George's South Glacier. (You can spot these giant holes on the Google image of Prince Albert.) Saturday night was warmer than Friday night had been, and we woke up wondering what conditions would be like on the glacier. There was only one way to find out – go put boots on it. So, we groggily got out of our sleeping bags again at 04:10 and prepped for the day.
The plan was to ascend Prince Albert, traverse to the Prince Albert / George col and ascend Prince George before heading back to the bivy site and exiting to the truck. A long day for sure, but we'd just ascended King George and Princess Mary with enough spare time to head back out (could have climbed both in 1.5 days including the trip from and back to Calgary) so we felt confident we could accomplish this goal too. We were lacking a bit of motivation due to our success the day before and the heat.
We ascended the waterfall headwall above our bivy in the dark on climber's right. This avoids the bushes that thrive directly under the waterfalls. After this we slowly curved back left before getting onto the main King George Glacier. This glacier is very heavily crevassed, especially on the right (west) edge and soon we found ourselves weaving in and around very large holes. There was snow to our left but we didn't trust the bridges in the warm temps so we dealt with the visible holes instead. All the playing around on the glacier was good fun but it dramatically slowed us down compared to the day before. 
Eventually we had no choice but to take to the snow covered glacier and we decided to rope up. This slowed us down even more and it was almost comical how groggily we dragged ourselves up the glacier towards Prince Albert. I was keeping track of time and it became obvious that we weren't getting another 2 summits and hiking all the way back to the truck on this particular day. When Ben suggested that the snow was already getting a bit soft to be playing around the huge 'schrund and obvious holes on the south glacier on Prince Albert, I agreed and we decided it was time to vote. Either attempt Prince Albert – keeping in mind that nobody felt like taking huge risks after successfully climbing our main objective already the day before, or go up Prince George which was pretty much a guaranteed success and involved very little risk.
The decision was made easier when we realized we were 'only' getting 3 peaks this trip and nobody was returning for a small peak like Prince George! We somewhat reluctantly changed course from Prince Albert to Prince George on our right. Descending the glacier between Prince Albert and Prince George was easy enough at the far north end, around the south end of Prince Albert. We again dropped a bunch of gear before cramponing up easy snow slopes. The last 150 vertical meters was on loose, blocky terrain but was easy. The views from the summit were surprisingly good! The Palliser Valley induced vertigo – it was so far below us to the north.
The Royal Group was all visible including Princess Mary, King George, Prince Albert, Prince Henry, Prince John and Queen Mary (L to R). I couldn't believe JW, Kevin and Blair's route up the Congdon / McNab Couloir up the east face of King George! The last register entry was dated two years previous, but it was soaked. I don't think many people bother with this minor summit, but the views made it totally worth the effort. Prince Albert looked incredible from Prince George, and I'll be back for it some day for sure.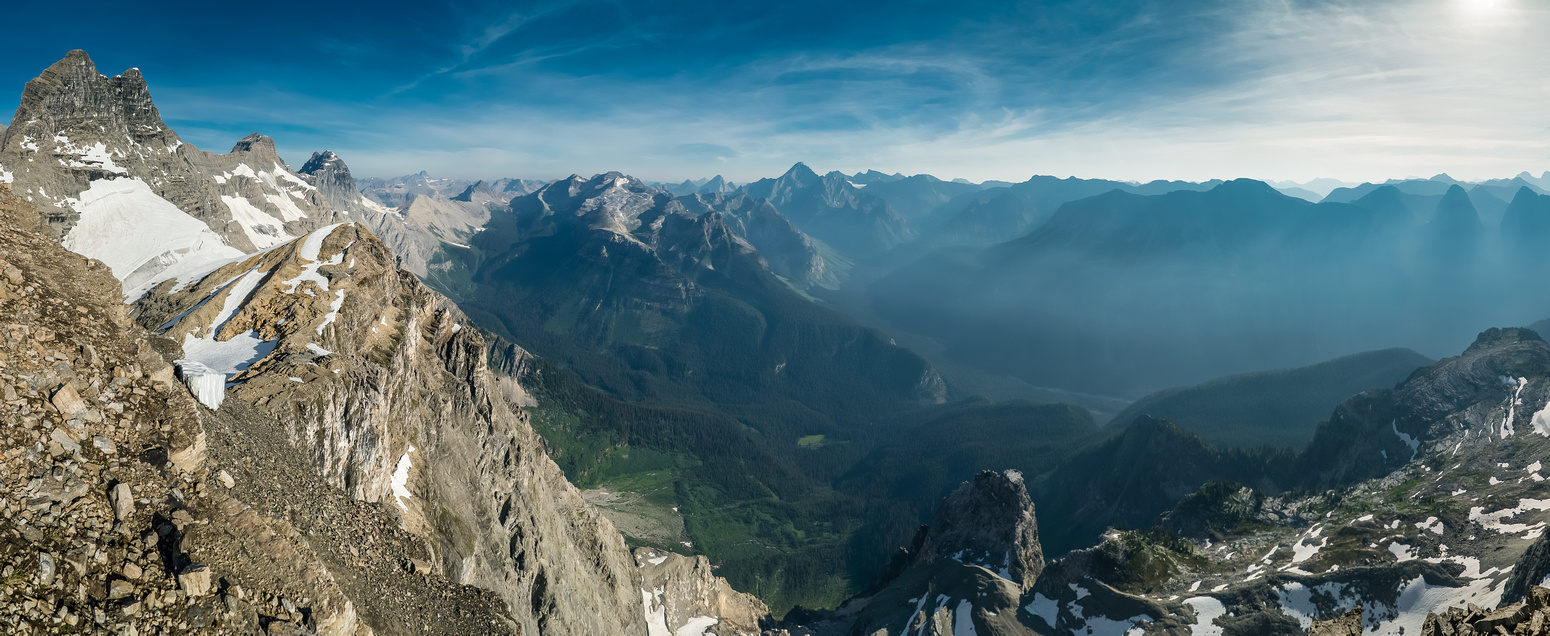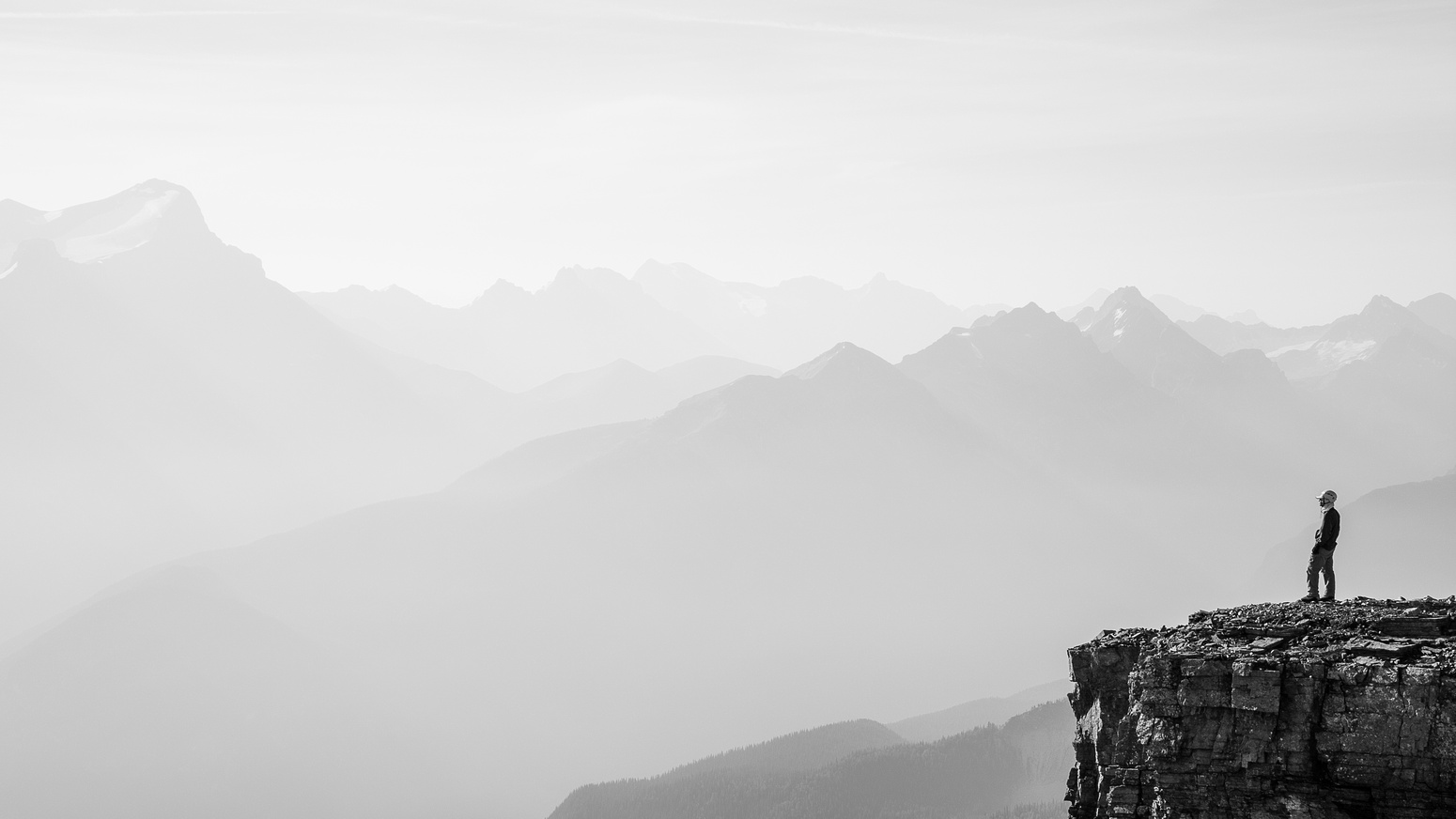 We took our time on the way back to camp and enjoyed the mixed glacier / rock terrain along the east edge of the King George Glacier. We got lucky and managed to find a reasonable route down – only narrowly avoiding getting trapped by an icefall at one point. Camp was toasty already at noon and we knew we'd be sweating buckets on the hike out.
Sure enough, the hike back to the truck was hot and somewhat confusing. We managed to get off track at least 3 times, even with GPS and ribbons everywhere! Oh well. We eventually made it out and back across the Palliser River. The truck was still functional and another car was parked behind it. We hadn't seen any evidence of others, but obviously they were there somewhere! (After returning and reporting on our trip, it turns out that a solo climber who'd just ascended Assiniboine and Lunette was sleeping in the bush nearby and followed our route up KG the next day.)
The whole King George trip lived up to my expectations and more. Even with a rough approach and not reaching the summit of Prince Albert – I really enjoyed it. The remote country, wild terrain and very different climbing experiences have me thinking that I'll go back some day to stand on Prince Albert's summit. But not this year.
__PRESENT