Summit Elevation (m): 3355
Trip Date: August 31, 2013
Elevation Gain (m): 2400
Total Trip Distance (km): 40 
Related Trips: Willingdon, Devon, Dip Slope, Deluc, Harris
Quick 'n Dirty Rating: Class 3 – you fall, you sprain something
Difficulty Notes:  With snow and ice there is some difficulty on the traverse but nothing too extreme.
Technical Rating: SC6; YDS (3rd)
GPS Track: Download
Map: Google Maps
---
After enjoying a spectacular summit on Mount Willingdon it was time to head over to two sub peaks (and separate peaks) to the south east of the main summit. These peaks both have unofficial names – Crown Peak and South Tower and should be considered somewhat official, considering that they are some work to attain and well over 100m vertical separates them from each other. What makes them very interesting is that they both measured over 11,000 feet on my GPS with Crown Peak coming in almost 40 feet over! On my calibrated altimeter watch only Crown stayed in the 11,000er club with South Tower falling just short. In the end – who cares? But the views from the summits make both these peaks worth the effort and they even have some short scrambling sections and route finding.
Update 2022 – Crown Peak was measured with a high degree of accuracy to be 3355 meters by R. MacLennan and B. Makuk in 2019. They also measured South Tower and put it at 3342 meters – just shy of 11000 feet as I suspected.
Crown Peak
The route up Crown Peak is pretty obvious. Stick to the ridge until encountering anything too difficult and bail to climber's right, traversing small bits of the SW face under the ridge to avoid anything too technical or exposed. The summit contained a register with only a few handful of entries and more spectacular views in all directions – including great views of Willingdon.

Willingdon South Tower
After summiting Crown Peak we began the descent to the Crown / South Tower col. There were a few anxious moments of wondering what the terrain was going to give us but we managed to avoid all major difficulties by traversing the SW face below the ridge and around any cliff bands that we encountered.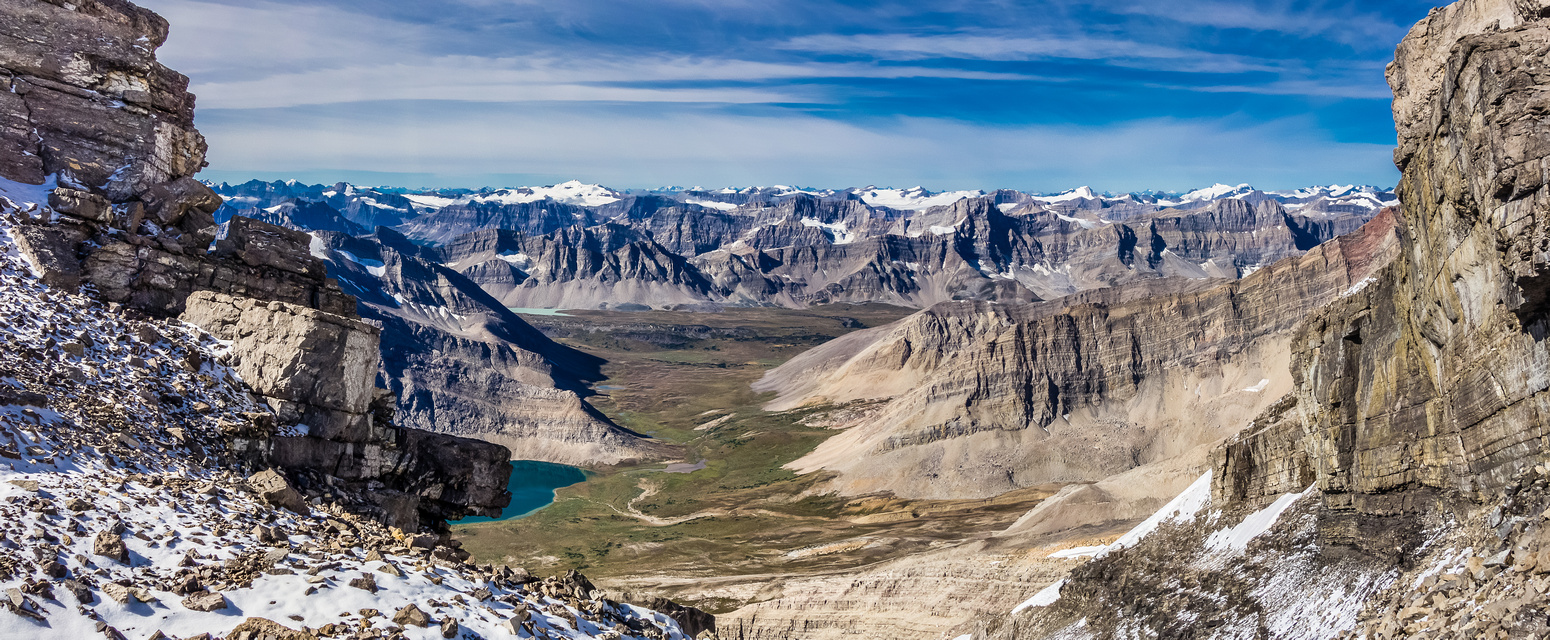 The slog up the easy NW ridge / slopes was mercifully short and soon we were enjoying yet another sunny, clear and cool summit view. After fueling up for the long descent and hike ahead of us, we descended to the col and scrambled back up to Crown Peak's summit (far easier than trying to traverse the whole way on slick slabby and rubbly terrain on the SW face). The descent back down Crown was interesting in places but we soon arrived back at the beautiful tarn between Crown and Willingdon and stopped for a breather here.
For our descent to camp, we utilized as much loose scree / snow as we could, contouring around the south ridge and avoiding the cliff bands on the lower part by contouring back to skier's right and around them into the valley where we bivied.
Egress from Devon Lakes via Quartzite Col
After packing up camp underneath Mount Willingdon and across from the Devon Lakes, we began the long hike back to the parking lot. The hike was awesome. A stiff, cool west breeze kept the bugs away and us from overheating. The scramble back over Quartzite Col really sucked the energy out of us but again, the cool late summer breeze was an unexpected refreshment.
After finishing with the Quartzite Col it was simply a matter of finding the faint trail to the Mosquito Creek trail and then plodding back to the car while planning our next big adventure.
This was a fantastic trip to an area that's been on my radar for many years already. I'll certainly be back to explore it more in the future! Our total height gain for the trip was around 4000 meters – and that's with a day of inactivity on Friday.