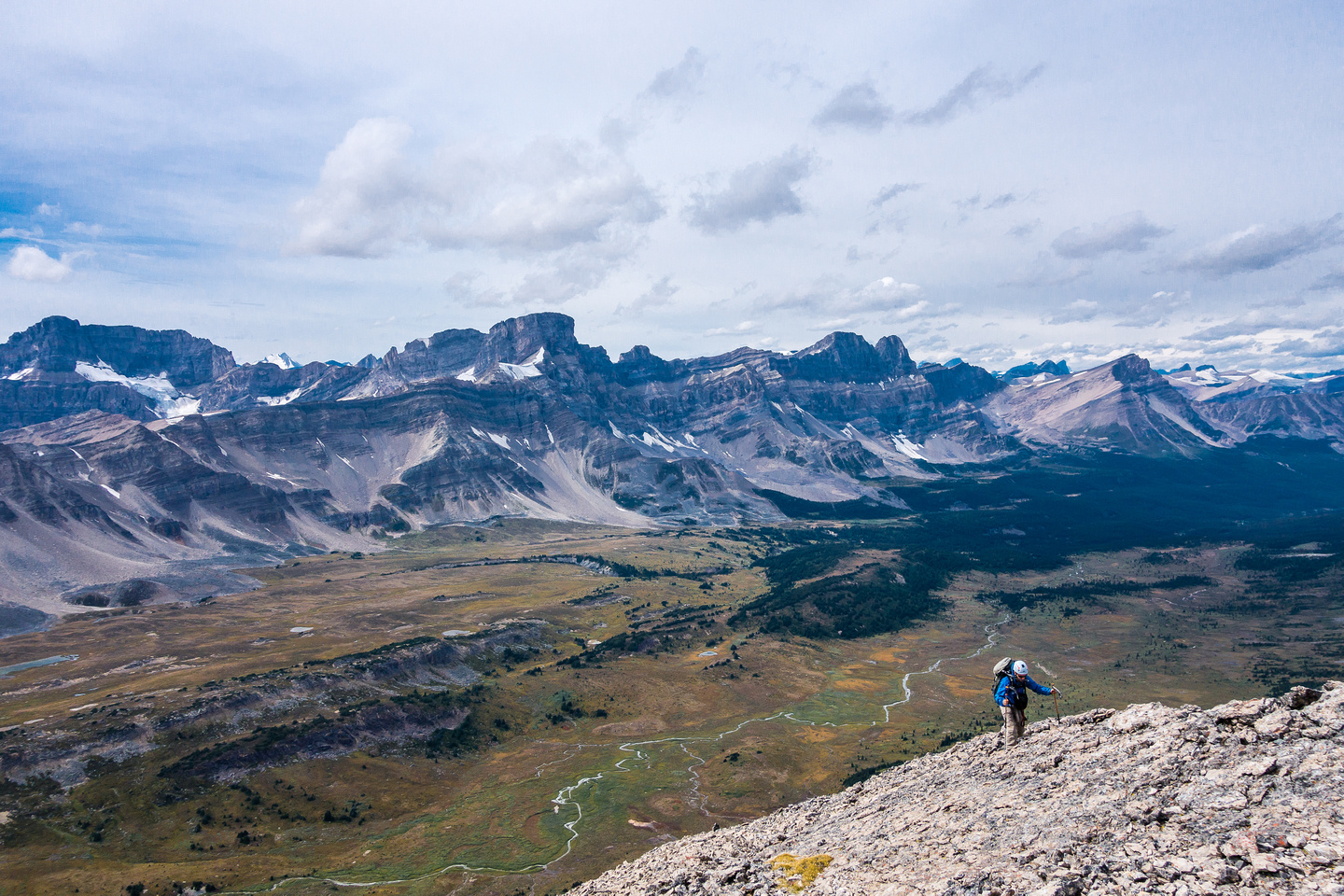 Summit Elevation (m): 3004
Elevation Gain (m): 1767 
Total Trip Distance (km): 28 
Related Trips: Clearwater, Willingdon, Deluc, Dip Slope
Quick 'n Dirty Rating: Class 3 – you fall, you break something
Difficulty Notes: Some exposure on the final ridge to the summit. Would be dangerous when wet or snowy.
Technical Rating: SC6; RE3
GPS Track: Download
Map: Google Maps
---
I've had plans for years involving a trip into the Devon Lakes area near the Siffleur River Valley and the head of the Clearwater River in eastern Banff National Park. My plans involved summits such as Dip Slope, Three Brothers, Clearwater and of course the 11,000er in the region, Willingdon. Originally the plan was to go in the fall when all the brilliant color was at full height but when an opportunity came up to go with the 3 amigos from Edmonton (Ben, Eric and Steven), I couldn't say no. Due to time constraints we couldn't possibly summit everything in the area so we planned a 3 day trip with Devon as our day one summit – hoping to tag it on approach to our bivy site under Mount Willingdon. Day 2 would be a 3 summit day (Willingdon, Crown and Tower) with Clearwater completing our 3 day peakbagging adventure near Devon Lakes. Funny how plans don't always go the way you think they will.
We met at the trailhead at around 07:00 and were soon tramping up Mosquito Creek to Quartzite Col. Just before the 4th bridge we found a faint trail snaking off to the north (left) along the left branch of the creek, which we followed through very wet bushes / vegetation. The trail is faint but obvious – there is NO reason to bushwhack on approach to the Quartzite Col – you should be on this faint trail right through a creek crossing and up into the upper meadow beneath the col. We followed a GPS track from So which obviously helped a lot. Over the years I've heard a lot of bad things regarding Quartzite Col. The two biggest complaints are that it's hard to find and when you do find it, you're not sure it's the right place due to snow, ice and very, very steep and horribly loose terrain.
We followed So's GPS track down a steep snow / ice gully right under the col. This worked, but on hindsight we should have checked the gully just to the skier's right to see if it had less ice in it. We would have simply downclimbed the gully if it was more snow, but the hard ice wasn't easy to navigate and we downclimbed (and slipped, stumbled and crashed) very steep and loose rock terrain on skier's left of the ice in the gully. Earlier in the year this would be easier terrain, I think. (Update 2022: After going over the Quartzite Col many times since this first trip, there is now a much easier route skier's right of where we descended that is no more than moderate scrambling at most. See my Clearwater Mountain trip report for details.)
Going down from the Col into the Siffleur River Valley was certainly one of the most difficult and dangerous bits of terrain we navigated the whole trip. Don't underestimate it – we took our steel crampons and axes along mainly for this section and even though we didn't use them, we certainly would have if the rock wasn't viable. Another option I may look into next time is the route that Sonny took, down slopes to the north of the col.
Once down the Quartzite col we were surprised by the height loss / gain still ahead of us across the Siffleur River valley to the Devon Lakes area. We moved easily across the open terrain and a mild bit of bog before starting our way up to the lower slopes on Devon.
We were surprised to hear voices above us after stopping for a water break and noticed a group of backpackers on the trail heading to Pipestone Pass. For a few minutes we wondered if Devon Mountain was more popular than we expected! It isn't. 
We went easily up the Northwest ridge on loose, steep scree and rock before topping out at a rather knife-edged ridge just before the summit – very unexpected! It was a nice surprise to find that Devon wasn't just a simple scree slog, but actually involved some hands-on scrambling and exposure before giving up her summit.
We were delighted to summit under partially sunny skies considering that the forecast had made a summit on Thursday seem fairly uncertain. The views were a bit hazy but we enjoyed them anyway and soon started down again – we still had to navigate our way below Willingdon to find a good bivy.

The good news was that Willingdon, Crown and Tower all looked fairly dry and snow free. After descending to our gear (we emptied our packs before ascending) we continued on to find a bivy beneath Willingdon's south ridge from where we could tackle Mount Willingdon, South Tower and Crown Peak the next day. We contoured easily around the north side of Devon Mountain and headed towards the winding trail leading to the largest of the Devon Lakes beneath Mount Willingdon.
The air was warm and humid and I thought we'd probably get some storms coming through (as forecast) in the evening so we wanted to get to our bivy before any 'weather action' started.
__PRESENT__PRESENT__PRESENT