Summit Elevation (m): 3356
Trip Date: August 17 2013
Elevation Gain (m): 3500
Round Trip Time (hr): 52
Total Trip Distance (km): 80
Quick 'n Dirty Rating: Class 5 – you fall, you are dead
Difficulty Notes: Very remote with tons of 4th class exposed scrambling before the upper rappel. Don't underestimate the effort required!
Technical Rating: MN9; YDS (5.2); RE5
GPS Track: Download
Map: Google Maps
---
The Approach
As usual for the summer of 2013, the weather forecasters couldn't agree between sun, cloud, rain or snow so at the end of the day we had to decide to go no matter what, or give up. We don't give up very easily and this summer it seems that as long as you count on rain in the afternoon, the mornings have been decent for climbing. We knew Recondite was bone dry from JW who soloed all the way in there the week previous and gave me some beta from his trip so we decided to give 'er pretty much no matter what. I met the guys at the Helen Creek trailhead at around 06:30 on Friday morning. By the time we started up the trail at 07:00 a light drizzle had started up – but we were determined and were expecting Friday to be the worst weather day so we stayed true to our plans. The hike up Helen Creek was initially very steep and worked to get us in the mood for the copious amounts of height gain in store for us.
I believe in packing as light as possibly while staying reasonably safe. Thanks to JW's beta concerning plenty of water on route, I managed to go the entire 40 kms to our bivy without carrying any water in my pack or on me at all. The trade-off was that I kept a titanium cup strapped to my pack and at every running water source I'd dip it in and drink at least 1 or 2 cups. This kept me very hydrated, tasted excellent and meant a much lighter pack. I was risking getting sick from bad water but I've been drinking from mountain streams for over a decade and haven't gotten sick yet – but still, this is a risk I'm aware of.
Other weight savings were a light 30m, 8mm rope which we shared carrying, a 95 gram climbing harness and limited (but sufficient) food. I also only wore 1 shirt (merino wool to keep from smelling too bad), 1 pair of outer socks and 3 ultra light liner socks, 1 for each day. For cameras I brought my new (2nd hand) Sony RX1 for full frame goodness and my RX100 II for convenience. Since they share electronic viewfinders and batteries this was a match made in Heaven and was super light considering the quality they produced.
My stove was the MSR pocket rocket with a tiny 100g can of fuel and a Snow Peak mini solo pot/cup set made of titanium. I brought light fleece (a bit risky if cold weather moved in) and Gore-tex shell jacket and pants – no extra warm layers. Light gloves and a toque were the only other articles of clothing I packed. Another huge risk we took to save a lot of weight was leaving crampons and axes in the car. We knew the peak was snow free a week earlier, but there was no way to guarantee it would still be dry – especially given the rain in the forecast. But we also knew that the upper level air was warm and considering recent climbs of Cline, Edith Cavell and Assiniboine we also knew that snow wasn't accumulating on the high peaks yet – but it's still very risky to leave core climbing gear behind when you don't know conditions for sure – especially when you have a 40km approach and won't even see the dang peak until you're 35 km into it!! I also wore very light hiking boots, also a bit risky considering they are not waterproof and we crossed a lot of waterlogged ground. (Update: In 2021 I find myself hiking and climbing in approach shoes, getting them wet at creek crossings and never taking them off. This is the perfect trip to do in light approach shoes rather than boots.)
We continued to gain elevation quickly and were soon past the recent mudslides under Dolomite Peak and hiking up to Dolomite Pass under Cirque Peak and above Helen Lake at an elevation of around 8,200 feet for our first big gain of over 2,000 feet from the parking lot. The Helen Creek trail is often closed due to grizzly action and we clearly saw the evidence of bruins in the area on our way through. The weather was damp but the landscape was nicely saturated for photographs and we took many of them as we descended from Dolomite Pass into the valley beyond and past Lake Katherine and some small tarns. As we continued to descend I think we started to realize just how big this trip was going to be! We knew we had to descend lower than our starting point before regaining it all plus more, but still. It's always so much more work to do the work than to plan about it or read about it. 

I've heard of people doing "numerous" creek crossings on this trip but with careful planning and good conditions we managed to only do 3 of them on our way back. On ascent we did more because we didn't know the route. Steven and Eric ended up doing 8 and Ben and I did 6 crossings on the approach where a "crossing" is defined as taking off our boots and putting on sandals or runners to cross water. Crossings take a lot of extra time and can be dangerous and minimizing them is key on this trip. The first place we avoided a crossing was at the very first crossing of Dolomite Creek. We noticed a cairn to the left of the stream and immediately decided to follow it, rather than the trail. This worked great! In high water this route would not work and you'd have to cross the stream to its east side.
As we hiked downhill, further and further into the wilderness we let the silence and beauty of the valley wash over us. Waterfalls plunged down steep cliffs all around and wild flowers were still blooming in colorful carpets. The rain eased up and a warm sun started to warm our necks while glistening streams rushed noisily past us. Marmots and Pica's announced our coming with their high calls and birds flitted above, catching the numerous insects that also call this valley home. The beauty of the area eased the long approach until we finally saw Isabelle Lake glistening far, far in the distance.
Here is where we pulled the first big fail of our approach. Corbett says that when you see Isabelle Lake you should just shed your hiking boots, don your wading shoes and give 'er for the lake. So we did just that! It worked OK for the first little bit but trust me – that lake is a LOT further than it looks when you first see a sliver of aqua on the far horizon.
We found ourselves first crossing a few small braids of water on gravel flats, then deeper channels started showing up and finally after kilometers of walking we found ourselves in a boggy mess with stinky muck and dirty water almost crotch deep in places, desperately trying to go back to the left (west) to recover the trail before we sank out of sight. On return we realized that there is a trail running almost the entire length of these water flats on the west side – wet and muddy in spots with some very rough spots, but still vastly preferable and faster than our approach route. When we finally pulled ourselves out of the bog we were very grateful to find an obvious trail snaking off through the forest – ever downward.
After 24 kms of hiking we finally came to the Isabella Lake campground and the warden cabin / horse corral. I must say that I'm surprised people come in this far to camp here. Isabella Lake is pretty enough but the views from the forested edge are limited and the area is buggy, damp and smells like horse poo thanks to the copious amounts of dung all over the pasture and trails. Don't get me wrong – it's a wonderfully remote and beautiful area, I would just far rather bivy along some of the streams than camp right by the lake. (We only met a few people hiking out and there were two ladies camping there on our way back so it's not a hugely popular destination by any stretch.)
After Isabella Lake the trail became much smaller and more rugged and rutted from horse traffic. About 4km further north of the warden cabin we came to the crossings of Dolomite Creek and the Siffleur River. We managed to get ourselves turned around a bit at this spot. The first crossing (Dolomite Creek) is obvious. We crossed and found ourselves in another horse camp – complete with a sign tacked to a tree – and a fire ring. From here we got a bit confused but thanks to my GPS we managed to eventually find and cross the Siffleur (along with another creek) and found ourselves in the forest. No trails from here to the bivy and after almost 30km of hiking our real adventure was just starting.
After crossing the Siffleur we made our second big approach mistake. Rick Collier mentions in his trip report on bivouac:
Once across the river, one should ascend diagonally N up the NNE ridge just across the water for about 500′ — there are game trails through the deadfall left from an ancient forest fire that run around the end of the ridge and above the cliffs that drop down to the unnamed creek. Neither the burn nor the trails will be visible during the first half of this ascent. The cliffs that drop into the valley make access by following the drainage inadvisable.
I had Rick's trip report along and even plugged some GPS waypoints along the forested ridge which would guide us into the correct valley (trust me – life will really suck if you end up in the wrong valley, and it's not as obvious as you may think) but as we thrashed our way through the forest to my waypoint we got to thinking that it was feeling pointless to bushwhack and we started descending to the valley floor and the Recondite stream rushing down it. We should have read the last sentence more carefully from the quote above. The whole point of the bushwhack was to avoid cliffs and fast water along the valley! Instead of traversing high above all these difficulties we deftly managed to get ourselves right into the middle of them. Bright move on our part. NOT. I'm blaming it on the 30km we'd already hiked and being tired.
The next few hours were frustrating to say the least. We merrily began hiking and bushwhacking up the Recondite Creek valley floor until very shortly we realized that the stream was rushing down a steep roll toward us and there was no way to cross it safely to the north bank and only cliffs rising above us on the south. Arg. I briefly thought I'd saved the day when I noticed a cool bench running along the cliffs above. We hiked up a steep slope to find cairns along it and whooped with relief. 5 minutes later we were looking down at a rushing torrent and up at 5th class, loose cliffs and wondering where the heck the cairns were supposed to lead. Depressed, we turned back and went back down to the creek. Eventually Steven and Ben got desperate enough to try crossing the creek on a downed tree that stretched about 3/4 across. This wasn't as easy as it sounds as the tree still had all it's branches and didn't reach all the way. After watching them struggle on the tree, Ben and I decided to bite the bullet and regain height on the south side of the creek to accomplish what Rick suggested – avoid the cliffs by traversing above them. This detour involved very steep bushwhacking at least 200 meters above the creek before traversing just above the cliffs and eventually re-joining Steven and Eric above the falls – they of course were on the opposite side of the creek now. Apparently they had quite an adventure on the log – having to switch to river shoes halfway across while balancing above the torrent and then wading the last bit to get across. A lot of energy was spent on this section of the creek and very little distance gained. After hiking over 30km already, we were getting tired but still had a long way to go. We hadn't even seen Recondite yet.
The next few hours were very long but thankfully very scenic and under a pleasant evening sky. The Recondite Valley is a beautiful, remote and untracked wilderness that few humans have had the pleasure of experiencing thanks to the hell of an approach. But our approach adventure wasn't quite done yet either. The photo above looks innocent enough right? Some trees. Some rocks. An obvious approach – should be simple. In the grand scheme of things, it was simple enough, but remember – no trail! This meant lots of side-hilling on loose rocks, scree and boulders to find ways around the raging torrent of water (it's evening and the stream is very fast after a day of rain and melting). It meant lots of annoying bugs desperately trying to steal supper from our bodies. It meant hard scrub and tough trees scratching us and drawing copious amounts of blood from our arms, legs and necks as we thrashed our way through them.
After a few more hours of hard work we finally broke out of the trees and started ascending (yes, we'd been ascending again for hours already) on loose rock and scree for the far end of the valley. Even Recondite finally showed her summit – thankfully bone dry. We all agreed that given the good weather and beautiful evening, we should try to push for the lake that Collier mentions in his trip report, to set up our bivy just under the south ridge of Recondite rather than down in the valley. (NOTE: Corbett's route goes up the treed slope on the north side of the stream near the end of the valley to the rubble above and bivies up there, accessing the southwest ridge of Recondite from the northwest side between Osgood and Recondite. We accessed the sw ridge from the opposite side using Collier's route and bivying by a lovely alpine lake between Recondite and Augusta.)
When we finally reached the end of the gorgeous Recondite valley we were tired and sick of hiking with our overnight packs. But we weren't done yet. We chose a line on climber's right of the stream at the end of the valley and groveled our way up the chossy slope which turned concrete-hard near the top and made traversing with heavy packs interesting. Finally, after 14 hours of hiking and with darkness settling in around us we arrived at a perfect bivy site above the small alpine tarn nestled in between Recondite and Augusta. We settled in for the night – each of us appreciating the remote silence and beautiful amphitheater we were in.
The Ascent
After a night of rain, wind and millions of stars in between, we woke up around 06:00 and decided to get up. Originally we planned on getting up even earlier but a small rain shower deterred us. The weather was certainly looking like a mixed bag with lots of clouds zipping by overhead, but the rain stopped and there were patches of blue starting to show as we packed for the climb and departed camp, climbing the sw ridge directly above our bivy site. We traversed grassy slopes and loose scree before getting up onto the ridge proper with gorgeous views all around and the false summit towering above – a foreshortened view as we soon discovered.
The lower southwest ridge to the false summit was good fun on dry, grippy karst pavement and rocky slab. We managed to gain height very quickly on this excellent surface – I really enjoyed this section, especially the gorgeous views back west and south to the very impressive north glacier / face of Mount Augusta. Mount Augusta has only been climbed very few times and is only marginally lower than Recondite at around 10,800 feet.
At the top of the slabs we started to approach a black cliff band crossing the ridge above. At this point we followed a cairn to climber's right (south) and spent the next hour or so following cairns and our noses along the south face of Recondite, usually just under the SW ridge proper. This was actually a lot of fun! It reminded me a bit of the Huber Ledges – basically it was a game of "find the next cairn in impossible looking, loose, complex terrain". The terrain was horribly loose from this traverse to the summit – I was glad that we had a bit of separation and we are all very experienced with Rockies terrain. We didn't have to constantly worry about knocking rocks on each other because we've all been in enough close calls to be super careful on loose rock, especially with friends below.
Eventually we found ourselves guided back to the ridge proper under a tower on the ridge that would be a serious obstacle if you didn't follow the south face route. After this we stayed on the ridge, scrambling a tricky spot left of the first cliff band and working our way up where finally we topped out under a threatening sky above the 5.3 rap just under the summit. Up until this point we'd been very lucky with the weather, storms seemed to be hitting areas to the south and north but leaving us alone. That would soon change. We slung the obvious boulder above the rap (two long cordelettes were plenty – you could just sling the whole rope around it instead) and Steven was the first to go over the edge.
The first spot he tried was right over the nose but he quickly backed off since it was over hanging. The next spot he wanted to try was on the southeast side of the station but that looked too far down to me. I didn't realize he planned on swinging north after a few meters, so I suggested the northeast side instead. Steven agreed but near the bottom he yelled again that it was over hanging, but doable. I started down after him and quickly realized what he'd meant – there was no way this was the easy line! Climbing this would be at least 5.6-5.7 at the bottom. Once I was off rappel I noticed that Steven's idea to rap the southeast side was a great idea and told Ben and Eric to rap that side as we could easily re-climb it on descent. With the weather moving in very rapidly (snow and ice pellets with a fierce wind), Steven and I dashed for the summit while Ben and Eric rapped.
The last bit of scramble to the summit wasn't trivial but we managed to find the easiest route by following a faint trail in the scree. I know some ascent parties have had to protect this section due to snow or ice, so come prepared for that if you're not 100% sure of conditions. We topped out on the summit of Recondite 3 hours after leaving our bivy. Sadly, the summit stay was short and brutal with a vicious squall moving in to join our summit party. Oh well. You can't always win and on hindsight we were extremely lucky to get as good conditions as we got on Recondite so I'm not complaining. We signed the register and started back down.

We were rapidly getting very cold at the summit and rather than wait for a clearing in the storm we made the decision to get out of there before things got much worse. The last thing we needed on descent was any snow or ice accumulating on the route. We very carefully descended the summit block and ascended the rap line using prussiks for protection.
From there it was a few hours in alternating rain / snow / sun to descend carefully back down the ridge to our bivy site.
We made it back to camp with a round trip time of 6 hours – thanks in part to the crappy weather for the last 3 hours which hurried us a bit. We were jubilant to have made this very loose and very remote 11,000er on our first attempt. This elation would fuel us for the next 8 hours as we started the long bash homeward.
The Egress
We decided that rather than sit around in camp for a whole afternoon (in the rain), we might as well pack up and start the trek back out. There was at least 1000 meters of height to gain getting back to the parking lot from the bivy, not to mention another 40 kms of distance. Thankfully we got a brief reprieve from the rain at camp and managed to pack everything up relatively dry. We all agreed that making back out of Recondite Valley was our primary goal for the afternoon / evening but that we'd prefer to get past the swamp too. It seemed like a sucky way to start the next day – wallowing around a smelly swamp first thing in the morning. We also decided to try a different track out of Recondite Valley. Rather than mess around with the stream which was now very fast due to the rain, we chose instead to do a side hill traverse high above tree line on the south side of the valley, just under the cliffs. The side hill traverse was brutally long and painful but it did avoid all difficulties and stream crossings. It took hours, but eventually we found ourselves back in the forested slopes NNE of the Siffleur River crossing. Using my GPS (built-in maps come in very handy here) we navigated through the forest to the crossings of the Siffleur and Dolomite Creek. After a few nervous moments where we thought we lost Eric, we continued marching back towards Isabella Lake.
We had no major issues for the next few hours, other than being tired and sore from all the walking and side hilling! We hiked well into the evening and managed to set up a bivy beside Dolomite Creek somewhere before crossing it again. We also managed to avoid the swamp by taking smatterings of trail on the west side of the flats – it was wet and muddy but we kept our hiking boots on the whole time. This was much quicker and more efficient. We stopped for camp around 21:00 to complete our second successful 14 hour day in a row. It rained very heavily on Saturday night and we woke up to cool weather and clouds. Thankfully we again packed up without rain and began our march out to the cars. 
We still had 20km to go and much height to gain but we all were in good spirits thanks to our success the day previous. The hike out on Sunday was long but uneventful. We arrived back at the cars for a round trip time of exactly 52 hours. Recondite might be a loose and chossy peak but I loved the remoteness, the wilderness that surrounds her summit and the fact that only a few get the privilege of signing that register each year.
I miss it already.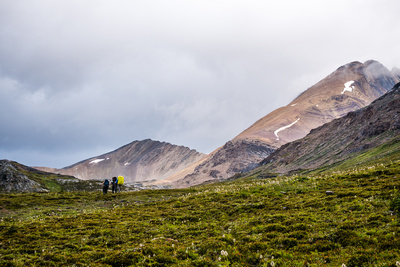 __PRESENT__PRESENT__PRESENT__PRESENT__PRESENT__PRESENT__PRESENT
__PRESENT__PRESENT