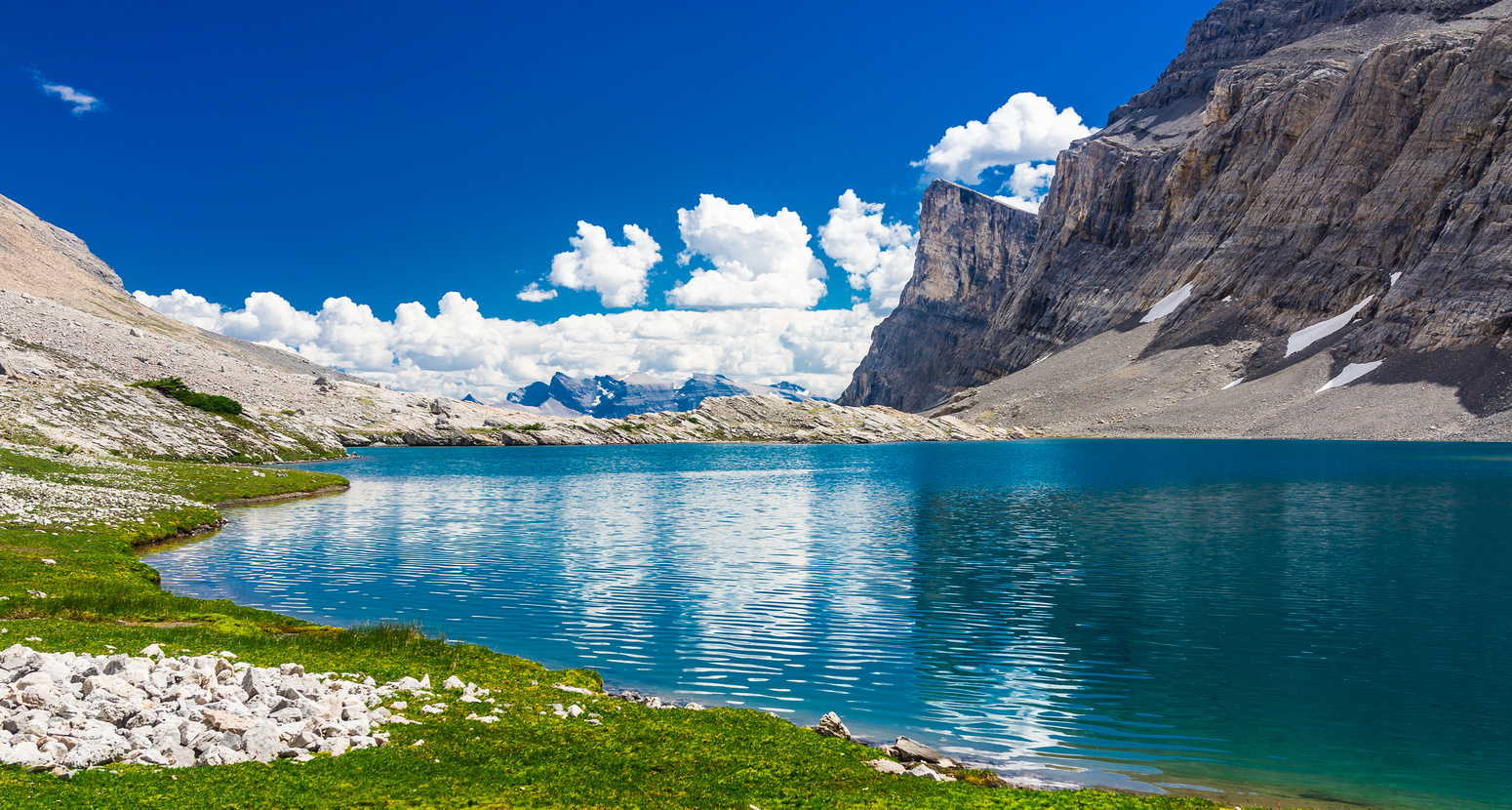 Summit Elevation (m): 3374
Elevation Gain (m): 2000
Round Trip Time (hr): 14
Total Trip Distance (km): 31
Quick 'n Easy Rating: Class 4/5 – You fall you are either dead or wish you were
Difficulty Notes: Very exposed at the notches – wouldn't want snow, rain or ice on those sections. Finding the route up the hard-pack moraine to the upper tarns / bivy site can be interesting in the dark.
Technical Rating: MN9; YDS (5.0-5.2)
GPS Track: Download
Map: Google Maps
---
I first heard about Mount Cline from the old RMBooks online web forum and have been interested in it ever since. The infamous 'notches' and the stories of people jumping the second notch or turning back due to the exposure wet my appetite to see if I could do it first try. I also liked the idea of the beautiful area with it's lakes and not-so-obvious approach trail up Thompson Creek. The more I read about Cline, the more it seemed that most people who climbed it thought that it could be day-tripped, rather than lugging bivy gear all the way into the high alpine for a 1.5-2 day trip. After Steven and Liam did it in a day and proved it was doable, Ben and I started making plans of our own. Hanneke agreed that a weekend family camping trip to Banff was a great idea, so I told Ben that I would be driving to the trailhead on Saturday from Banff. He agreed to meet me there for a 04:00 departure and slept in his vehicle along highway 11 at the Thompson Creek bridge.
We knew we needed to leave early due to t-storms in the forecast for the afternoon. Saturday morning I woke up at 02:00 and began a weird and wonderful drive to the trailhead. Weird because I was still half asleep and wonderful because of the Perseid meteor event that was going on. Several times as I drove I observed streaks of light dashing through the night sky and burning into nothing. The coolest one happened as I drove up highway 93 past Mount Sarbach – a glowing ball of fire split the night sky and fizzled away in a fraction of a second! It seemed like a good omen to me.
---
Interesting Facts on Mount Cline
Named by J. Norman Collie in 1898. Cline, Michael (An employee of the North West Company and Hudson's Bay Company, this voyageur and fur trader was also the postmaster at Jasper in 1834.) Official name. First ascended in 1927 by J.H. Barnes, A.L. Castle, A.L. Castle jr., Jimmy Simpson, guided by Rudolph Aemmer.
---
Ben was surprised to see me already at 03:45 but by 04:00 we were tramping through the ditch and once again following the beam of our head lamps up Thompson Creek – just as we had earlier this year for the two peaks of Resolute Mountain. I'm not 100% certain why I decided to wait with the Thompson Creek objectives until the very year that the creek washed out half the lower trail sections but it did make things more challenging than a year ago would have been! There is enough trail left to guide you but just enough missing to make things a bit spicy – especially in pitch darkness and when you're still half asleep. Thanks to So, I had a detailed GPS track to follow – without this I think we would have had a much harder time finding the trail. Even with it we managed to get lost at one point.
The log bridges were all washed out at the creek crossing where you head off the Resolute trail and go climber's left up Thompson Creek. We managed to find a fallen tree to bridge the creek and soon were bashing our way on intermittent trails on climber's left of Thompson Creek into the Cline valley. The trail was pretty obvious, but washed out in many places. Wherever the creek was wider due to the flash flood, we would take short detours through the creek bed itself before finding the trail again, on some overhanging creek bed. There were a few cairns to guide us but the new trail is still very fresh and not always obvious. Just to confuse you even more, someone has been putting in other trails, complete with cairns, fresh tree blazes and flagging. I have no idea where these trails go but every time we tried following one it quickly left the creek bed and we didn't trust them. 
Due to my tiredness and the fact that everything on my GPS is marked as a triangle, we ended up getting lost for about 30 minutes at the point where the trail to Cline cuts up a very steep avalanche gully to climber's left. It was still dark when we got to this turnoff and we blindly followed the perfectly obvious trail that continued blithely under the turn off – not even noticing any branching in the trail due to the hard terrain and lack of cairns or flagging. As we entered a field of waist to chest high fire weed and lost the trail we started wondering what the heck was going on! We were soaked, full of ash from the burn areas and thrashing through thick alders before I finally took a closer look at the GPS and realized we'd missed a very key turn. This was a depressing moment, but at least we had a GPS track to aim for and we started heading straight up to the cliffs towering above us on our left. (It's sort of amusing to read that we're not the first ones to get off track at this spot.) There's no way you'd think there was a trail up there if you didn't know it beforehand. We aren't the first ones to make this mistake – as the flagging on the (wrong) avy slope to the base of the cliff bands would indicate. We followed the cliffs back (a bit depressing to lose all this time / energy on a day trip) before finally hooking up with the main trail again.
The trail skirted the edge of the cliff in a few places which would make for interesting times with snow / ice / rain but for us it was dry and fast. We lost the track again through the scree / boulder field before regaining it after an endless traverse of this rocky section. We stayed high above a gorgeous waterfall on climber's left and were rewarded with a good trail to a scree bowl with a low band of cliffs stretching across it. It wasn't obvious where to go up this band so we just headed for the middle of it. A large patch of snow was melted back too far to utilize but on closer inspection we found a moderate scramble on climber's right of the snow patch and made our way up that, no problem.
The sun was rising at this point and we were treated to some great alpine glow off the cliffs surrounding the trail. Soon we were also at the two alpine tarns which are normally the bivy stop for most folks climbing Cline. We took just under 3 hours to the bivy site and this includes getting lost for at least 30-45 minutes under the cliff-traverse section. I think that 2.5 hours with a day pack is reasonable to the bivy site for efficient climbers (who know how to follow a GPS track. ). The lakes were lovely but we had no time to 'waste' so we kept trucking after a quick bite to eat.
The sun was warm and the weather was gorgeous as we worked our way up the steep ramp above the lakes and into the high alpine bowl above them. We worked our way around this hanging valley trending climber's right for the Owen / Cline high col. Ben choose slabs further on climber's right to access the high col, and I was lazy and stayed on the trail up the scree. Both ways work – Ben's way was slightly faster but my way was slightly less steep. As we scrambled higher, we kept glancing back at the growing form of Mount Wilson behind us – what a beautiful mountain that is!! The only drag with looking at it, was that it made us tired, just remembering the amazing day we spent on its slopes earlier this year.
At the Owen / Cline col we had our first good look at Cline and the benign glacier leading to the ridge / summit slopes ahead. The glacier was very tame as we crossed it, but rock hard and still a 'no slip' zone with cliffs far below us on climber's left. Unfortunately for Ben, he wasn't used to his new aluminum crampons and had some issues with them on this section. Eventually we both made it across, I wouldn't have been comfortable without crampons on this section – an ax was not necessary however.
There was some brief moderate scrambling along an impressive spine of rock before we arrived at the first notch. Our views were improving as we worked higher and now we could see the Columbia Icefields, Lion, Lioness and many, many more surrounding (and very impressive) peaks. But our priority was Cline and we starting looking for rumored pitons / bolts at the first notch. Try as we might, we could not find any fixed pro before the first notch! We looked pretty hard but ended up slinging an obvious boulder instead, and this worked just fine. Ben was a hero for carrying the rope all day (I was still feeling the effects of a brutally long and tiring day on Edith Cavell a week earlier) and also led both notches. His extensive climbing experience came in handy for both notches – especially the down climbing.
Some people have told me that the notches aren't that big of deal, but for me they are definitely not just scrambling or even easy climbing. The first notch has a very exposed and loose down climb (I didn't like the down sloping nature of the middle pillar) followed by an easier, but far steeper climb up the other side (hard to down climb on the descent). There was a bolted station at the top of the first notch (presumably for rapping into it on descent). The second notch was well protected with a bolted station (on the same side as the other station) but the infamous 'ledge jump' isn't for the faint of heart!! Both Ben and I stood there on that tiny and VERY exposed ledge of rock (someday it's gonna collapse…) for a few moments before committing to the jump. Ben is shorter than me so there was no way for him to step across. I didn't like the fact that a step would commit me to the other side with no holds, so we both jumped it. YIKES. The jump is shorter than it looks, but mother of pearl is it exposed! I was very happy to have a rope tied to me on both notches.
After the second notch we left much of our gear behind and ascended the last 300 vertical meters on a good trail in the scree. The views from the summit were incredible! We felt so lucky to enjoy a perfect weather day on Cline. Many people have ended up with clouds or whiteout conditions and wind on this summit but we managed to get clear conditions, views forever in all directions and absolutely no wind at the top. I even managed to get a mosquito bite at the summit – that's how little wind there was.


After about 30 minutes at the top, taking photos and enjoying the accomplishment we started down. It was a long way back to our vehicles yet! It took us about 7.5 hours to the summit from the cars – again with at least 30 minutes wasted on route finding in the dark. I think 7 hours is reasonable for fit parties of two. When you have more than two people it will take much longer at the notches, setting up rappels and belays for everyone.
On descent the second notch was much easier. We could both stretch across this time and instead of jumping we could lunge forward and grab good holds on the steep corner wall on the down slope side. The first notch (lowest one) was harder to get into on descent. Ben down climbed it and then went easily up the other side. I started off rapping it but ended up wishing I'd down climbed – there's lots of good holds even though it's very steep. I also easily ascended the other side. We were both happy for the rope again on both notches for descent.
The trek back to the vehicles was long and hot from this point. The glacier was soft but we still used the crampons, and Ben figured out a system that worked for his so that was good. We stopped briefly at the lakes for break, but the enormous horse flies chased us off quickly! I'm not sure a bivy would be that attractive with those aggressive flies drawing blood! The side slope section was tedious but soon we were bashing our way down the moraine-like slopes on the avy slope and then back out along the creek.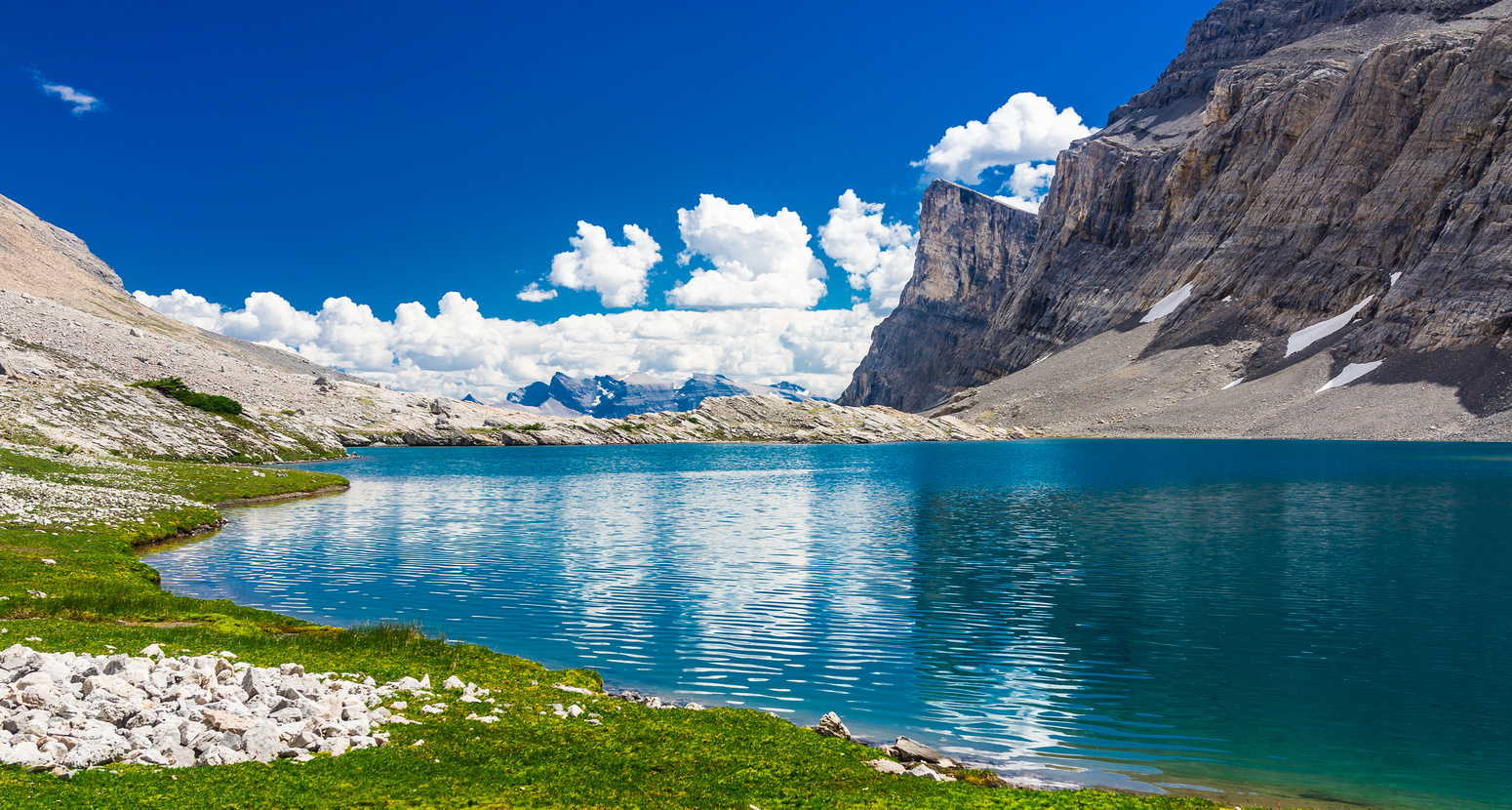 I really enjoyed climbing Mount Cline and I would highly recommend it as a day trip for fit (and small) parties. Instead of lugging an overnight pack 1000 vertical meters, you can be light and quick with a day pack. Light and quick is almost always safer and less prone to injury in the alpine. Most fit people manage to get to the bivy in 3.5 hours even with a heavier pack, so really the amount of time saved with a bivy is minimal. We took 14 hours but ended up with at least 1 hour of inefficiency, getting lost lower down, and then spending some time higher up figuring out Ben's crampon issue. I think that for fast and fit people, 12-14 hours is a reasonable expectation for Cline as a day trip. Pick a nice weather window, get an alpine start and go for it!