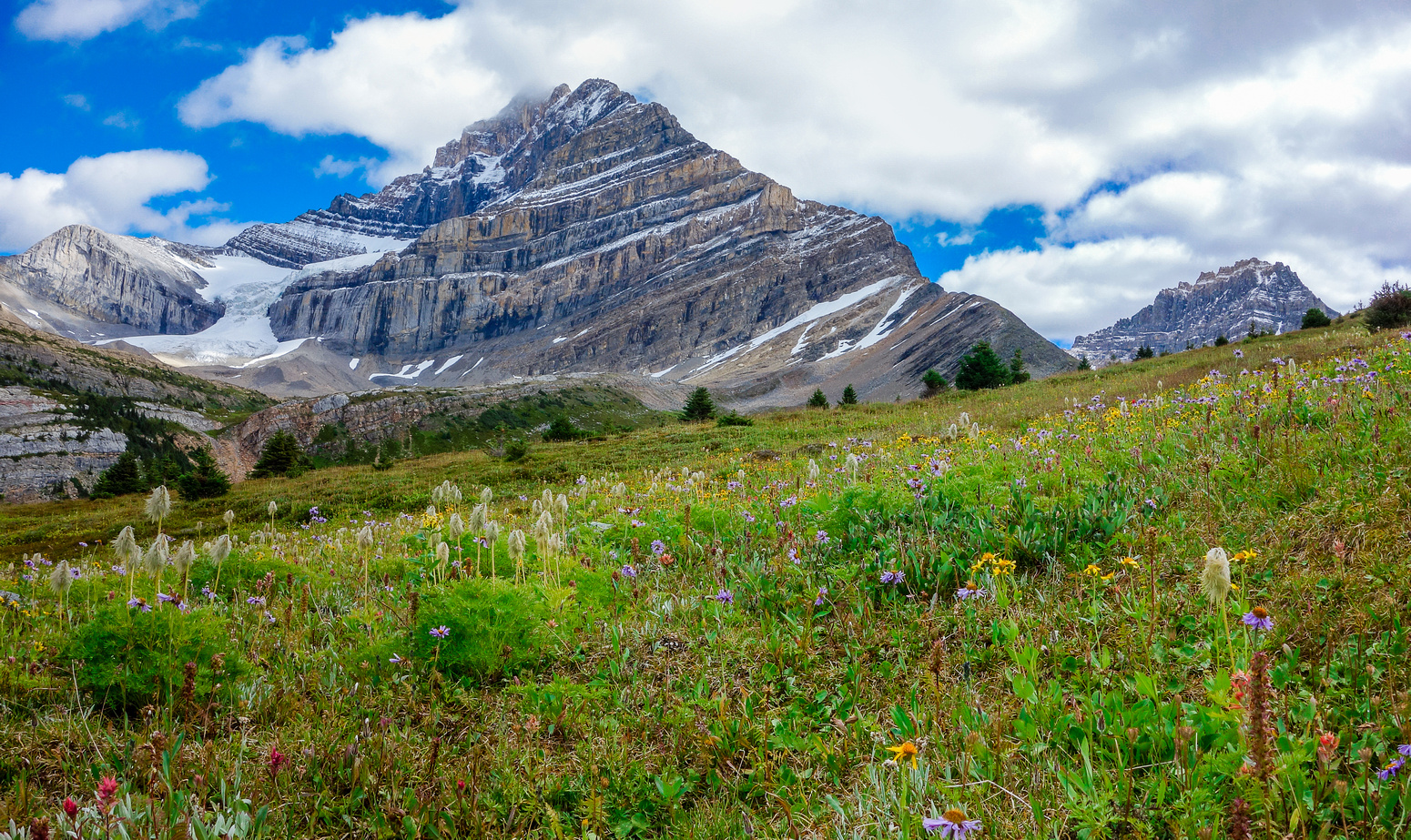 Summit Elevation (m): 3358
Trip Date: August 26 2012
Elevation Gain (m): 2200
Round Trip Time (hr): 36
Total Trip Distance (km): 32
Quick 'n Easy Rating: Class 5 – You fall you are dead
Difficulty Notes: Typical Rockies 11000er with loose access slopes and icy gullies, some decent 5.4 climbing on grippy limestone and then more loose rock to the summit. Did I mention loose rock?
Technical Rating: MN9; YDS (5.4)
GPS Track: Download
Map: Google Maps
---
On August 25 / 26 2012 I joined Kevin Barton, Eric Coulthard and Ferenc Jasco for a trip up Mount Fryatt in Jasper National Park. This mountain has been on my radar for a number of years due to its remoteness and the beautiful bivy site that was rumored to exist under the SW face. When Raf climbed Fryatt back in 2009 I was quite disappointed that I couldn't join him. I waited patiently for three years and made my ascent in perfect conditions. Sometimes I get the sense that I'm rushing to complete peaks – this trip proved once again that it's the journey that counts – not the summit. The hike in along all the Geraldine lakes was also very appealing to me. I've never done the other route up the Fryatt valley but the Geraldine Lakes route is just that – more of a 'route' than a 'trail' in places, but much shorter distance-wise and extremely scenic.
The Approach
We approached the base of the SW face on Saturday, August 25. After a long drive to the not-so-obvious trailhead we geared up and started up a muddy approach trail to the first Geraldine Lake. The entire route past the five Geraldine Lakes and up to the alpine meadows north of Fryatt was gorgeous, but a bit under-developed (not really a bad thing). The two images that stand out most in my mind from the approach hike is "boulders" and "mud". It's one of the most beautiful areas I've been to in the Rockies. Wild flowers were still blooming but a month ago it must have been stunning with carpets of endless flowers everywhere!
Towering peaks reflected their brooding faces in the crystal clear lakes while loons and bubbling streams added a symphony to a landscape that is truly remarkable and unique. Like anything worthwhile though, you have to work for it. Reaching the fifth and final Geraldine Lake takes determination, some scars (from boulders and trees) and route finding. Not making our lives any easier was the recent snow / rain that continued to fall on the first half of our approach, making the quartzite boulder hopping around the third Geraldine Lake very slick and somewhat disconcerting.
We were a little bit disappointed in the weather. Light rain showers made the boulders slick and worse, there was a considerable dusting of fresh snow up high on the local peaks. The sun started to shine more and more throughout the day and our spirits lifted with each ray of its warmth. We hoped that the snow up high was melting fast enough to ensure dry pitches of climbing the next day.
As we made our way up to the fourth Geraldine Lake the wild flowers started coming out in full force. We had a few moments of searching for a route across the outlet stream of the fourth lake, but we all managed to cross without taking our boots off. Some of us were drier than others after this effort. Hiking around the fourth lake with Fryatt looming above us was quite spectacular. With fresh snow, the north face / ridge looked fairly intimidating but it was exciting to know that I'd finally be up there in less than 12 hours after waiting many years for this opportunity.
We wanted to reach so-called "Iceberg Lake" directly under the SW face of Fryatt before settling in for the night. After the fifth and final Geraldine Lake we made our way up to the alpine meadows north of Fryatt on a surprisingly clear trail that seemed to come from nowhere (!) and made our way up and around the west ridge of Fryatt. 
For some reason the bugs were relentless up in the alpine meadows here! We hardly noticed them down by the lakes but at the meadows they swarmed us. Not a lot of biting, but a ton of swarming – we were breathing them in there was so many. Raf's team bivied in these meadows and it wasn't fun due to the bugs – I would suggest going further into the alpine if you can, even though the meadows are a perfect place to camp.
The west ridge looks like a good route – even if you bypass the 5.8 climbing at the top to join up with the SW face route. It would likely have much less rock fall issues than the face. We contoured around the steep slopes above Divergence Lake (gorgeous but painful on the feet) before using as much snow as possible to hike up underneath the headwall protecting Iceberg Lake and the SW face.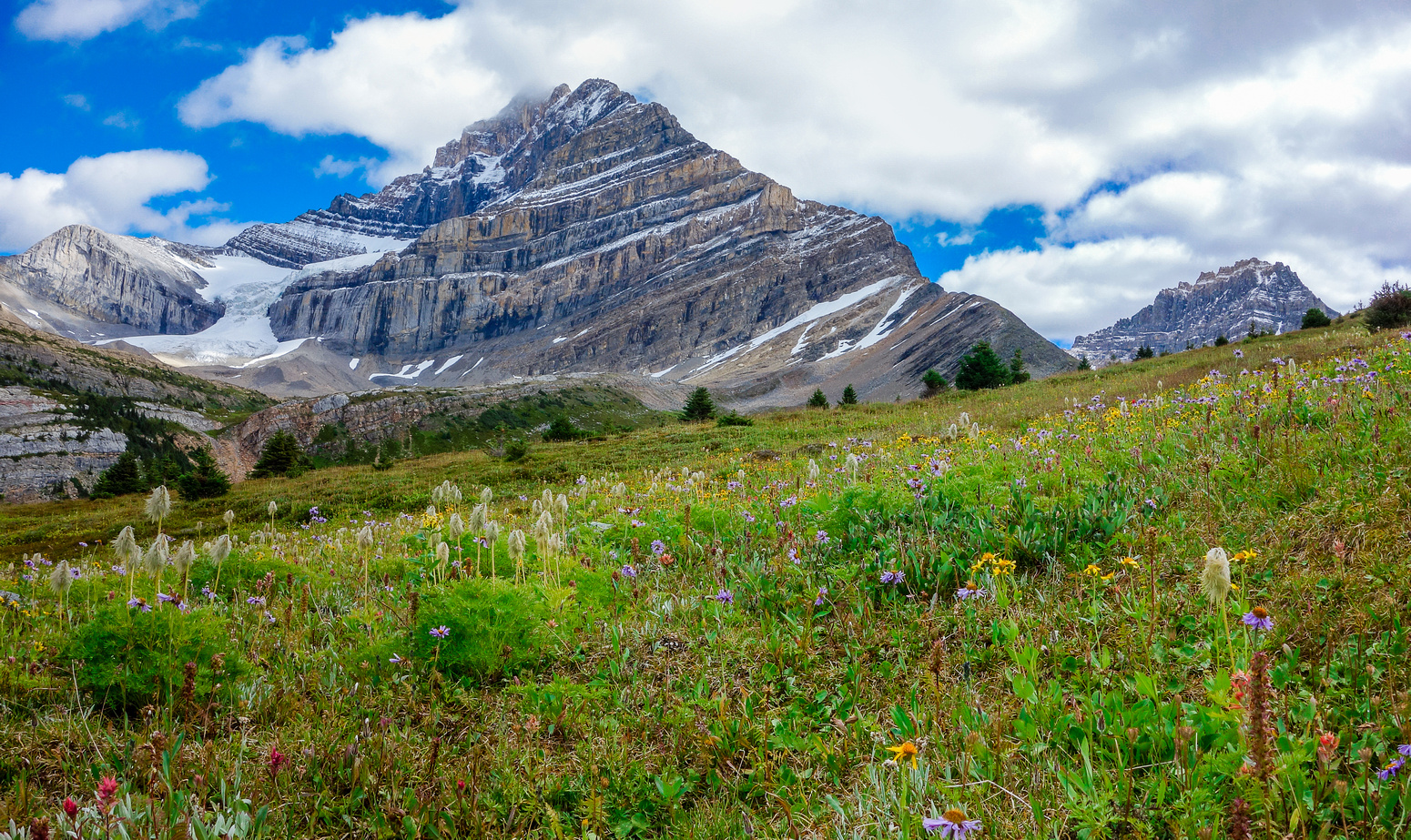 We made our way past a scenic waterfall coming down the wall and found a decent route on the south end. I could see this headwall being a pain in the dark – I would suggest bivying above it if you can. Via headlamp you'll probably end up doing more difficult climbing than necessary to get through it – it should only be a scramble. Again, I've heard of folks rapping here and this is completely avoidable if you just go far enough south. Eric kept talking about skiing up "Fat Bastard" – the bump to the west of Iceberg Lake. I think he just likes the name!
---
Interesting Facts on Mount Fryatt 
Named in 1920. Fryatt, Captain Charles Algernon (Capt. Fryatt was a British merchant seaman who was executed during WW I.) Official name. Other names Patricia. First ascended in 1926 by J.W.A. Hickson, Howard Palmer, guided by Hans Fuhrer. Journal reference CAJ 16-44, App 16-430.
---
Once through the headwall we were presented with a head-on view of Fryatt's SW face and Iceberg Lake sparkling in front of it – complete with an 'iceberg' – sort of. We didn't like the fresh snow on the upper slopes but the sun was starting to finally warm things up so hopefully some melting could take place over the next 2-3 hours before dark.
We contoured around the lake on it's northern shore and found a perfect bivy under the SW face on top of several waterfalls plunging into the lake far below us. This is probably a top 2 bivy spot for me, and I've bivied in some pretty gorgeous places in the Rockies. With plenty of running water, towering peaks, protection from the weather and a nice flat area this lake front property is an extremely excellent bivy! We spent the beautiful late afternoon / evening scouting out the SW face and our nice location, taking many sunset shots of Iceberg Lake.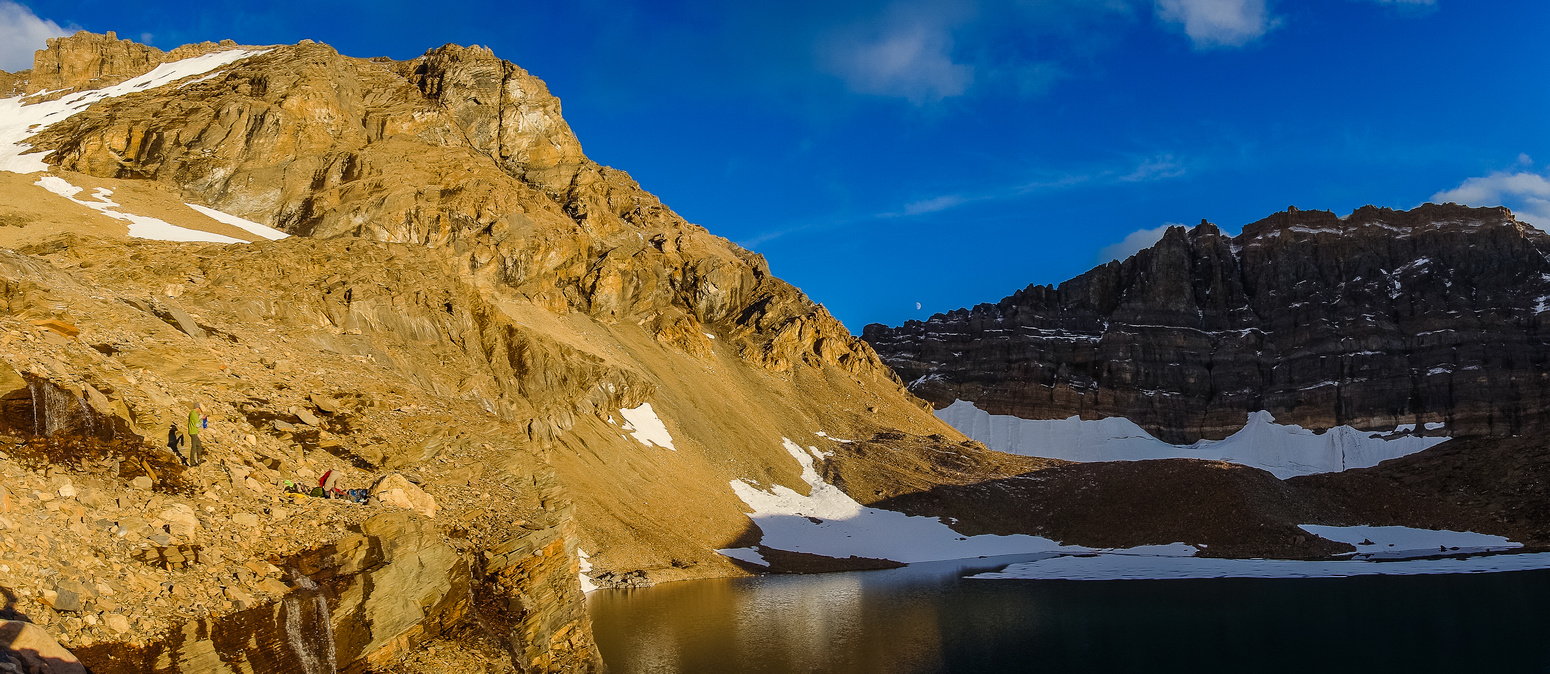 After some consultation we decided to take an obvious scree slope to the NE of our camp up to the Fryatt / 9900′ col before traversing north to the SW face of Fryatt. This would avoid some of the more serious rock fall hazards on the lower SW face and would be an easy exit once the climbing was done. It took us just over 7 hours to reach the bivy. We were in bed by 21:30 with a wake-up time of 04:00. 
The Climb
I slept great on my Exped down sleeping mat, with its down warmth and goodness, and woke up 10 minutes before my alarm, psyched to start the climb. The Milky Way was in full display above us and I took a few photos as the other guys got ready. I saw 3 shooting stars which made me optimistic for the long day ahead of us. I was excited rather than nervous, I get this way more often on bigger objectives. I can be nervous the day or week before the climb, but on the morning of the action, I get really psyched and can't wait to get moving.
We had made the decision the evening before, to traverse the SW face from the col with peak 9900′ before ascending obvious gullies to the west ridge and then to the summit block. We made good time up the endless scree slope to the col, under head lamp, and popped out at the col at 06:30 – just as the sun was starting to rise. This was perfect timing as we needed daylight for the SW face. The morning views, especially to the west, were absolutely mind blowing already. It was shaping up to be one of the most special days I've had in the Rockies. The SW face looked reasonably dry as the sun rose, which was a relief after seeing the fresh snow the day before. There was some snow, but we were hoping it would help instead of hurt our chances of success.
From the col we followed cairns and the odd bits of trail up the SW face. It's impossible to describe the route perfectly – basically go up and traverse towards the west ridge (climber's left). We used solid snow in the gullies to gain quick elevation but this did involve some steep snow climbing with sections of pretty hard ice for good measure. Aluminum crampons felt a bit under-tooled for the icy sections. We didn't protect any of the snow climbing, but we all feel comfortable on steep snow. I think some of the moves we made on the ice / snow were the trickiest part of our day. There was one section in particular where both Eric and I were clinging to the tiniest little holds on our front points and the tip of our axes thinking, "why didn't I bring ice tools?!". Of course Barton made it look pretty easy.
The rock was pretty loose lower down on the face too. A large climbing party could be an issue here. Route finding is key to keeping the lower face within the realm of 'scrambling'. If you stick to the ridge from the 9900′ col you will be on 5th class terrain pretty quickly. 
We were just nearing the top of our final snow slope before the roped climbing started, when I thought I heard yelling from slopes to the east! Sure enough – there was Ferenc traversing towards us on crampons from the south ridge!! I had a feeling he might join us after he sounded bitterly disappointed earlier when it didn't seem like he would be able to make it. He was extremely lucky that he caught up with us where he did – namely just before the roped climbing sections where he could benefit from our rope. After greeting him (this was his first time meeting Kev) we continued upward, soon arriving at a crux, with a party of four now, instead of three. It was nice to have Ferenc since both he and Kev are more experienced with roped climbing.
Most trip reports that I could find (including the linked ones up above) mention or show pictures of a notch in the west ridge with a chock stone plugging the top of it. We didn't traverse over this chock stone on the ridge (like Rick Collier did) and we didn't ascend to the left or to climber's right of it either (like Dow Williams group did). I think, based on photos from Raf's trip report, that we ascended just to climber's right of this gully / notch along the rappel route. Ferenc actually tried ascending the notch route but it was plugged with ice near the top and he didn't want to risk the one move that he had to make – probably the same 5.7 move that Dow's group made. I noticed a possible route to climber's right of this chock stone gully from below and suggested we try it. Some difficult scrambling led us up a short section to a ledge / crack running under a bulge to climber's right, away from the notch route. Just past this bulge was a nice platform to belay a climb up some 5.4 terrain. At the time I didn't know it was the rappel route, but after Kev led it he stopped at a large rap station so it became rather obvious that it was.
Once again, my "scrambling nose" saved us from climbing terrain above our comfort level. I have found on numerous 11,000ers that having a scrambling background and mentality is really nice for finding the easier routes that others can miss because they're too focused on using the rope they've lugged all the way up. Of course there's nothing wrong with climbing harder terrain, but on a big mountain I believe that speed and efficiency are the key to being safe and with one rope for the four of us, we were going to be slow enough on the unavoidable terrain and on the descent rappels. We didn't need to make things harder.

From this section on the face, we passed several well-used rap stations and did some short pitches of 5.2 to 5.4(ish) climbing. The rock was surprisingly stable on the climbing pitches – it was horribly loose everywhere else! We topped out on the west ridge just before the scree traverse under the summit block. We had no difficulties on the ridge from our ascent line. The summit was easily gained via a narrow scree gully on the east end of the summit block.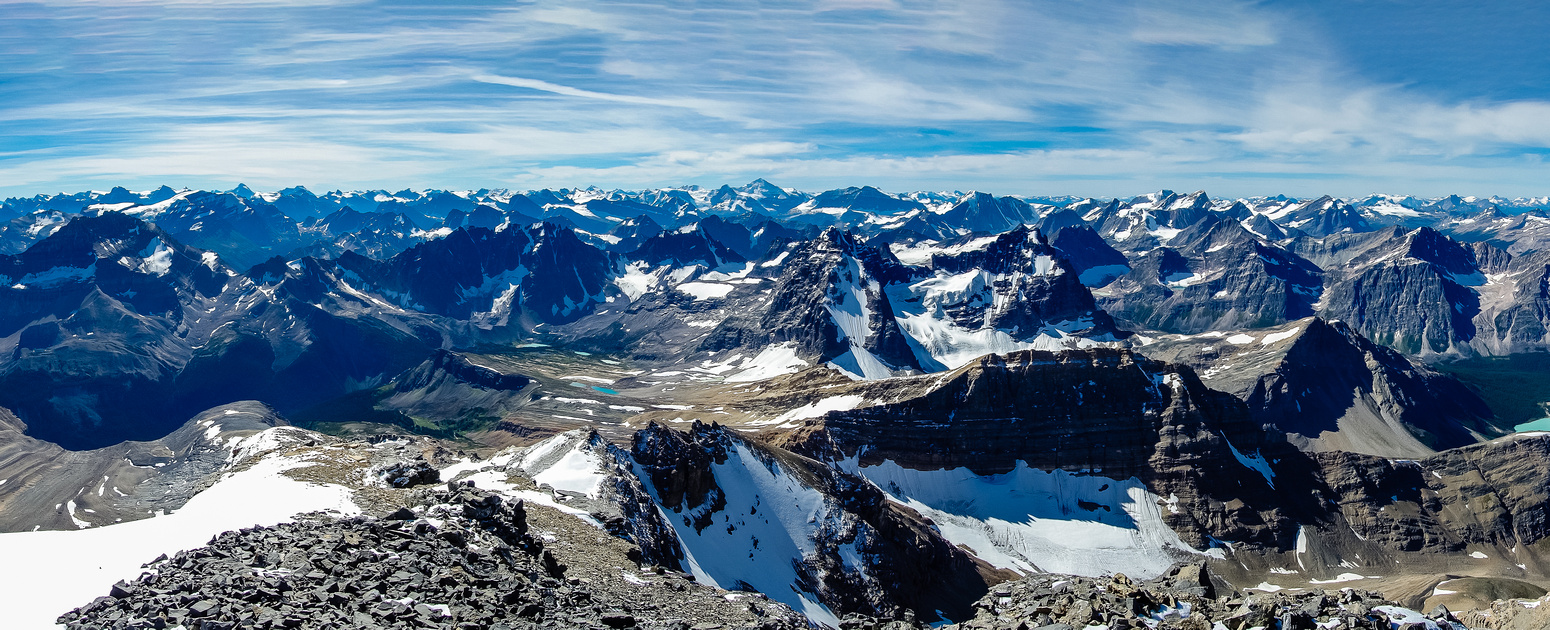 We spent half an hour enjoying spectacular views in every direction including some very impressive summits – even Robson was visible. We didn't linger too long due to concerns about melting and rock fall on the face. It took us 6.5 hours to the summit from our bivy site which included two pitches of climbing. The second pitch could probably be free soloed by competent parties – we certainly could have soloed it if we knew how easy it was going to be.
The Egress
We rapped 3 times on the descent and then picked our way back down and across to the col and down scree / snow slopes to the bivy. From there it was a long (long!) trek back to Ferenc's bivy under the Iceberg Lake headwall and then all the way back to the parking lot, past all the Geraldine lakes. 
The boulder hopping was the most unpleasant part of the hike out – thank goodness we didn't have rain or heavy dew to make things even worse on those blasted lichen-covered, Quartzite rocks. We managed to do Fryatt in 36 hours instead of the more standard 3 days, but I wasn't home until 04:30 on Monday – and the drive wasn't so pleasant after being awake for over 24 hours either!  
A long and tough mountain, Fryatt is never going to be a popular peak but for those willing to do some "quality suffering" in gorgeous surroundings it should be very high on your mountain list. It's setting in the backcountry of Jasper couldn't be more sublime and the bivy by Iceberg Lake is a top 5 for sure. Fryatt has to be one of my top 10 peaks up till now. Maybe even a top 5 if I think about it long enough. Whatever it is, I miss it already and will almost certainly be back to climb some of the surrounding summits or backpack through some of the amazing terrain nearby.