Summit Elevations (m): 2777, 2697, 2946
Trip Date: Wednesday, September 7, 2005
Elevation Gain (m): 2000+
Round Trip Time (hr): unknown
Total Trip Distance (km): 25
Quick 'n Dirty Rating: Class 2/3 – you fall, you break something
Difficulty Notes: We descended west slopes from the summit of Oyster and got into difficult scrambling. The normal route is fairly easy and both Skoki and Fossil are also easy scrambles.
Technical Rating: SC6; YDS (3rd)
GPS Track: Download
Map: Google Maps
---
A very frosty morning of September 7 2005 found Rod, Jon and I hiking out of our Baker Lake back country campsite to tackle a long day of scrambling more peaks in the Skoki region of Banff National Park. The previous 1.5 days had already seen us make ascents of Richardson, Ptarmigan, Pika, Anthozoan and Brachiopod. Our feet were starting to complain at little at this point.
Our objectives for the 2nd full day of scrambling were a traverse of Oyster Peak followed by a hike through Jones Pass to Skoki Lodge. From there we would ascend Skoki Mountain and than head back up to Deception Pass from which we would bag the summit of Fossil Mountain. From there we would descend back to our Baker Lake camp and presumably fall asleep very early and ignore our complaining feet!
Oyster Peak
We decided early on that we would do the traverse of Oyster because of our good experiences with traversing both Anthozoan and Brachiopod the day before. Kane also shows the scramble as a traverse.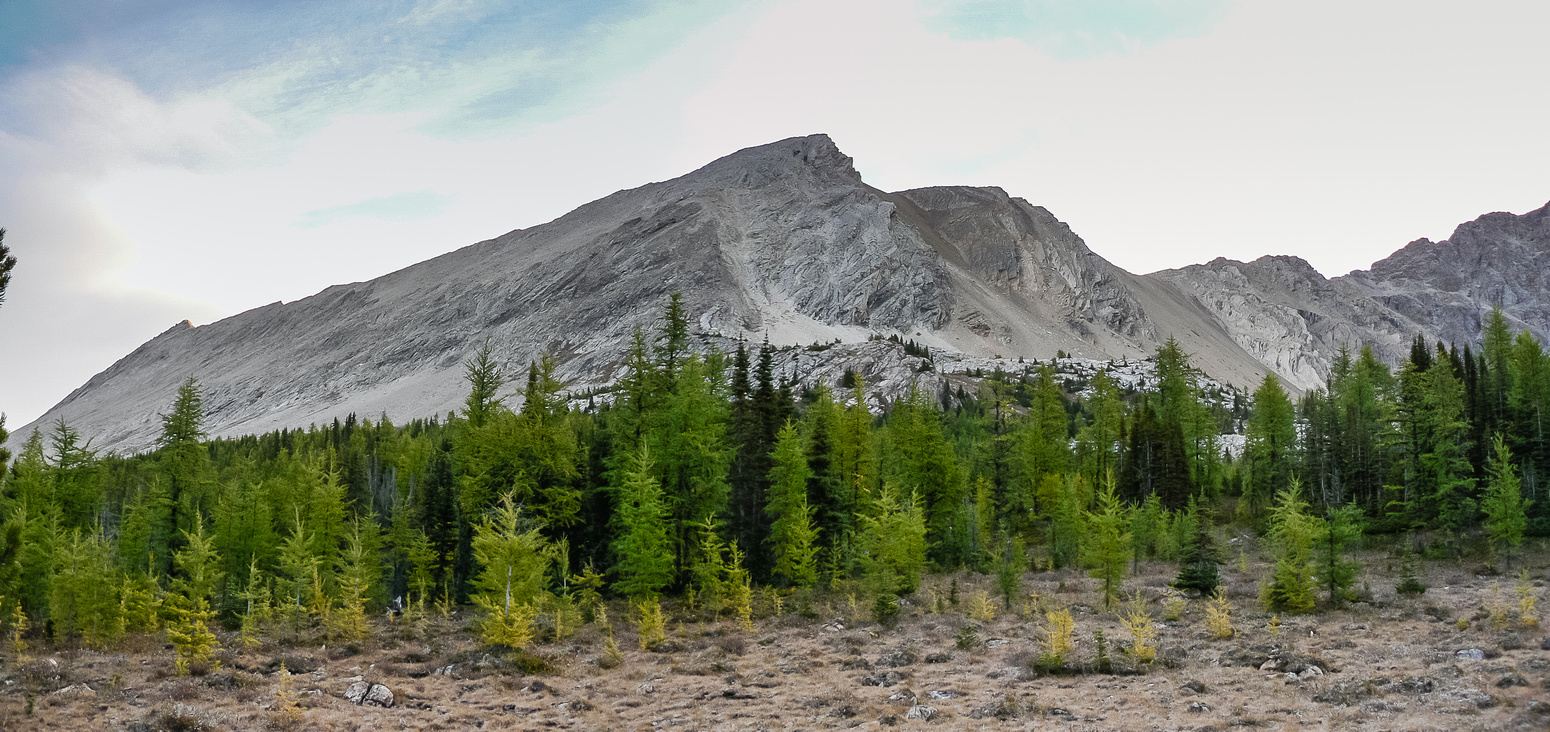 We crossed the beautiful meadows of the Cotton Grass Pass and jumped Oyster Creek before heading into some light bushwhacking and Oysters extreme southern end. There was a little creek jumping down the rocks from a high alpine meadow that made us wish we spent more time in this lovely, remote area.
Soon enough we were grunting up the ridge on Oyster. There actually wasn't that much scree on the ascent because we really stuck to the ridge the way Kane shows in his book. The climbing was quick and fun on large rock and slabs. We topped out on the south peak to a beautiful morning view of the surrounding area. There was a register in the cairn that mentioned the true peak to the north and gave lazy people an excuse to sign a register without doing the traverse.
The traverse of Oyster was one of the highlights of our Skoki trip. The morning was cool and crisp and the traverse was just good fun without being too hard or too easy. Just before the main summit the scrambling got a bit more serious but again, nothing more than the upper end of 'moderate'. We spent some time at the summit looking down at the next part of our journey through Jones Pass and eating breakfast. (Advil and Powerade anyone?)


Following one of the most enjoyable times in Skoki came some of the least enjoyable. The descent down the west slopes of Oyster at the north end was not what I was expecting at all. It was upper 'moderate' to low 'difficult' with lots of slab and scree down climbing. Rod was pushing the limits of his scrambling ability which didn't help his comfort levels any. Eventually we managed to work our way down through the cliff bands and steep, nasty scree but don't underestimate this descent – it's certainly not as easy as I was expecting.
Next we were on to Jones Pass and Skoki Mountain.
Skoki Mountain
After summiting Oyster Peak it was time to work our way through Jones Pass and down into the Skoki Valley and Skoki Lodge so that we could ascend the easy and small Skoki Mountain. Jones Pass was a wonderful hike, mostly above tree line, along the east and north slopes of Fossil Mountain into the Skoki Valley area. There was lots of bear sign as usual, but no sightings again. Here's where I made my second big gaff of the trip. (The first was when I was practicing my knife throwing skills and punctured our white gas bottle – don't ask!). Kane mentions that the best place to tackle Skoki Mountain from is the backcountry campsite at Merlin Meadows. This had me thinking that the way to bag the peak was from the campground. Silly me! We hiked right past the lodge and tramped on down another kilometer to the Merlin campground – literally down. That's when I read the description in detail and realized that the scramble trail starts at the outhouses behind Skoki Lodge!! Dang it!
The hike back up to the lodge was silent and swift. Rod stayed at the lodge (he got free soup and tea) while Jon and I went up to the summit of Skoki Mountain. This is a fast little mountain and it only took us 1:52 minutes to go from the Merlin Meadows campground to the summit of Skoki and back down to the lodge.
Not too many people hike this little mountain, probably because of how hard it is to access. It might be a fairly popular hike from the lodge but there were fewer register entries than I expected. It's really only a hike and is not anything special – other than the area that it sits in which is gorgeous of course.
Next we 'had' to ascend Fossil Mountain on our way up and over Deception Pass before staying one more night at the Baker Lake campground.
Fossil Mountain
After bagging Skoki Mountain it was time to go after our last objective for the day, namely Fossil Mountain. Be the end of day on Wednesday, September 6 2005 we had circled completely around Fossil Mountain, traversing Oyster Peak, ascending Skoki Mountain and then finally summiting Fossil. Not a bad day in the hills. Making our way up to Deception Pass from Skoki Lodge was actually quite a hard task at this point in our day! We knew that we would be ascending about 200 meters but it was still more effort than we had counted on. Eventually we could see the pass and Jon and I cut off to the lower slopes of Fossil while Rod made his way to our camp at Baker Lake.
Jon and I were both starting to feel the effects of climbing well over 20,000 feet in the past 5 days (we had done Hawkins Horseshoe in Waterton Lakes National park on September 3rd) and we really dragged our butts up Fossil! This is not a hard mountain to scramble and was one of my least favorites in the Skoki area. That may be partly due to how tired I was feeling, I don't know. There were no technical bits of scrambling, only an endless plod up scree to finally top out to another gorgeous Skoki panorama of summits that were becoming very familiar after only a few days. Now we could spot all the landmarks and the summits we had attained and just thinking about all the effort was tiring to be honest. 
On our way back to camp we discussed how early we would have to pack up camp in order to get our last Kane summit in Skoki – Redoubt Mountain.